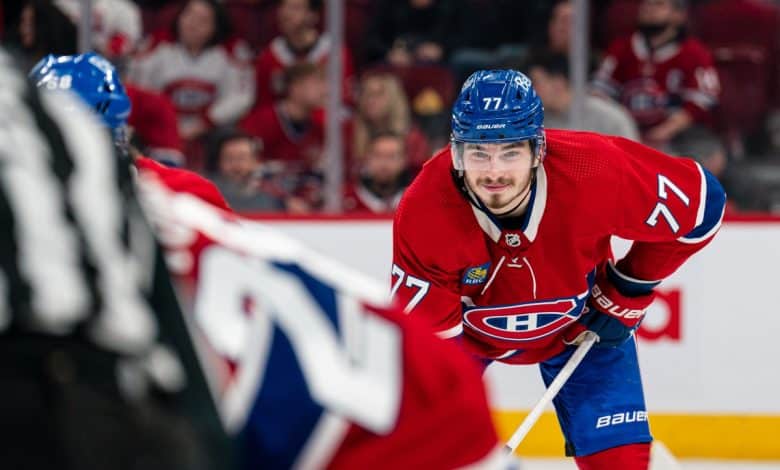 MONTREAL – Three injured players skated with their Montreal Canadiens teammates Monday morning at the Bell Centre, and head coach Martin St-Louis recalled how important it is for them to come back, even if there is no only a few weeks to a season without challenges.
Kirby Dach (lower body), Jake Evans (left knee) and Brendan Gallagher (right foot) trained hard for over 60 minutes. They wore sweaters indicating that they should avoid contact.
"The players want to play. It's boring when you're out of training, said St-Louis. The wait is disappointing for them. And summer is long. There is a process, you train. You are preparing for the next season. "
"It's always easier when you end on a positive note. If you are injured, it is positive to come back before the end of the season. "
St-Louis also pointed out that it was more important for these players to simply return to the game and make sure they are healthy, than to necessarily play good hockey.
"If their performance is good, it's a bonus for them," he added.
Overall, however, St. Louis hopes to see his team continue to play with the same aggressiveness in the last 12 games of the season.
The Canadiens will host the Tampa Bay Lightning on Tuesday night at the Bell Center and will try to avenge a 5-3 loss suffered Saturday in Tampa.
"We want to keep improving, to focus on the things we talk about," said St-Louis.
"Do you know how marathon runners manage to sprint before the finish line? That's what I want us to do. I want us to sprint to the finish line. "
The returns of a few injuries will perhaps serve to paint a better picture of what the Canadian could look like next year. The Habs still had 11 players on the sidelines due to injury on Monday. This is without counting Carey Price and Paul Byron, who will spend the campaign without having put on the uniform.
"We want to finish the season strong," insisted captain Nick Suzuki. We have a few games left to show what we are and what we could be next season. "
"It's important for these guys to get back into training. They are good players and will help us. "
Note that defender Kaiden Guhle did not participate in training. Guhle suffered a leg injury last Thursday during the Habs' 9-5 loss to the Florida Panthers. He skipped his turn Saturday against the Lightning.
Drouin case: the page is turned
A lot of ink has been spilled over the weekend about Jonathan Drouin. The forward was sidelined in training and then spent Saturday's game benched.
He was punished this way because he arrived late for a team meeting on Friday morning.
Drouin explained the matter after the game on Saturday, saying he never heard his dial and then arrived at the meeting two minutes late. The 27-year-old Quebecer said he accepted the consequences.
Everything was back to normal on Monday. Drouin trained at the center of Denis Gurianov and Josh Anderson.
"We have all been late somewhere. It's part of life, said goaltender Jake Allen. Jo understands the standards set here, which is part of our culture. We respect Martin's decision."
"Jo took it with class. He didn't flinch and didn't complain. He trained with me on Saturday morning for an hour and it was done in a good mood. He was answering guys' questions about the power play. "
St. Louis said after Saturday's game that he really appreciates Drouin's work this season. He hopes to see him finish the campaign strong too.
"I'm happy with his performance this season," said St-Louis. I knew Jo had a lot of skills, but I didn't know he had that many. His keys are excellent. He has been very engaged this year. "
"I know he hasn't scored a lot of goals, but he drives the offense forward, keeps us in possession and creates chances. He's a good playmaker. I just want him to keep playing like that and I know he's going to," he concluded.