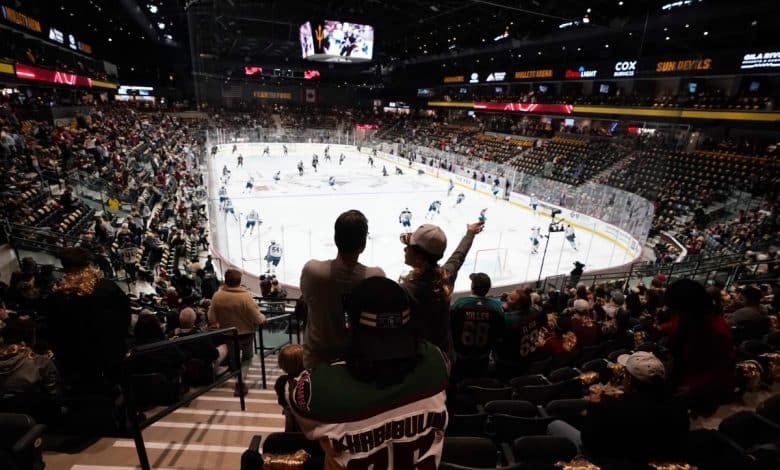 The NHL expects the Arizona Coyotes to play the 2023-34 season at Mullett Arena despite the failure of the city of Tempe to sell the plan for a new arena to its fellow citizens.
The Coyotes' plan to build a $2.1 billion entertainment complex was rejected by voters on Tuesday, throwing the organization into another period of uncertainty.
When Bill Daly was asked about a scenario in which the Coyotes would play the 2023-24 season at Mullett Arena to give their next market breathing room in the event of a move, Daly replied that this is what the league was waiting.
"I don't see a scenario where the Coyotes don't play at Mullett Arena next season," he said in an email.
Another NHL source confirmed the Coyotes will play for another year at Mullett Arena unless something "unexpected" happens in the offseason.
The Coyotes wanted to build a 16,000-seat multi-purpose arena and entertainment district on city-owned land at the corner of Rio Salado Parkway and Priest Drive in the west end of the city of Tempe. The total cost of the project was estimated at $2.1 billion, of which at least $1.9 billion would be privately funded, and was to include two hotels, a 3,500-seat theater and up to 1,995 residential units.
Despite the Coyotes' optimism, just over 56% of respondents voted "no" to the three ballot proposals needed to approve the project.
"We are very disappointed that the voters of Tempe did not approve Propositions 301, 302 and 303," Xavier A. Gutierrez, president and general manager of the Arizona Coyotes, said in a statement released Tuesday evening, in which he thanked also supporters of the project.
"While we want a different outcome, we remain grateful to everyone who gave of their time and talent. Further developments for the franchise will be assessed by our owners and the National Hockey League over the coming weeks. "
NHL commissioner Gary Bettman also expressed disappointment.
"The NHL is terribly disappointed with the results of the public referendums regarding the Coyotes arena project in Tempe," Bettman said in a statement. We will discuss with the Coyotes what the possible options are for the future. "
A Coyotes source told ESPN there is no plan B to keep the team in the Arizona market for the long term.