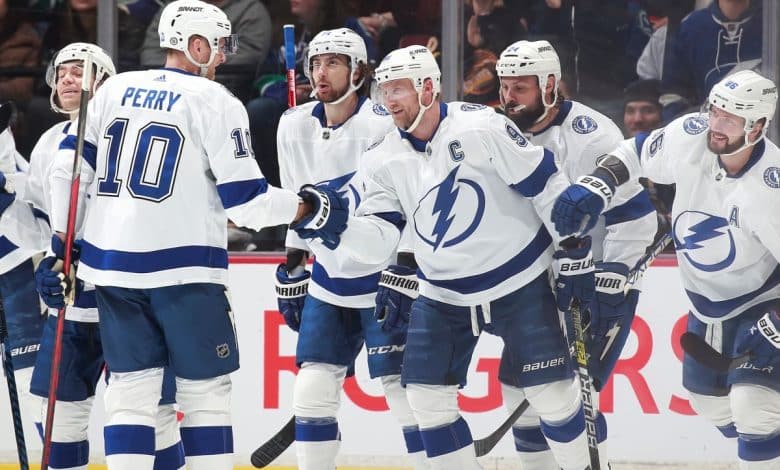 Steven Stamkos added his name to a select group by scoring the 500th goal of his career on Wednesday.
Then his 501st and 502nd later, including the last in an empty net, in a duel that ended with a 5-2 victory over the Vancouver Canucks on Wednesday.
The Tampa Bay Lightning player opened the scoring at 4:40 of the first period. At the mouth of the net, he completed a sequence initiated by Alex Killorn.
All his teammates jumped on the ice to congratulate him.
Stamkos achieved the feat in 964 games and he becomes the 47th player in history to reach the 500-goal mark, but only the 23rd to do so with a single franchise.
He is also the 19th player to do so before the 1000 games.
Alex Ovechkin and Sidney Crosby are the other active NHL players to have at least 500 career goals.
Stamkos has been one of the NHL's leading scorers since entering the league in 2008. Now 32, Stamkos has hit the 40-goal mark six times in his career, highlighted by a 60-goal campaign in 2011-12.
In addition to his 500th, Stamkos has just signed a 13th season of at least 20 goals, which allows him to overtake Vincent Lecavalier who has achieved the feat 12 times.
Stamkos also won the Maurice-Richard trophy as the circuit's top scorer in 2010 and 2012.
The closest active player currently to reaching 500 goals is Evgeni Malkin of the Pittsburgh Penguins. It totals 460 so far.
Nikita Kucherov and Brayden Point were the other scorers in the winning clan, giving the Lightning a 4-0 lead in the first period.
After an uneventful second period, Andrei Kuzmenko and Quinn Hughes closed the gap, but it was too little too late for the Canucks.