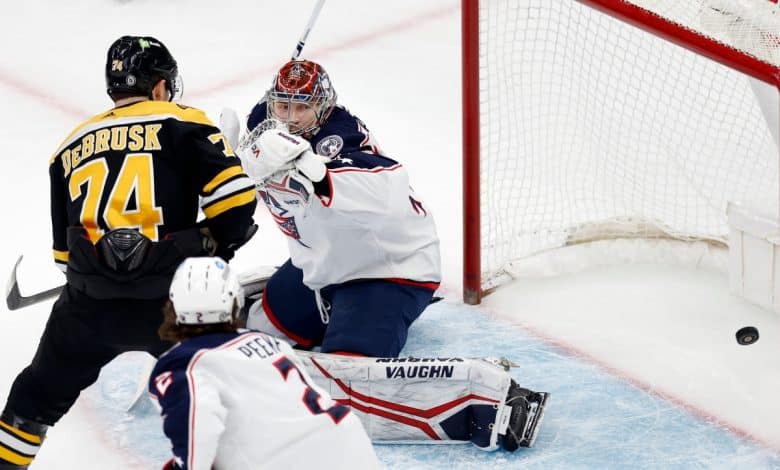 Four different scorers gave the Boston Bruins a 4-2 victory over the Columbus Blue Jackets on Saturday afternoon.
The troop led by Jim Montgomery signed a 16th success in 18 outings in front of its supporters in 2022-2023.
The Bruins' only two losses (24-4-2) at TD Garden came in a shootout, against Vegas and Los Angeles.
In their 30th game on the calendar, the Bruins are the first team on the Bettman circuit to reach the 50-point plateau. They lead by a six-point margin in the East, ahead of New Jersey and Toronto.
David Pastrnak and Taylor Hall each provided a goal and an assist, while Jeremy Swayman made 30 saves, his highest total of the season.
David Krejci and Tomas Nosek also moved the ropes at the expense of Daniil Tarasov, who was bombarded with 39 pitches.
Two members of the Jackets' first line (10-19-2) scored in the loss, as Boone Jenner and Patrik Laine scored, each time assisted by Johnny Gaudreau.
Goaltender Swayman just missed a rare feat late in the game when he tried his luck for an empty net goal.
It came close, but his 200-foot attempt landed an inch off the left post.
The Ducks do the hit to the Oilers
The Anaheim Ducks played opportunistically scoring four goals on 17 shots, and Lukas Dostal stood out in a 4-3 win over the Edmonton Oilers.
Even though Connor McDavid provided two points (1-1) and the Albertans shot 49 times on the net of the Ducks, they managed to hold their ground against the bombardment in order.
It's Anaheim's second straight win (9-20-3) in regulation time, after only one in its first 30 games.
Sam Carrick and Cam Fowler eluded Stuart Skinner late in the first period, and Ryan Strome scored at 8:31 of the second period to make it 3-1.
Edmonton (17-14-1) fought back thanks to Ryan Nugent-Hopkins and McDavid, both on the power plays.
But John Klingberg put the visitors back in charge for good, four minutes later, hitting the target two days after his double against the Canadians.
The Oilers buzzed late in the game, especially on a power play with just over four minutes on the clock, but rookie Dostal held on.