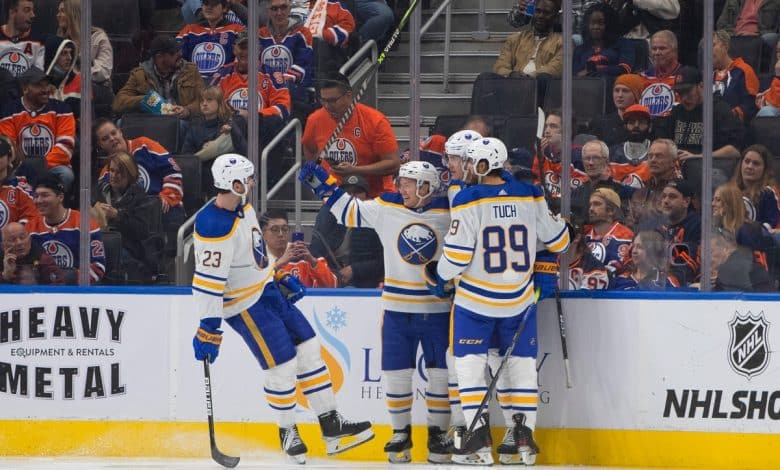 Eric Comrie withstood a bombardment of 48 shots, and Tage Thompson scored a superb goal, helping the Buffalo Sabers beat the Edmonton Oilers 4-2 on Tuesday night.
Rasmus Dahlin scored his third goal of the season on a power play in the first period, while German rookie JJ Peterka added a second.
The Sabers (2-1-0) managed to win despite a two-to-one ratio in the penalty shootout column, 48 against 24 in favor of the Albertans.
Stuart Skinner protected the Oilers goal (1-2-0), a few days after he relieved Jack Campbell in a loss against the Calgary Flames.
Thompson gave Buffalo their second lead of the game 44 seconds into the second period as he mocked the defense before using his long reach to perfection to beat Skinner.
Connor McDavid was blanked from the scoresheet for nearly 59 minutes, but the Oilers' No. 97 was complicit in Ryan Nugent-Hopkins' goal that brought Edmonton one goal closer late in the third.
Comrie, however, closed the door to the threat of the Oilers heavyweights in the last minute of play, while Alex Tuch secured the victory by depositing the puck in an empty cage at 19:55.
Early in the second period, Oilers rookie winger Dylan Holloway left for the locker room after a hard-hitting check from Ilya Lyubushkin. He did not return to the game afterwards.
Holloway was trying to control the puck near the boards in the neutral zone when he was caught with his head down by the Sabers guard.
Holloway hits a wall and leaves in the locker room