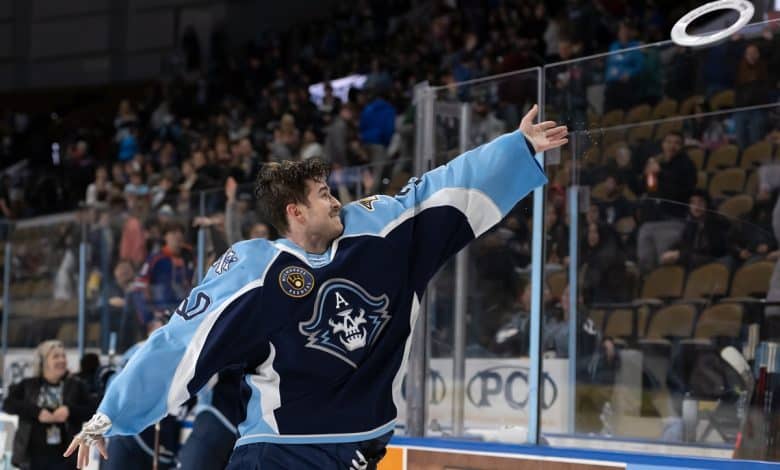 LAVAL – "He is unique! No day is quiet around him," says Xavier Bouchard with amusement.
He is the phenomenon Yaroslav Askarov. The same one who stole the victory from the Laval Rocket, Friday night, at Place Bell.
This Russian goalkeeper who ventures far from his goal, who dives to harpoon an opponent in a shootout, who fights against a counterpart and who is all the rage on social networks.
We would have liked to have a chat with this refreshing athlete on Friday morning, but the Russian declined the requests, claiming not to feel comfortable enough for an interview in English without a translator.
"He's a really good guy. You have surely seen it on social networks, it is excellent for the game. I'm sure the NHL has been looking for that for a long time. He has his brand and he knows it. He's not crazy, he knows how it works and it's great for the fans," described Bouchard, who adores the 20-year-old goaltender as a teammate.
At 28, Michael McCarron has rubbed shoulders with his share of goalkeepers and, for example, Askarov clashes with the more restrained personality of Carey Price.
Having started the season with the Predators before being admitted to the NHL and Players Association assistance program, McCarron hasn't known the Russian for long, but he was quickly charmed.
"He plays arrogantly on the ice, but he's not like that in life. His personality is wonderful. He's a brilliant young man, it's very pleasant to spend time with him, "explained McCarron who does not find him bad in English.
Coach Karl Taylor inherited this "nice bug".
" Asky has a strong personality and we want to frame that without holding him back because it allows him to be an excellent player. He is confident and I want confident players. I want to bet on players who are not always easy to manage because they have confidence in their abilities. It doesn't scare me," said Taylor, who mentored several Preds prospects on their way to the NHL.
In 2020, considering the magnitude of this gem, the Predators did not hesitate to draft him from 11th place, a rarity for a goalkeeper. The right-handed puck catcher continued his development in Russia and is wowing in his first season in North America.
Despite his rookie status, he ranks among the American Hockey League's elite with 24 wins, a 2.60 GAA and a .913 save percentage.
"For a first-year goaltender, it's pretty crazy to see what he's been able to achieve. He excels! So we let him do his thing, "reacted McCarron who likes his originality.
"He's an elite goalkeeper, that's obvious. When he arrived at the camp, it was the first time we saw him and we saw him right away. We sometimes forget his age, because it does not seem that he is so young. There's a lot of pressure around his game, but it doesn't affect him. Nothing seems to bother him and I kinda admire him for that. It would be easy to be affected by everything people say about him," targeted Bouchard frankly.
In his coaching role, Taylor is reassured by the mental strength of his protege who has had to adjust.
"No young person knows perfect progression. He learned a lot of things including adapting to North American hockey. But I think he took the right path. His stats are impressive, except he had to learn the rigor of the workouts. These are big changes for him," Taylor testified.
It goes without saying that Milwaukee represents a very different environment from Russia. Askarov sometimes struggled with a few responsibilities like finding a car or a place to stay.
"He didn't quite know how to deal with stuff like that. But I don't feel that he misses home. I think he's fine here," said McCarron, who is mindful of the morale of others with what he's been through.
The big hurdle, however, was the demands of the AHL schedule. Surprisingly, Askarov had been limited to about 20 games per year for three seasons. He will therefore have doubled his appearances in front of the net this year as a rookie.
"It's an aspect that has been talked about a lot in our organization. We wanted to increase his volume of work while managing this element. That said, we didn't want to protect him too much either. He has to experience challenges like two games in two nights, a game after a long trip. He coped very well with the many games and he spent a lot of time in the gym. The progression is noticeable," Taylor said.
Without forgetting that Askarov was able to play his first game in the NHL, against the Canadiens: a 4-3 loss on January 12.
But one would have to be blind or stubborn not to detect that this fascinating goalie will entertain the NHL soon and for many years to come.
"I don't see how he won't have an impressive career. I won't tell him directly because I don't want him to work less hard, but he's quite a keeper," McCarron concluded.