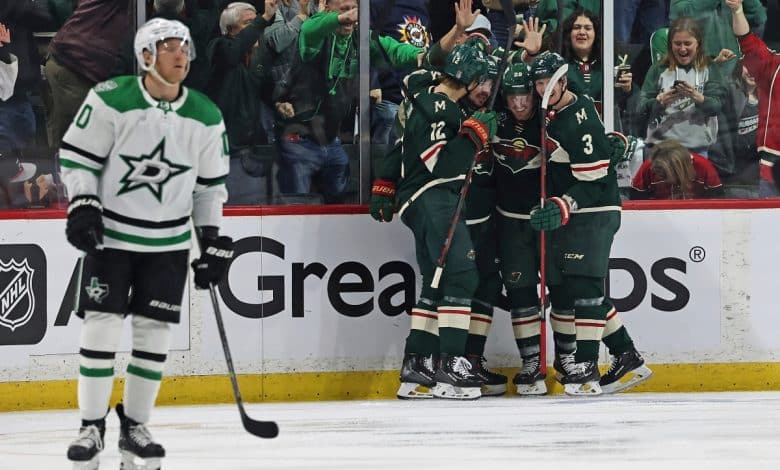 The Minnesota Wild took a 2-1 series lead against the Dallas Stars with a 5-1 win in front of their fans.
The first goal of the game came at the very end of the first period, when the Norwegian Mats Zuccarello collected the puck in the crease after a shot from John Klingberg, puck which managed to find the back of the net thanks to a good Backhand shot from the Wild forward.
Early in the second period, Marcus Johansson had his moment as he stripped down Stars defenseman Colin Miller and then fired a good shot into the top.
The stars' response came just moments later, as veteran Luke Glendening scored his first of the playoffs.
But the flurry of goals didn't stop there. Marcus Foligno restored Minnesota to a two-goal lead with a nice redirect and a close-range shot. The goal was awarded after review.
"I felt it was a good goal, I never thought I had touched the puck above the allowed height. "
Foligno then continued his excellent work by distributing good shoulder shots to his opponents.
Finally, in the third period, Mats Zuccarello returned to the charge. The latter scored his second goal of the match thanks to a great breakthrough and an excellent shot to beat Stars goalkeeper Jake Oettinger.
"The fans are really present in every game. Every time we step onto the ice here, we really feel the energy they give us," Zuccarello said after the game. Same story from the side of Foligno who in turn mentioned how the supporters were a key point during the match.
Ryan Hartman meanwhile sealed the outcome of the match in an empty net. He also had two assists during the game, for a total of three points.
The fourth game of the series will be played on Sunday, still in St-Paul, Minnesota