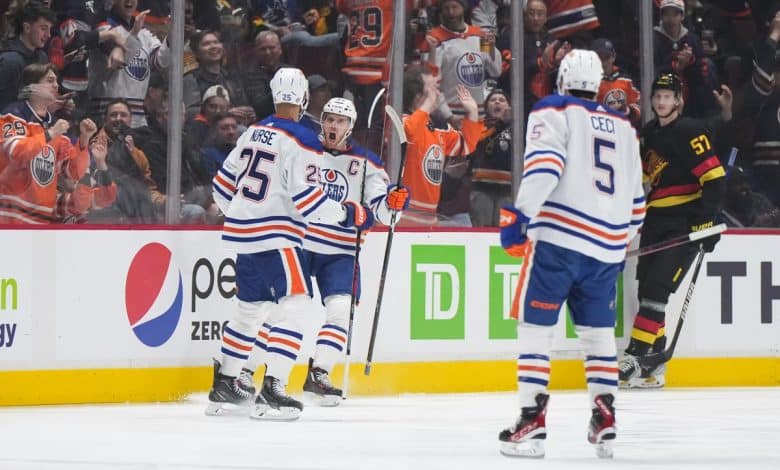 Edmonton Oilers star Connor McDavid scored his 40th goal of the season in a 4-2 win over the Vancouver Canucks on Saturday night.
Zach Hyman had quite the night with a goal and three assists.
Stuart Skinner made 27 saves for the Oilers' sixth straight victory.
McDavid, who also had an assist, opened the scoring just 1:26 into the game, becoming the first player this season to reach 40 goals. He has collected at least one point in his last 10 games.
Midway through the first period, Hyman doubled the Oilers lead, then Leon Draisaitl added in the second period to make it 3-0.
Andrei Kuzmenko finally got the Canucks on the board late in the second with his 19th goal of the season.
JT Miller cut the gap to 3-2 in the top of the third.
Ryan Nugent-Hopkins, however, closed the books in an empty net 35 seconds from the end of the meeting.
Three points for Roy in Knights win
Paul Cotter scored twice and the Vegas Golden Knights outscored the Washington Capitals 6-2.
Nicolas Roy had a goal and two assists, Alec Martinez had a goal and an assist, and Michael Amadio and Byron Froese each threaded the needle once for the Golden Knights.
Alex Pietrangelo and Chandler Stephenson both set up two goals for the Las Vegas squad, which ended a three-game losing streak. Logan Thompson stopped 20 shots.
Capitals captain Alex Ovechkin did not play with a lower-body injury. His state of health is reassessed daily.
Even if Ovechkin had been on the ice, the Capitals likely would have had trouble against the Golden Knights, who had lost four of their last five outings.
TJ Oshie and Marcus Johansson moved the ropes for the visitors. Darcy Kuemper allowed four goals on 18 shots and was replaced by Charlie Lindgren.
MacKinnon gives the shootout victory
Nathan MacKinnon scored the only goal in the shootout and the Colorado Avalanche beat the Seattle Kraken 2-1.
Alex Newhook hit the target in regulation time for the Avalanche, which posted a fifth straight victory. Pavel Francouz made 26 saves.
Ryan Donato flashed the red light for the Kraken. Philipp Grubauer also stopped 26 shots.
Donato, Jordan Eberle and Daniel Sprong all missed their shootout attempt for the Kraken. For the Avalanche, Evan Rodrigues did not score, but MacKinnon threaded the needle.
The Colorado squad earned their ninth win this season as the game went over regulation time, an NHL high.