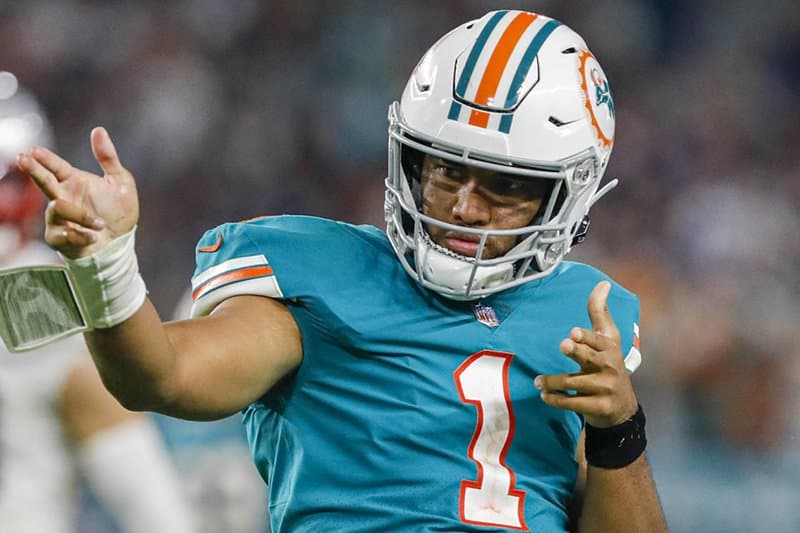 And an honored rookie on the Kansas City side.
At the start of the season, receiver Amon-Ra St. Brown confirms the hopes placed in him last year and raises the level of the Lions' attack. As evidenced by his six consecutive games with at least eight receptions and a touchdown, an NFL record. Among NFC defensemen, Darius Slay is named player of the week for the fifth time in his career and becomes the first player since 2019 to compile two interceptions and five assists defended in a single game. Graham Gano scored the winning field goal against the Panthers and allowed the Giants to post an unexpected record of two wins and no losses.
In AFC, Tua Tagovailoa produced a crazy last quarter to topple the Ravens. By throwing for 469 yards and 6 touchdowns, the young quarterback may have found his benchmark game for the rest of the season. Place for youth also on the other side of the ball. Rookie Jaylen Watson is the author of one of the actions of the week after an interception returned for a touchdown from 99 yards. With the punter Braden Mann, there are therefore two New Yorkers rewarded this week. A small event.
NFC Conference
– Offensive: Amon-Ra St. Brown (WR, Lions): 9 receptions, 116 yards, 2 touchdowns; 2 carries, 68 yards
– Defensive: Darius Slay (CB, Eagles): 5 passes defended, 2 interceptions
– Special teams: Graham Gano (K, Giants): 1/1 on extra point and 4/4 on field goal including that of the victory at 56 yards).
AFC Conference
– Offensive: Tua Tagovailoa (QB, Dolphins): 36/50 passing, 469 yards, 6 touchdowns, 2 interceptions
– Defensive: Jaylen Watson (CB, Chiefs): 1 interception returned for a 99-yard touchdown, 4 tackles
– Special teams: Braden Mann (P, Jets): 4 punts at 47.3 yards on average including 2 in the opposing 20 yards, and author of an onside kick from 17 yards recovered by the Jets.