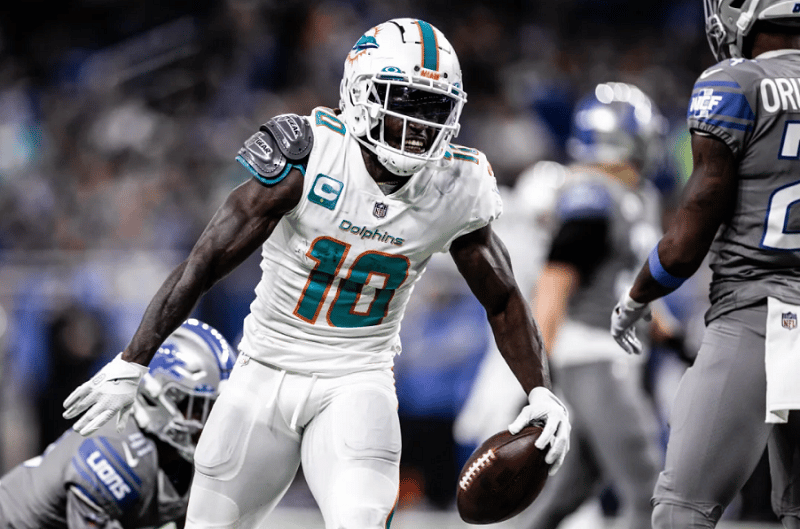 The Florida wide receiver is the best winger in the league.
Detroit Lions (1-5) – Miami Dolphins (4-3): 27-31
With the exception of a fumble from Miami, the first half is a deluge of points. All possessions are conclusive. Jared Goff and Tua Tagovailoa play at a high level, but in different styles. Where the Lions distribute the leather, the Dolphins rely on their two playmakers, Tyreek Hill and Jaylen Waddle, who chain the blows.
In the second half Detroit loses its means and is condemned to watch Miami come back, pass in front and win. The formation will again have wasted a 10-point lead and the team is sinking into the doldrums. For the Floridians the victory is important because it puts them back in the race for the very tough AFC East division and enshrines the best receiver combo in the NFL.
Attacks that score
The Lions start the game in a good way. Taking advantage of a penalty and good passes from Jared Goff (27/37, 321 yards, 1TD), Jamaal Williams (76 yards, 2 TD) crosses the line in the first series. Carried the momentum, the defense forces a loss of ball on the next possession and D'Andre Swift worsens the score in stride after a big reception from TJ Hockenson (80 yards). Miami tries a reaction by Tyreek Hill (188 yards), and it is Jaylen Waddle (106 yards, 2 TD) which allows the Dolphins to pick up the mark just before the end of the first quarter time (14-7).
Change of direction of progression, and the two formations continue flat out. Williams finds the paint after a good series of Amon-Ra St. Brown (69 yards), while opposite the duo Hill-Waddle works wonders and allows Floridians to stay in contact. As the automatic timeout approaches, the teams keep the gap constant by exchanging field goals. But the men of Michigan do not give up: a feigned play on 4&2 gives the opportunity to enter the red zone a few seconds before the whistle to add 3 points before the break. 27-17 on the return to the locker room.
One-way second half
The action resumes. Miami takes advantage of having the leather to catch up. After a drive of 75 yards fullback Alec Ingold is at the conclusion, when Detroit loses focus, connects the penalties, and punt for the first time in the game. The punishment is not long in coming, Tua Tagovailoa (29/36, 382 yards, 3TD) alerts Mike Gesicki (38 yards, 1 TD) in the in-goal and takes the lead of the game (27-31).
As a sign of fate, the Lions did not regain their offensive momentum, and stalled in the final minutes. The Floridians only have to lower the clock to impose themselves, and get out of the trap of azure and silver.
Tyreek's always down there somewhere. @Cheetah

📺: #MIAvsDET on CBS
📱: Stream on NFL+ https://t.co/1egQPnVcmP pic.twitter.com/IKu6lIcaLe

— NFL (@NFL) October 30, 2022