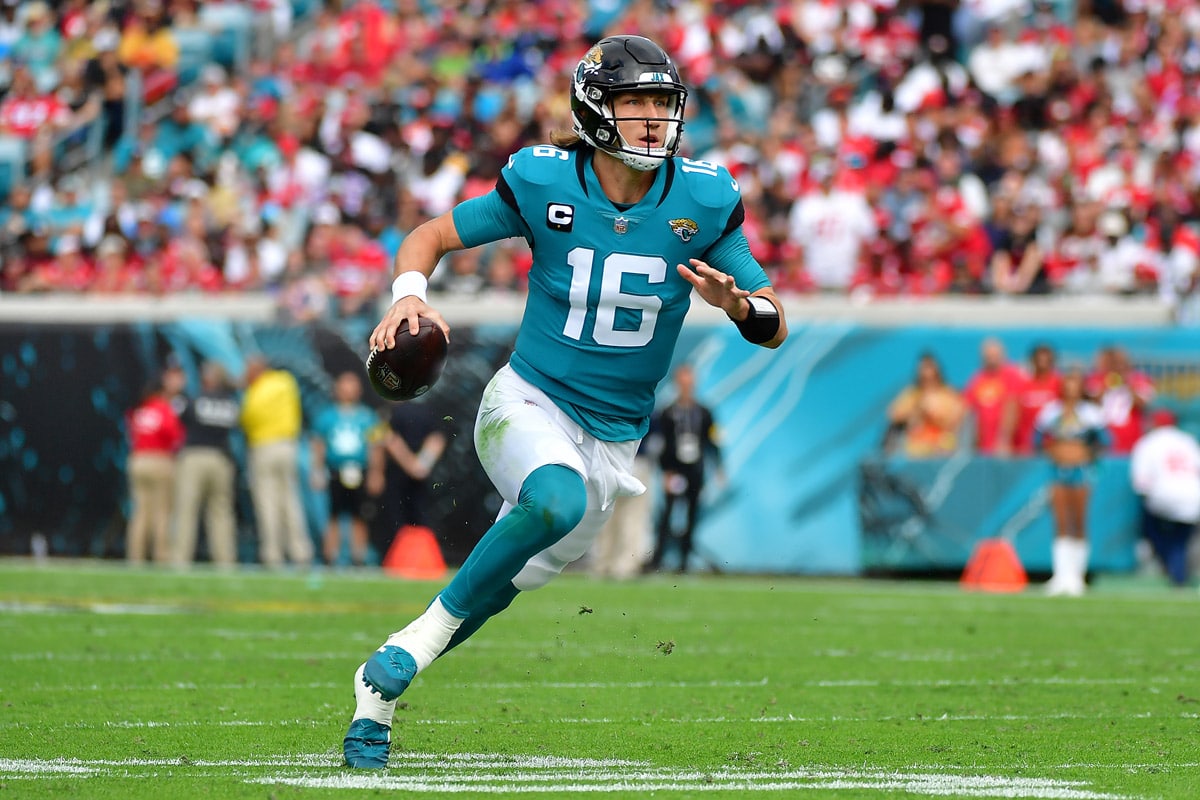 How to revive or how to do even better? The editorial team of dnaofsport offers you a point of view franchise by franchise: inventory of strengths and weaknesses as well as ideas for the market and the draft. We start with those who finished the 2021 season with the worst record: the Jacksonville Jaguars.
Ouch. Trevor Lawrence's first season was painful. Only three wins and on a personal level, a mediocre ratio of 12 touchdowns for 17 interceptions! Finally little helped by a coach fired during the season and by a workforce with limited talent, the young Jedi has the destiny of this franchise in his hands. Lots of work he has, Master Yoda would say. But Trevor Lawrence represents this new hope. The Republic of Florida is counting on him. Once dominant, the current defense is no longer even in the NFL average. On this side of the ball too, you have to awaken the force.
The owners
1. Josh Allen (Edge)
2. Trevor Lawrence (QB)
3. Myles Jack (LB)
Good. Josh Allen is good. His ability to stress the opposing quarterback is formidable. On the other hand, he is not in the top 20 in terms of sacks for the 2021 season! Admittedly, putting the quarterback on the ground is not the only mission of an edge rusher, but if he is effective in putting pressure on, Josh Allen must still raise his level a notch to be a truly dominant player. He has the potential to be the Boba Fett of this squad: a fearsome bounty hunter. Myles Jack will begin his 7th season with the Jaguars and it is above all in this capacity that he can be considered a taulier of this workforce. Not the best tackler or most successful linebacker in coverage, he is, however, a leader with consistent performance. Without injury the season of his draft, he had the profile of a future Pro Bowler in 2016. Since then, he has been a good player in the NFL. Which is already beautiful, but more than that? No. Football is a collective sport but having individuals capable of making a real difference is essential, this is missing from the reading of the Jacksonville workforce. Whether in defense or attack.
Trevor Lawrence had a most painful rookie season, both collectively and individually: less than 60% of passes completed and more interceptions than touchdowns thrown! For now, he looks more like Jar Jar Binks than Luke Skywalker, but his blood has a very high rate of Midi-Chlorien: number 1 among high school students then number 1 also at university level, he is the future of franchise. But what future? Inevitably, his rookie season does not lead to excessive optimism but, with a significant margin of progress and the hope that he is better surrounded, he should assume the role of leader of the rebel army of Duuuval. He is the one who must lead the counter-attack of a franchise in great difficulty. In 2022, he will be Master Doug's Padawan. After his success with the Eagles, the experienced Doug Pederson will lead the main ship in Florida. His athletic relationship with Trevor Lawrence will decide the team's future results. Winner of a Super Bowl and former quarterback himself, the new coach should give strength to the young elected.
Undesirables
1. Taven Bryan (DL)
2. Andrew Norwell (OG)
3. AJ Cann (OG)
Chosen in the 1st round of the 2018 draft, Taven Bryan has only missed 2 games in 4 seasons and yet has only been the author of 5.5 sacks in 4 seasons! His draft in the 1st round was already questioning in 2018, because if the player was good with the University of Florida, his size of tweener did not play in his favour: having a physique between two positions, he lacks the explosiveness to overflow from the outside and the power to really play inside. Arrived at the end of his rookie contract, the offers will not jostle to attach his services. Including from the Jaguars. In 2021, Taven Bryan played 15 out of 17 games but only 26% of his defense games! No thanks and goodbye.
Recruited against the equivalent of his weight in gold, Andrew Norwell has not justified expectations since 2018. Guilty of many penalties and an average performance in 2021, he will not remain on the same conditions. More than the player, it is his contract or rather the contract/sporting level ratio that is undesirable. His experience could play in his favor, if he were to accept a lesser contract: the leaders will probably retain an offensive guard and it will be played between him and AJ Cann (see below).
Man of the Summer: Laviska Shenault (WR)
Selected in the 2nd round in 2020, Laviska Shenault must become an impact target for Trevor Lawrence. Still releasing too many balloons, he must become more reliable and also put his name more on the scoreboard. Strong and knowing how to gain yards after contact, his 3rd season must be the one where he becomes a major player in his team. His ability to feint defenses, because he also knows how to wear leather occasionally, must be better used. Or used simply: the copycat league (where everyone adopts the ideas that work) will necessarily be inspired by the successes of Cordarelle Patterson at the Falcons and above all, that of Deebo Samuel with the 49ers. It is up to the new staff in place to know how to take advantage of their talent. It is also up to the player to give himself the means to be the best possible at every opportunity. That's the NFL: be decisive on every opportunity, or at least on a maximum of them. Injured during his rookie season, runner Travis Etienne is of course also a player to follow. Explosive and having developed automatisms with Trevor Lawrence at Clemson, he will occupy the cockpit of a leading X-Wing in 2022. The Death Star of the AFC South division is currently in Nashville, with the Tennessee Titans, and there is the target to be destroyed.
The main free agents
1. Cam Robinson (OT)
2. DJ Chark (WR)
3. Tyler Shatley (OL)
4. Adam Gotsis (DL)
5. AJ Cann (OG)
The others: Laquon Treadwell (WR), Jihad Ward (DL), Damien Wilson (LB), Tre Herndon and James O'Shaughnessy (TE), Will Richardson (OT).
Cam Robinson arguably played his best NFL season in 2021. Not to say he's been among the best at his job, but he's finally lived up to his status as a former 2nd round pick. The Jaguars could decide to retain him. Or not. Rookie Walker Little has shown great promise in 2021, even if they require confirmation with more playing time. With a young quarterback in charge, the position of left tackle is necessarily to be considered. Is Cam Robinson that player for the next 5 years? In addition to the study of his production, the draft process is important in terms of a possible new contract for him: although two edge rushers seem to be in dispute for the 1st pick of the draft, the Jaguars could decide to select a tackle instead to protect the blond face of their frankness. Cam Robinson's future also depends on their overall strategy this offseason. The same goes for catcher DJ Chark, as market and draft politics will decide his fate in the franchise (see "the target").
No Tyler Shatley is not in the top 50 free-agents 2021. But being able to play all three positions on the inside of the offensive line, he is this 6th man so precious within a unit of the utmost importance . In 2021, he played half of the Jaguars' offensive snaps (and 61% in 2020): a very useful 6th man. Protecting Trevor Lawrence and helping him with a successful running game will decide the team's future results: the offensive line has a major role in both areas. On the other side of the ball, Adam Gotsis is also a rotation player. But having a quality rotation is important on the battlefield, in a game and over a season. Player at the average level but regular, he should obtain a new contract: Stormtrooper of duty and nevertheless essential.
Relatively successful in 2020, AJ Cann was only able to play 4 games in 2021, before getting injured. Arrived at the end of the contract, he could be extended but several factors come into play: extension or not of Andrew Norwell and as always, the nature of the contract. In his absence, young (and inexpensive) Ben Bartch has shown the potential to be a starter in the NFL. So AJ Cann and his agent won't have to be too greedy to hope to stay in northeast Florida. If he can't be better than a WR3 in the NFL, the former 1st round Laquon Treadwell still deserves to play this role. Holding him back cannot be a top priority, but letting him go would look like a mistake. With a reasonable contract, both parties should come to an agreement.
Top 6 Needs
1. Receiver
2. Offensive line
3.Safety
4. Linebacker
5. Tight-end
6. Defensive line
With the only Marvin Jones and Laviska Shenault under contract for 2022, the receiving squad needs to be seriously improved, to hope for optimal performance from quarterback Trevor Lawrence. Via the transfer window and the draft, reinforcements are requested. With a payroll allowing important signatures, the Jaguars will inevitably seek to solve this problem. The prospect of evolving with a talented young QB, of living under the Florida sun and above all, the power of a big contract should decide a good level receiver to join them this offseason. Who from Davante Adams, Allen Robinson or Chris Godwin will hit the jackpot in Florida? Another track is also mentioned below ("the target"). In any case, the Jaguars have the Imperial Credits to attract quality mercenaries.
Conceding few sacks, the Jaguars offensive line is certainly not guilty of the poor performance of young Trevor Lawrence. Yes, but three starters and two substitutes have reached the end of their contract. In addition, right tackle Jawaan Jabba Taylor has always shown difficulties in protection since his draft in 2019: often exceeded, he concedes sacks (6) and prevents others by being penalized for "retained" (11). With several players at the end of their contracts and others giving little certainty, the offensive line must be a priority site for the Jaguars in 2022. To make his lightsaber sing, Trevor Lawrence needs receivers, yes. A good tight-end could also help. Probably via the draft but possibly in free-agency (Zach Ertz?), the Jags must invest in this position. The first defensive curtain has promising elements like Davon Hamilton and Jay Tufele. However, it is advisable to supervise them with one or two competent and above all more confirmed players: Jarran Reed (Chiefs), Akiem Hicks (Bears) or Maliek Collins (Texans) could bring experience and quality rotation.
Target: Juju Smith-Schuster (WR)
Author of superb first two seasons, Juju Smith-Schuster then did not follow the expected margin of progress. But for a young quarterback like Trevor Lawrence, he would be a reinforcement of choice. Capable of catching balls in any area of ​​the field, he would offer many solutions. He could be a kind of Poe Dameron, or a first option in combat, for the Jedi Trevor Lawrence.
Options: Zach Ertz (TE), Jarran Reed (DT), Brandon Schreff (OG), Terron Armstead (OT), Chris Godwin (WR).
New Blood: Aidan Hutchinson (Edge)
If Josh Allen is performing, the young K'Laivon Chaisson is struggling to find his place. The Jaguars could select another edge rusher with the 1st draft pick. Aidan Hutchinson offers an attractive profile so why not take advantage of it? Putting pressure on both sides most often prevents enemy leaders from hitting their aerial targets. An aggressive man in business, the owner Shahid Khan necessarily thinks of this option. Master Sith, in 2022 he wants to take his revenge.
Options: Evan Neal (OT), Kayvon Thibodeaux (Edge), Ikem Ekwonu (OT), Charles Cross (OT).