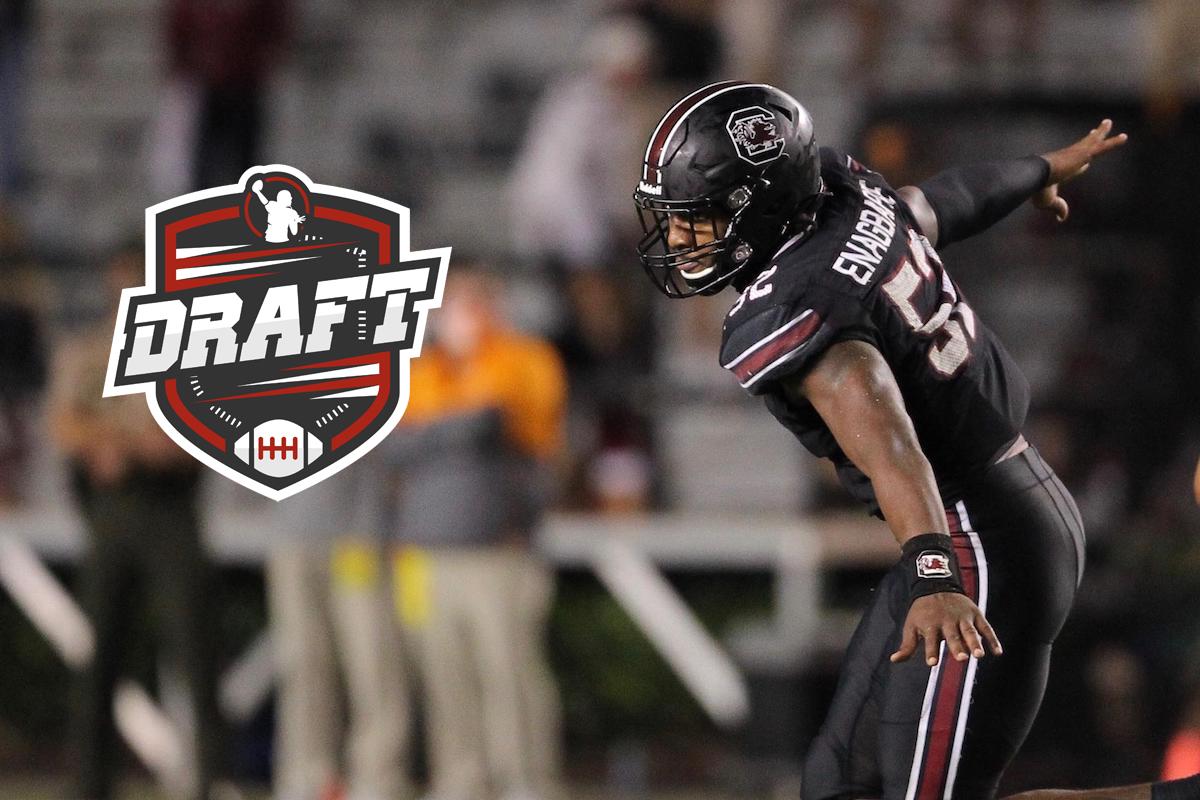 Kingsley Enagbare – Edge rusher – 22 years – Senior – south carolina
Cut : 1m93
Weight : 120 kg
Estimated draft position: 3rd round
Stats 2021 : 12 matches, 28 tackles including 4.5 sacks, 2 deflected passes, 1 forced fumble, 1 covered
NFL Comparison: Darrell Taylor (Seahawks)
Strong points
– Excellent engine
– Skillful in the face of the race
– Good power and mobility
In a Draft where the edge rushers are on the front of the stage, Kingsley Enagbare is a little behind, but very happy the franchise which will recover the former South Carolina because he has everything to succeed in the NFL. If there's one thing that jumps out when you watch Enagbare play, it's the fact that he never stops his effort. This makes him very dangerous on both the pass rush and the run defense because, in addition to making his own big plays from time to time, he picks up the crumbs that his teammates leave him if they miss a tackle. With this and despite his rather heavy size, he is relatively mobile and manages to sneak through the offensive linemen relatively well. The 45 pressures on the quarterback he managed to force are proof of that.
Weak points
– Injuries
– First step
Enagbare had to undergo hip surgery in 2020. We know how important the hips are in American football, especially for changes of direction. There has been no alert since then, but that necessarily plays a little on his position in the Draft. The former South Carolina is not the most explosive out of the starting blocks and he must compensate with his fighting spirit. If his power is good, the same cannot be said for his technique. He is often too high on his supports and he is forced to compensate, once again, with his power. If he could manage to be a little more grouped, he would certainly be a much more regular threat and would often avoid being knocked out of action by the opposing offensive lineman.
Possible destinations
San Francisco 49ers, Denver Broncos, Arizona Cardinals, Cleveland Browns
The departure of Arden Key could precisely give the opportunity to a player like Enagbare to shine in a defense which already has many weapons and would prevent him from having too much pressure behind Nick Bosa and with the possibility of the departure of Dee Ford . In Denver, it is necessary to resupply the pass rush after the departure of Von Miller last year. It's a bit the same observation in Arizona since Chandler Jones has packed his bags and leaves a big void. At the Browns, there seems to be interest around Jadeveon Clowney's return, but until that's done, Cleveland needs help in edge rushing, and it wouldn't necessarily be a bad idea to develop Enagbare if Clowney is re-signed.