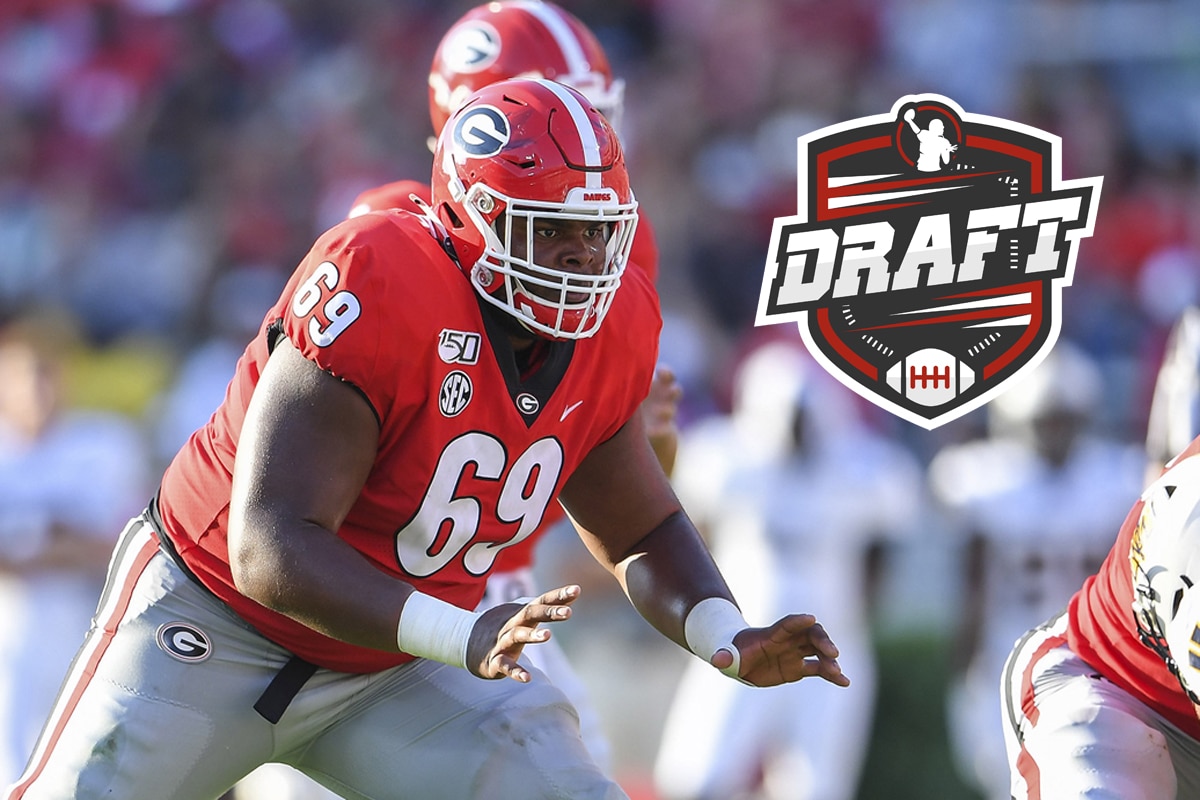 Jamaree Salyer – Guard – 21 years old – Senior – Georgia
Cut : 1m91
Weight : 145 kg
Estimated draft position: 2nd round
Stats 2021: 517 snaps in LT, 56 in RG. 1 conceded sack and 2 pressures.
NFL Comparison: Shaq Mason (Bucs)
Strong points
With a physique made for a position inside the offensive line, jamaree salyer uses his attributes to perfection: powerful in a duel, he knows how to transfer the weight of his body to his hands at the point of impact. Whether to repel an attacker or to dismiss a defender in a running situation. If he is not the physical monster that is Kenyon Green or the extraordinary athlete Zion Johnson, Jamaree Salyer looks like the composite portrait of a titular OG in the NFL. Complete and reliable.
Jamaree Salyer has played most of the 2021 season as a left tackle with champion Georgia. However, during the final won against Alabama, he returned to a position that gives him a future in the NFL: that of offensive guard. He will be an inside player at the top level. However, it offers a more than interesting versatility. He is able to help out as a tackle, but above all he has experience on both sides of the line. It doesn't seem like much and yet: stepping back with your left or right leg is not the same thing. Having to be balanced in his backward run to protect his quarterback, an offensive lineman must have bodily automatisms, and few are able to adapt to one side or the other of the center. Guard left or right, he knows: this 69 knows how to be effective on both sides.
Weak points
Because everything is measured, rated and quantified, there are physical standards in the NFL. Ideally, Jamaree Sayer is missing a few centimeters. In terms of height but also in terms of reach: if this sport is different from Judo or Boxing, long arms are often a prerequisite for winning duels. If many exceptions exist in any sport, they remain exceptions confirming a rule. But the one who already in high school played alongside tackle Andrew Thomas (Giants), nevertheless has a physique comparable to many NFL holders in this position.
The course
When you are a highly rated young player when you leave high school, you receive a lot of scholarship offers. Jamaree Salyer was rated a 5-star rookie: the nation's No. 1 guard and No. 10 player overall. In front of him, players already in the NFL like Trevor Lawrence, Patrick Surtain or Micah Parsons. He was recruited by 29 universities! And what beautiful people: Notre Dame, Michigan, LSU, Alabama, Ohio State and Clemson, among others. Born in a town north of Atlanta, he especially favored the two behemoths of the region: Georgia and Florida. And after visiting these two campuses, he made his decision to stay closer to home. He took it well, he finished his course by being a university champion!
Possible destinations
New York Giants, Chicago Bears, Baltimore Ravens, Washington Commanders, New England Patriots, San Francisco 49ers
From pick 36 to 61, Jamaree Salyer should be chosen in the second round of the draft. Attacks lacking offensive linemen will be numerous, as every year. A player on the NFL starting floor from the 1st day is necessarily attractive. After having addressed more highly rated positions in the 1st round, many staffs will turn to the Georgia player. If it is not the most popular position, that of guard is however coveted and this 69 is a safe bet.