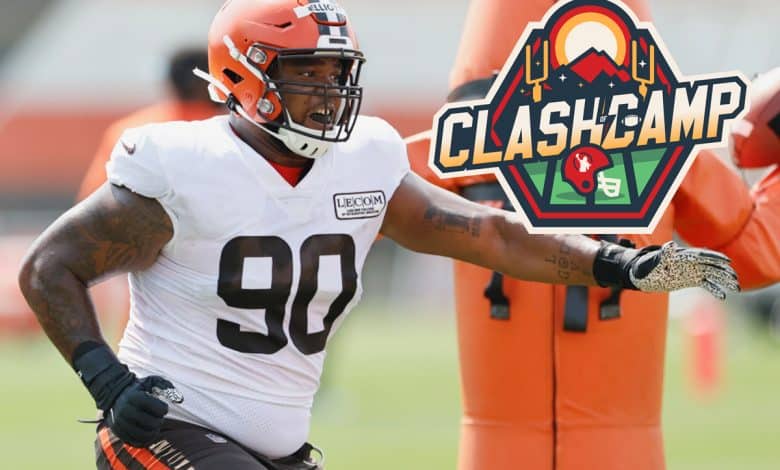 Of 90 to 53. For a permanent or rotational position, there are many candidates, for few elected. Because competition means emulation, apart from a few executives, NFL staff all experience battles during training camps.
Pittsburgh Steelers: 4th target
On the starting line: Allen Robinson, Calvin Austin, Zach Gentry, Darnell Washington
Three men will have a lot of playing time in 2023: receivers Diontae Johnson (90% of snaps in 2022) and George Pickens (76%) as well as tight end Pat Freiermuth (64%). These three main targets produced 2,415 yards last year. Alternating between 11 Staff (3 WR and 1 TE on 40% of attacks) and 12 Staff (2 WR and 2 TE on 50%), there is a place to take in the Steelers offensive system.
If he has already exceeded 1000 yards three times in the regular season, receiver Allen Robinson has lost his luster for two years. For his 10th NFL season, he joined his 4th franchise hoping to end his career well. The chemistry with this team is obvious because it specializes in slot : where the Steelers have a need. And for an attack that runs a lot (500 runs in 2022!), he is also a good blocker in this position.
Its main competitor is more dynamic but receiver Calvin Austin has no experience, due to an injury having deprived him of his season rookie. His liveliness can do damage between the marks and his top speed allows him to attack deep. But will he be a regular contributor or a weapon on a few games per game? This fourth man could be one of these two receivers. He could also be a tight end.
Zach Gentry played all 17 games in 2021 as in 2022 and his blocking skills earned him a new 1-year contract. Speaking of tight end blocker, the Steelers drafted one in 2023: the immense Darnell Washington and his 2m02. His stature is that of an offensive tackle and even larger than some 1st round 2023 in this position like Darnell Wright (Bears), Peter Skoronski (Titans) and Anton Harrison (Jaguars)!
Mainly used as a blocker in Georgia, he also shone during the NFL Combine. His time of 4.64 seconds for 40 yards is impressive for a player of his size. But it is above all his test on the 20 yard shuttle which raises many hopes: 4.08 seconds! Quite simply the 3rd time in 2023, better than all the receivers (except one)!
The layouts of a tight end, with rare exceptions, require liveliness to stand out over a short distance and this exercise measures the suddenness of the changes of direction. Added to its quality as a blocker, for an attack built around the ground game, this makes it a serious candidate as the 4th most used target in attack. If he manages to improve his hand reliability during camp, then he should get plenty of playing time.
In fact, runner Najee Harris was the 4th target in 2022 (41 receptions) and this skill will still be exploited in 2023: 696 yards and 6 touchdowns in the air in two seasons. But to hope to find a place in a very competitive division, the Steelers will have to find a 4th man to help the young quarterback Kenny Pickett for his throws.
Prediction: Darnell Washington
Also: left tackle, cornerbacks, nose tackle
Cleveland Browns: defensive line
On the starting line: Jordan Elliott, Siaki Ika, Perrion Winfrey, Tommy Togiai, Trysten Hill, Maurice Hurst, Ogbonnia Okoronkwo, Alex Wright, Isaiah Thomas, Isaiah McGuire, Lonnie Phelps
25th run defense and 27th in sacks in 2022! New coordinator Jim Schwartz seems the perfect coach to reinvigorate a struggling squad in 2022, with his use of the named scheme Front 50as he tells Sports Illustrated:

"You will often see 5 defensive linemen at the same time "
Three starters are identified with the incredible Myles Garrett and newcomers Dalvin Tomlinson and Za'Darius Smith. But who will be the other two?
To counter the ground game, the Browns drafted Siaki Ika to plug holes in the trenches. He should get his playing time especially on the 1st attempt. Jordan Elliott must take a step forward in 2023. Aggressive player to tear the opposing pocket, his fourth season is that of accomplishment or "goodbye". These two players are in competition with Perrion Winfrey. Still very young (23 years old), his natural attributes (tall with an unreal wingspan) give him the potential to do damage in the NFL.
The position of 4th player in this line at 5 is disputed between these three players. Plus, Maurice Hurst, Trysten Hill and Tommy Togiai who are also inside candidates. The 5th will be an outside player and there too there is a traffic jam!
Ogbonnia Okoronkwo starts its 5th NFL season with a 3rd franchise. "Obeezy" is a fast defender using his fluidity of movement to disrupt quarterbacks: 11th NFL in pass rush win rate (22.6%) in 2022 with the Houston Texans.
The Browns' second 2022 draft pick (#78) was Defensive End Alex Wright. Described as having extraordinary physical attributes but still raw from a technical point of view, it was used sparingly last year. This year must be the season where he shows progress. Ditto for Isaiah Thomas drafted in the 7th round in 2022.
These three players will be challenged by two rookies: Isaiah McGuire (4th round 2023) is a complete player, capable against the run and the pass, correct everywhere but excellent nowhere. Signed after the 2023 draft, Lonnie Phelps is more one-dimensional but the speed of his movements makes him a candidate to put pressure on.
Prediction: Myles Garrett-Dalvin Tomlinson-Za'Darius Smith with Jordan Elliott and Ogbonnia Okoronkwo most of the time
Also: tight end number 2, kick returner
Cincinnati Bengals: Returner
On the starting line: Trent Taylor, Charlie Jones, Chris Evans, Trayveon Williams
In 2022, receiver Trent Taylor was excellent with 10.3 yards per return. But his role, both in the special team and in attack, is threatened by a rookie.
Receiver Charlie Jones (choice 131) personifies this player who hangs on and manages to chart his course despite lesser physical attributes: 1361 yards and 12 touchdowns in 2022! Very good track runner, he will compete with Tyler Boyd for a position in the slot in attack. With a constant during his university course: his ability to return commitments and punts.
For now, four players are competing to return both types of kicks: receivers Trent Taylor and Charlie Jones as well as runners Chris Evans and Trayveon Williams. The place is expensive in the final 53: the staff therefore logically relies on players who can contribute both in the special team and on one side of the ball.
In 2022, the Bengals have on average started their drive on their 30.7 yards (3rd NFL): logically, the less a team starts from afar, the more likely it is to arrive in an area allowing it to score points! This returner position is therefore important.
Prediction: Charlie Jones
Also: Right Tackle, Safety, Punter
Baltimore Ravens: Left guard
On the starting line: Ben Cleveland, John Simpson, Andrew Vorhees, Daniel Faalele, Malaesala Aumavae-Laulu
During the offseason, the incumbent signed a new contract…but in Denver! Ben Powers gone, the Ravens must find a new holder.
Solid with Georgia, Ben Cleveland was drafted in the 3rd round in 2021. An imposing player (2m for 168 kilos), a knee injury slowed his progress last year. His stature also makes him a contender for the position of right tackle where he also takes repetitions in training.
John Simpson arrives from Las Vegas where he was one of too many lost bets that got Mike Mayock fired. But he's still young (26) and a former two-time college champion with Clemson. Also, for a team that likes to run, his power and dueling skills (state champion in high school wrestling), make him the favorite to get the job.
After these two players, the mountain Daniel Faalele (2m07 for 172 kilos) and the rookie Malaesala Aumavae-Laulu. Also rookie Andrew Vorhees: Left guard at USC University, he also has experience as a tackle. But injured during the NFL Combine, he will not be able to fight on equal terms during the camp.
The Ravens have three out of five starters: Ronnie Stanley, Tyler Linderbaum and Kevin Zeitler. They even have their 6th handyman with Patrick Mekari. But the position of Left Guard is at stake during the camp.
Prediction: John Simpson
Also: cornerbacks, receiver (slot), right tackle, edge.