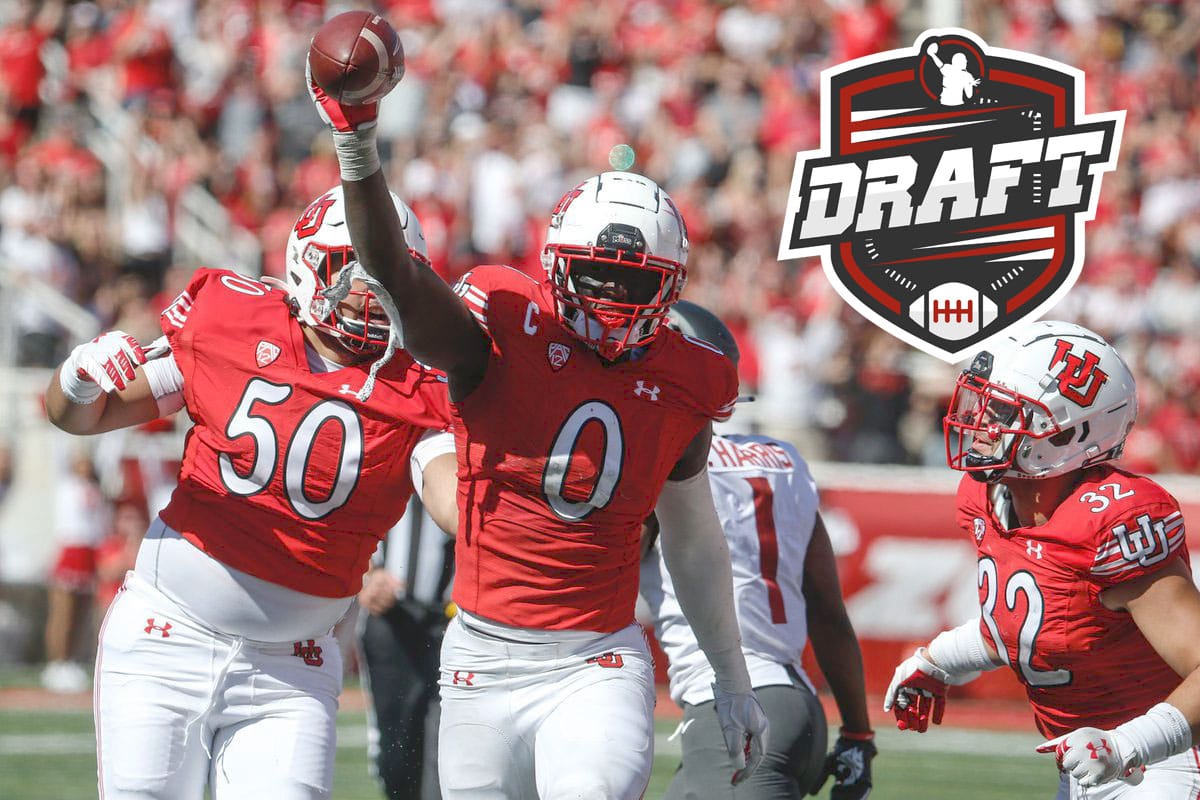 Devin Lloyd – Linebacker – 22 years old – Junior – Utah
Cut : 1m90
Weight : 106kg
Estimated draft position: Top 20
Stats 2021: 111 tackles including 22 for losses, 7 sacks, 4 interceptions, 6 passes defended, 1 forced fumble, 1 covered fumble, 2 touchdowns
NFL Comparison: Fred Warner
Strong points
– Mobility / Change of direction
–Playmaker
– Soccer IQ
– Race Defense
–Leadership
– Versatility
When it comes to reacting quickly to opposing action by springing into motion with alacrity, nobody does it better than Lloyd. Mobility horizontally and vertically, it is of a crazy explosiveness which allows it to be in motion before the others. Without putting himself in danger, he is on the runner even before the line can react. Looking to make an outside run against Lloyd is a lost cause, he is able to annihilate a run attack almost on his own.
If the body reacts fast, the brain is even faster. It almost gives the impression that he knows the opposing game plan beforehand. Able to read the opposing quarterback, he can impact all actions, running or passing, covering or blitzing. Cover is Lloyd's main focus of progress between 2020 and 2021. Initially limited to the first two attempts, he has proven this year that he can make an impact in cover and even pull off decisive action with sure hands.
Last undeniable quality, the Utah linebacker is a leader. A true conductor of his defense, he replaces, motivates and organizes his squad. If there's one player who can take the headset as a freshman in the NFL, it's him.
Weak points
– Tackles
– Endurance
If the quality of Lloyd's tackles has improved over the seasons, this remains his main flaw. Sometimes too aggressive, he seeks impact without securing his approach. They are numerous in this case at the end of high school and this is not prohibitive, but it will be necessary to progress on the technique, under penalty of being punished by experienced players.
While Lloyd is a talented player, he doesn't look like the usual top-20 projected linebackers. Although he is athletic, he has no outstanding characteristics, either in speed or in strength. Although he compensates with his explosiveness and intelligence, this will set him back in some boards.
The stat
22 tackles for loss
Performing a tackle for loss is an accomplishment for a linebacker, it is the moment when a running play has been annihilated by a good vision of the game, or when the opposing quarterback is down. It's rarer than for a defensive end, and therefore more valuable. The total of 22 "TFL" for Loyd is absolutely prodigious and measures his impact. And his statistics have not been made against weak opponents, as evidenced by his XXL performance in the conference final.
Possible destinations
Denver Broncos, New York Giants, New York Jets, Philadelphia Eagles, Los Angeles Chargers, Miami Dolphins, Tennessee Titans, Los Angeles Rams
Teams lacking a linebacker are legion, and Lloyd's versatility makes him a target for most teams. Both Gotham teams have a need for the position, and have several top 10 picks, which reinforces the possibility of dropping a pick on Lloyd even if the position is less valued.
Even in the worst-case scenario, the top 20 is the upper limit, to see it fall further would be surprising. If he goes all the way to Philadelphia, one of the three picks will go to him, even though it's not in Philly's DNA to pick a linebacker. Don't rule out a big trade up for him, like the Steelers for Devin Bush a few years ago.