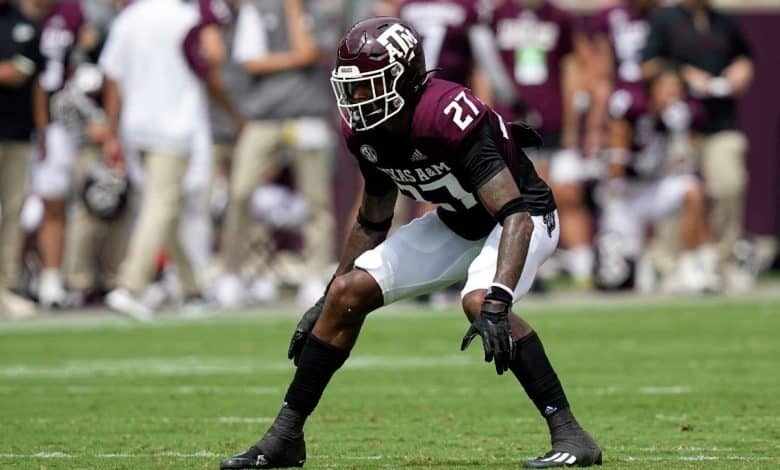 Antonio Johnson, an imprint to leave but an ironclad determination.
Antonio Johnson – Defensive Back – 21 – Junior – Texas A&M
Height: 1m89
Weight: 89kg
Estimated draft position: 1er-2e round
2022 stats: 71 tackles, including 5 for loss, 3 forced fumbles, one sack
NFL Comparison: Kyle Dugger
Strong points
– Amazing speed for its size
– Tackle intensity
– Leadership and versatility
A clearing in the middle of the storm! In the complex season experienced by Texas A&M in 2022, Antonio Johnson was one of the few local satisfactions. It must be said that the native of Illinois knows how to be a real Swiss army knife. Long used as a nickelback in the Texas defensive backfield, "AJ" has gradually moved closer to the pocket to showcase his formidable speed and thirst for tackles.
In the duel, the defender is a real poison to stop: tall and endowed with a commendable size on the position, Johnson also has excellent instincts which allow him to feel the game and to be incisive as to his battle plan.
Result: 150 tackles over the last two university campaigns.
Added to that a real physique capable of fighting to cause ball losses, as evidenced by his three forced fumbles in 2022. Relay of the head coach, Johnson is not the most flashy there is, but his knowledge of the game allows him to exceed its simple function of box safety, with an interesting fluidity on the pursuit and a perpetual intensity when finishing the actions.
Weak points
– Ability on cover
– Relative athletic profile
On theory, Johnson has a lot of attributes that will appeal to franchises. But how high can his rating go? While many remain uncertain as to his preferred position in the league, he is highly unlikely to see him as a free safety in the pros, with relative hip mobility and fairly low interception production (one in 25 matches played).
The other questionable element is his Combine. With more than any numbers, on the bench press, the vertical jump or the joint jump, Johnson did not assert himself as an exceptional athlete, which could dampen the enthusiasm of certain teams at the time of the drafting, especially on Thursdays.
Possible destinations
Buffalo Bills, Las Vegas Raiders, Philadelphia Eagles, Tampa Bay Buccaneers
A tough guy. A real football IQ. A good soldier. It's hard to imagine Antonio Johnson not breaking into the pros, as his baggage seems developed, with an atypical size and an overflowing desire for each snap. But often compared to Brian Branch, on his position, in this draft process, the Aggies player seems to lack a certain X factor, which could make him only a starting player and therefore a prospect surely drafted in the second. round. But surrounded by a good coaching staff, the one who is still only 21 years old still has something to surprise his world with a little more experience.