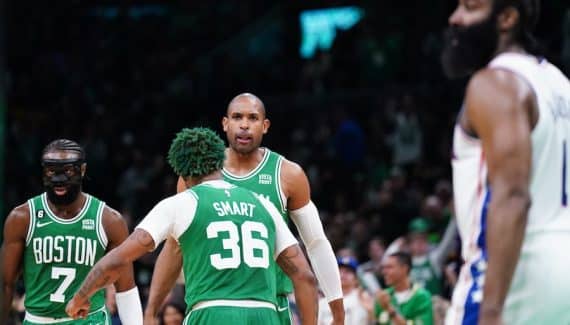 " What has the last 48 hours been like for your team? », asks a journalist. " Angry, pissed off », retorts Joe Mazzulla without making a sentence. " And… did you like it? YOU… » « Yes "replies the Celtics coach just as lapidally.
This is how to sum up in a few words the state of mind of the men of Massachusetts after their inaugural defeat and before approaching this second round, still at home, against the 76ers. The latter may have brought Joel Embiid back, but they did not exist in the face of the green reaction. On arrival: a defeat of 34 points!
For the record, this victory for the Celtics marks the 15th consecutive time that a team, beaten the first game of a series at home, reacts to win the second set.
" I think we should be prouder. That's all. I have the feeling that we were not up to the task in the last game. We wanted to go out there and play to the best of our abilities. And that's what we did ", judge Jaylen Brown, the best scorer of the evening, author of a big start to the match to launch his team well.
Big start to the game and the third quarter during which the locals will take an irremediable lead (35-16). Uncontested authoritarian dunk, award-winning basket then much more contested "jumper" and finally two free throws: he almost single-handedly "offered" a 14-point lead to his team (68-54).
" We have to take our hat off to him, he triggered our whole dynamic. We just had to follow his example. When one of your best players sets the tone like this, it's hard not to follow ", notes Marcus Smart.
Our defense slackened, we wanted to get back to what we do best
Behind, Derrick White and Malcolm Brogdon took over with a high level of long-distance skill.
" Our strength is our density. That's the way the team is built, we got guys like me, Derrick, Grant (Williams) who play behind our two superstars and who are ready to contribute when they can sums up the 6th man of the year, author of 23 points (7/15) and a franchise record equaled in the playoffs with his six 3-point baskets (6/10) off the bench.
The latter's fine performance was all the more important as one of the superstars in question, Jayson Tatum, signed a non-match (7 points at 1/7 on shots but +24 when he was in play) due to including fault issues. He had not yet signed a single game under the 10-point mark this season, which did not prevent Boston from scoring 121 points.
At the same time, the Celtics reacted defensively by signing their best performance in the playoffs in this area. Sparkling in Game 1 (45 points), James Harden was limited to a very modest double-double (12 points at 2/14 on shots and 10 rebounds). Joel Embid? 15 points only.
" Our defense slackened, we wanted to get back to what we do best ", displays Marcus Smart, the "DPOY" 2022. " We don't want never start a match feeling like you've let the previous one pass. We have experienced that too often last year and this year. It is now a question of knowing if we can do the same thing in the next match, maintain the same physical level, the same intensity, the same approach upstream. […] We can't relax "claims Grant Williams to finish.
Shots
Bounces
Players
GM
Minimum
Shots
3 points
LF
Off
Def
Early
pd
bp
Int
CT
party
Points
Jayson Tatum
74
36.9
46.6
35.0
85.4
1.1
7.7
8.8
4.6
2.9
1.1
0.7
2.2
30.1
Jaylen Brown
67
35.9
49.1
33.5
76.5
1.2
5.7
6.9
3.5
2.9
1.1
0.4
2.6
26.6
Malcolm Brogdon
67
26.0
48.4
44.4
87.0
0.6
3.6
4.2
3.7
1.5
0.7
0.3
1.6
14.9
Derrick White
82
28.3
46.2
38.1
87.5
0.6
2.9
3.6
3.9
1.2
0.7
0.9
2.2
12.4
Marcus Smart
61
32.1
41.5
33.6
74.6
0.8
2.4
3.1
6.3
2.3
1.5
0.4
2.8
11.5
Al Horford
63
30.5
47.6
44.6
71.4
1.2
5.0
6.2
3.0
0.6
0.5
1.0
1.9
9.8
Grant Williams
79
25.9
45.4
39.5
77.0
1.1
3.5
4.6
1.7
1.0
0.5
0.4
2.4
8.1
Robert Williams
35
23.5
74.7
0.0
61.0
3.0
5.4
8.3
1.4
1.0
0.6
1.4
1.9
8.0
Sam Hauser
80
16.1
45.5
41.8
70.6
0.4
2.1
2.6
0.9
0.4
0.4
0.3
1.2
6.4
Mike Muscala
20
16.2
47.2
38.5
69.2
0.7
2.7
3.4
0.6
0.5
0.2
0.3
1.4
5.9
Payton Pritchard
48
13.4
41.2
36.4
75.0
0.5
1.3
1.8
1.3
0.8
0.3
0.0
0.8
5.6
Blake Griffin
41
13.9
48.5
34.8
65.6
1.1
2.6
3.8
1.5
0.5
0.3
0.2
1.8
4.1
Luke Kornet
69
11.7
66.5
23.1
82.1
1.2
1.6
2.9
0.8
0.4
0.2
0.7
1.2
3.8
Justin Champagnie
2
11.7
16.7
20.0
0.0
1.0
1.0
2.0
1.5
0.0
0.5
0.0
0.5
2.5
Jd Davison
12
5.5
42.1
28.6
50.0
0.2
0.6
0.8
0.9
0.3
0.2
0.2
0.4
1.6
Mfiondu Kabengele
4
9.1
28.6
0.0
100.0
1.3
1.3
2.5
0.0
0.3
0.5
0.0
0.8
1.5
noah vonleh
23
7.4
45.8
25.0
100.0
0.8
1.3
2.1
0.3
0.5
0.1
0.3
1.5
1.1
justin jackson
23
4.7
25.9
25.0
50.0
0.1
0.7
0.7
0.4
0.1
0.2
0.2
0.3
0.9