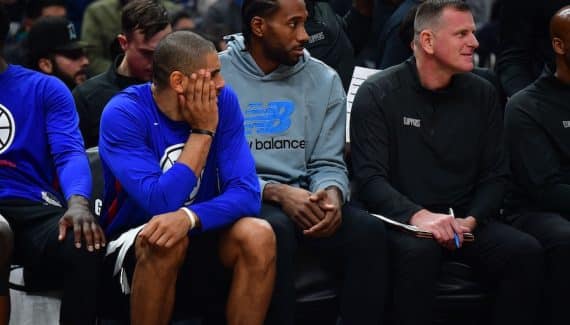 We had remained on a feeling of total vagueness as for the date of return of Kawhi Leonard.
A week later, the news regarding the Clippers player's condition looks much better. For the first time since his return to the infirmary, to treat his bruised knee, the winger was able to participate in five-against-five during training on Friday.
" He played five-on-five with some of our guys, players and coaches. It's the first time he's been able to go out there and play like that, and he seemed pretty good. He still has a long way to go, but sending him on the field, five-on-five, was a first positive sign », enjoy Tyronn Lue.
The latter assured a few days ago that there was no timetable for the return of "The Klaw". This time, the coach, who does not know if he will start on the bench as has been the case in his two appearances this year, ensures that he is getting closer.
The former Spurs and Raptors will not return not tomorrow. It's going to take a few more practice sessions to get there. Then we will have to reassess him to see how he feels after going to the infirmary and see if we have checked all the boxes. ", Details the technician whose training receives the Nets the next night.
This one isn't in a rush anyway as the Clippers have won five of their last six games.
Kawhi Leonard
Percentage
Bounces
Season
Crew
GM
Minimum
Shots
3 points
LF
Off
Def
Early
pd
party
Int
bp
CT
Points
2011-12
SAN
64
24
49.3
37.6
77.3
1.6
3.5
5.1
1.1
1.4
1.3
0.7
0.4
7.9
2012-13
SAN
58
31
49.4
37.4
82.5
1.1
4.9
6.0
1.6
1.7
1.7
1.1
0.6
11.9
2013-14
SAN
66
29
52.2
37.9
80.2
1.2
5.1
6.2
2.0
1.9
1.7
1.2
0.8
12.8
2014-15
SAN
64
32
47.9
34.9
80.2
1.3
5.9
7.2
2.5
2.0
2.3
1.5
0.8
16.5
2015-16
SAN
72
33
50.6
44.3
87.4
1.3
5.5
6.9
2.6
1.9
1.8
1.5
1.0
21.2
2016-17
SAN
74
33
48.5
38.0
88.0
1.1
4.7
5.8
3.5
1.7
1.8
2.1
0.7
25.5
2017-18
SAN
9
23
46.8
31.4
81.6
0.7
4.0
4.7
2.3
1.0
2.0
1.8
1.0
16.2
2018-19
TOR
60
34
49.6
37.1
85.4
1.3
6.0
7.3
3.3
1.5
1.8
2.0
0.4
26.6
2019-20
LAKE
57
32
47.0
37.8
88.6
1.0
6.1
7.1
4.9
2.0
1.8
2.6
0.6
27.1
2020-21
LAKE
52
34
51.2
39.8
88.5
1.1
5.4
6.5
5.2
1.6
1.6
2.0
0.4
24.9
2022-23
LAKE
2
21
44.4
16.7
88.9
2.0
4.5
6.5
2.0
2.5
1.5
2.0
0.0
12.5
Total
578
31
49.3
38.4
85.8
1.2
5.2
6.4
2.9
1.7
1.8
1.6
0.6
19.2