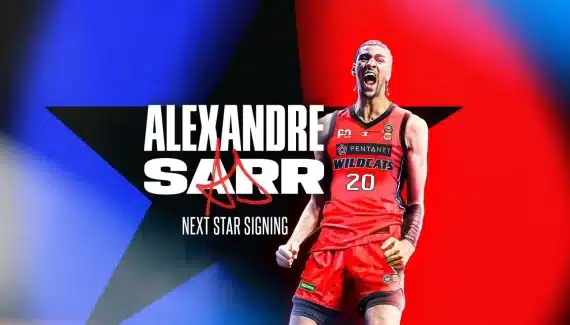 Everything happened very quickly for Alexandre Sarr. In two matches against the young stars of Team Ignite, as part of the G-League Fall Invitational, the Frenchman made a name for himself with his 21.5 points, 8.5 rebounds and 6 blocks on average!
He thus considerably increased his odds for the 2024 Draft. The proof with two statements from NBA GMs. "He dominated everyone"notes the first for Andscape. "He's a fascinating talent. A Top 5 Draft and even a possible first choice »estimates the second.
Olivier's brother (2m13, 18 years old), who plays for the Australian team in Perth, impressed the scouts present. It must be said that with his size, his mobility and his shot, the native of Toulouse has a lot of qualities. And as the 2024 Draft promises to be open, with Ron Holland and Matas Buzelis announced as the first choices, Alexandre Sarr obviously has a card to play to, why not, imitate Victor Wembanyama.
Especially since, after two years with the Overtime Elite, he joined the NBL and the "Next Star" program in order to best prepare for entering the NBA next year. Like LaMelo Ball or Josh Giddey before him.
"For me it's about growing as a player," he explains. "I had thought about Australia before, I had heard about the experiences of other NBA prospects. So I said to myself why not, even if it's far away, it's worth it. I think it's the right decision. »
Is Sarr Born?
If he confirms during the Australian season, there is no doubt that his name will come back insistently at the top of the 2024 Draft. In the meantime, his brother, Olivier Sarr, will monitor him so that he continues to work.
"It's built for those moments, and even bigger ones. For now, I'm the big brother and I'm there for him, making sure he stays grounded." delivers the one who returned to the Thunder. "He makes noise, eyes are on him and there is hype around him. We can rejoice in what he has already achieved, but we must focus on what he can do even better. »
So far, the young French talent seems to be resisting pressure well. The presence of NBA scouts, in Overtime Elite or during these two summer matches, did not seem to shake him up.
"I don't really think about it. Ultimately, it's just basketball. I don't put more pressure on myself than that. »