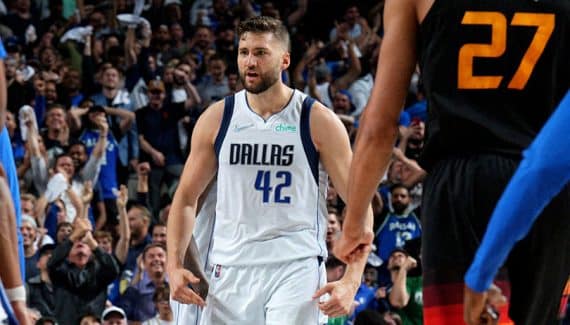 Absent from the German ranks at the EuroBasket, Maxi Kléber will console themselves with a nice contract extension. According to The Athletic, the strong winger will extend for 33 million dollars over three years. A great mark of confidence for a player who was to test the market in a year, and a substantial salary for a player who averages around 7 points and 5 rebounds each year.
Here he is under contract until 2026 and this season, he will come off the bench in the relay of JaVale McGee and Christian Wood, the two main recruits of the team.
This is what Jason Kidd has already announced: Without taking anything away from Jalen, Spencer (Dinwiddie will start), and we will have a big five with JaVale (McGee). We will also have more attackers coming off the bench.
Pick-and-pop specialist, Maxi Kleber should always take advantage of Luka Doncic's shifts. On condition of finding address since he only turned 32% at 3-points in 2022, against 41% the previous year.
Maxi Kléber
Percentage
Bounces
Season
Crew
GM
Minimum
Shots
3 points
LF
Off
Def
Early
pd
party
Int
bp
CT
Points
2017-18
LAD
72
17
48.9
31.3
74.6
1.0
2.3
3.3
0.7
1.6
0.4
0.4
0.7
5.4
2018-19
LAD
71
21
45.3
35.3
78.4
1.3
3.4
4.6
1.0
2.0
0.5
0.8
1.1
6.8
2019-20
LAD
74
26
46.1
37.3
84.9
1.5
3.7
5.2
1.2
2.4
0.3
0.8
1.1
9.1
2020-21
LAD
50
27
42.2
41.0
91.9
0.9
4.3
5.2
1.4
2.1
0.5
0.6
0.7
7.1
2021-22
LAD
59
25
39.8
32.5
70.8
1.2
4.8
5.9
1.2
2.3
0.5
0.8
1.0
7.0
Total
326
23
44.6
35.9
79.6
1.2
3.6
4.8
1.1
2.1
0.4
0.7
0.9
7.1