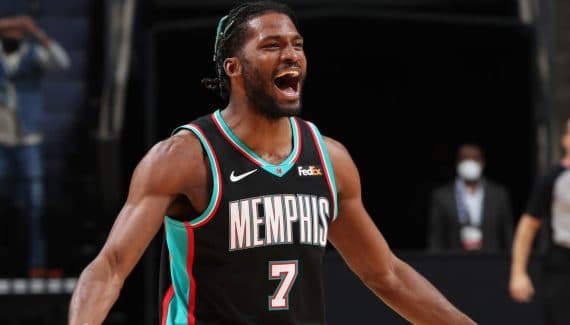 After two last seasons rotten by a hip injury, in Miami then Memphis, Justise Winslow landed this summer in Los Angeles, on the side of the Clippers. There, he will try to find sensations, to better resume the thread of a career put on hiatus for about two years, while he was playing his best basketball.
Coincidence or coincidence, it is the serious injury of another player, namely Kawhi Leonard, which has in a way allowed him to make a place for himself in the Californian workforce. But the hardest part now begins for the 25-year-old winger, who wants to put this difficult ordeal behind him definitively, in a new environment (and where life is good).
" A lot has happened, on and off the pitch", He recalls, for The Athletic. " Because of my injury, I was trying to take game after game and figure out where I could bring for the team. But with the schedule and the trips, it was hard to find time to work and find my rhythm. I just made sure to fit into an already established team, despite the little training that complicated the situation. But this three-month off-season has made me feel better and gradually regain my game. It's going well for me, but it was a difficult injury, I don't wish it on anyone. "
Versatility and sacrifice as key words
Recovered by the Grizzliers in February 2020, in exchange for Jae Crowder, Andre Iguodala and Solomon Hill, Justise Winslow has played, altogether, only 26 games with the Tennessee franchise, in a year and a half (for 6.8 points, 4.5 rebounds and 1.9 average pass). Between relapse, competition and lack of sensations, he never managed to make his hole in the rotation of Taylor Jenkins, yet willing to play young people.
However, the former resident of Duke retains excellent memories of his passage, admittedly failed, to the Grizzlies.
" It was great", He delivers. " He is one of the best staff I have worked with in my career. The medical team was great, young and pleasant, there was good energy and it helped me a lot in my rehabilitation process, so as not to be depressed or too sorry for myself. I needed such a transition after Miami and it helped me get to where I am today. "
More posed, positive and thoughtful, Justise Winslow clearly intends to open a new chapter in her career with the Clippers, already six seasons long, without derogating from what has always been her strength in the past, in Miami: versatility and meaning of sacrifice.
" Just be who I am, that is, a leader on both sides of the pitch ", He judges, when asked about his personal expectations in Los Angeles. " As you know, there aren't really any positions anymore, so I will try to have the ball in my hands, to make the right decisions, to play without the ball, to be complementary to the players already in place, to be a leader in defense and do all the little things it takes to help the team win. "
Future pivot of the Californian "very small-ball"?
And precisely to help the franchise of Los Angeles to pass rounds in the playoffs, despite the questions surrounding the return of Kawhi Leonard, Justise Winslow is therefore aware that he will have to be able to help out anywhere, depending on the tactical scheme of Tyronn Lue.
A coach who loves to rely on the "small-ball" in particular and who could take advantage of the hardness of his winger's "Swiss army knife" to use it in the racket, at station 4, or even at station 5. This which does not worry in the least the main interested party, measured at 1m98.
" I'm feeling good [dans le small-ball] ", Confides the 10th choice of the 2015 Draft." During my rookie year, I started at position 5 in the playoffs, in the conference semi-finals against Toronto [Game 5 et Game 6]. I also played point guard and on the wing. At the beginning, the hardest part will therefore be to get used to my teammates, rather than to my position. To know their trends and to know where they like to have the ball, which cuts towards the basket, which plays back to the basket. "
"Low-risk, high-reward"?
Tough like Justise Winslow, with whom he should also be often aligned in the field, the equally versatile Terance Mann is in any case not worried either, when it comes to evoking integration of his new teammate, in California.
" He will have to watch and learn what we are doing, compared to 'pick-and-roll' or 'small-ball' for example ", Estimates the revelation of the last campaign of the Clippers. " But he has already progressed to this level in just two days and we still have a lot of time before the first game of the season. So he should be fine. "
Real ball of energy, which still has to progress in the shoot but that it is better to have with than against oneself, Justise Winslow was not long in seducing his franchise, conference finalist this year in the West.
" The way he catches rebounds and throws himself on the counterattack ", Essentially retains Tyronn Lue, invited to address the areas in which the former" Blue Devil "has stood out, signed for two years. " It brings us something different again in the team. He is able to create play and pass. We used him as a backup point guard, like he did in Miami, because he will sometimes play position 1 with us. But he will also play post 5, since he can do a lot of things. Between his movements, the way he defends and the way he carries the ball, he has already shown a lot of things, these last two weeks. "
Justise Winslow
Percentage
Rebounds
Season
Team
MJ
Min
Shots
3pts
LF
Off
Def
Early
Pd
Fte
Int
Bp
Ct
Pts
2015-16
MIA
78
29
42.2
27.6
68.4
1.0
4.1
5.2
1.5
2.4
0.9
1.2
0.3
6.4
2016-17
MIA
18
35
35.6
20.0
61.7
1.3
3.9
5.2
3.7
2.9
1.5
1.8
0.3
10.9
2017-18
MIA
68
25
42.4
38.0
63.5
0.9
4.5
5.4
2.2
2.1
0.8
1.1
0.5
7.8
2018-19
MIA
66
30
43.3
37.5
62.8
1.0
4.4
5.4
4.3
2.7
1.1
2.2
0.3
12.6
2019-20
MIA
11
32
38.8
22.2
66.7
1.5
5.2
6.6
4.0
3.5
0.6
2.2
0.5
11.3
2020-21
SAME
26
20
35.2
18.5
57.1
0.7
3.9
4.5
1.9
1.8
0.6
1.4
0.5
6.9
2021-22
LAKE
23
10
43.9
31.2
40.0
0.5
1.9
2.4
1.0
0.7
0.4
0.9
0.3
2.9
Total
290
26
41.2
32.4
63.5
1.0
4.1
5.1
2.5
2.3
0.9
1.5
0.4
8.4