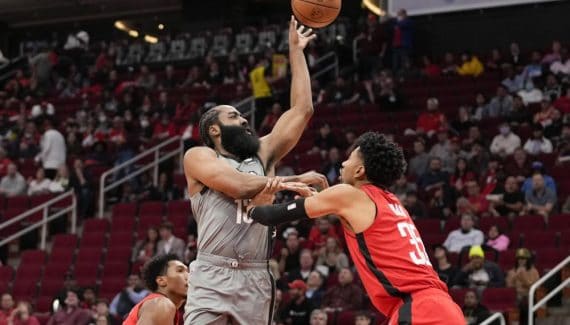 Three weeks after the start of the 2020/21 season, and only three months after the end of the 2019/20 season, James Harden left Houston to join Brooklyn, in a monster transfer with two other franchises (Indiana and Cleveland).
This January 13, 2022 therefore marked the first anniversary of this exchange and of life without James Harden for the Texas franchise, after eight full seasons with "The Beard" as the undisputed leader.
"It feels like it's been so long, and it's so far away", book Stephen Silas at the Houston Chronicle. "It happened at the very beginning of my arrival here. So much has happened since. We had an extended workforce (30 players last season), injuries, draft rounds… From now on, the direction we have taken is different from that of last season. So, in one year, we had two seasons and totally different directions. That's why it feels like an eternity ago. "
Because it must be remembered that the Rockets had recovered Victor Oladipo in the transfer and that, until the beginning of February 2021 and the ankle injury of Christian Wood, Houston was an admittedly average but competitive team.
"Our direction for this post-Harden life is good. We learn, we grow"

Then, a few weeks later, in March, as the season was over (20 defeats in a row), PJ Tucker was sent to Milwaukee, then Victor Oladipo to Miami. The franchise is clearly taking the option of long-term reconstruction, with many Draft rounds and especially young talents like Kevin Porter Jr. (arrived in January) or KJ Martin, then those drafted the following summer: Jalen Green , Alperen Sengun, Usman Garuba and Josh Christopher.
"We are on this path", confirms GM Rafael Stone. "We knew it wouldn't be easy, but big things aren't meant to be. Achieving great things isn't always fun. But we are heading in the right direction, even if we are still far from being finished. I am very happy with our situation and our group. "
Without the 2018 MVP, Houston has a very poor record of 25 wins and 80 losses. But like the Pistons, the Rockets are more focused on teaching young people, for the long term, than on hard-core results.
"That doesn't mean we don't enjoy winning games or being competitive.", says Rafael Stone. "We don't sacrifice today to be more successful in a month. The effort is worth it. We are always focused on the next minute, hour and day. We do not tell ourselves that things will be better in two years. But we are also focused on the progression of the group and we are optimistic about its potential. "
The progress is still minimal, the chemistry fragile and the weeks are sometimes complicated for the Texans (series of 15 and 8 defeats in a row already recorded in this first part of the season), but Stephen Silas remains hopeful. The future can look bright.
"Our direction for this post-Harden life is good. I love this direction", believes the coach. "We have a lot of young players, who are around 19 years old and whom we really like. We also have flexibility. Afterwards, we have ups and downs with this group, good and bad matches. We learn, we grow. "
Shots
Bounces
Players
GM
Minimum
Shots
3 points
LF
Off
Def
Early
pd
bp
Int
CT
party
Points
Christian Wood
40
30.8
47.8
34.4
61.5
1.8
8.2
10.0
2.1
1.8
0.7
0.9
2.3
17.2
Jalen Green
28
30.2
39.7
31.1
82.1
0.3
2.9
3.2
2.1
2.5
0.6
0.2
1.4
15.2
Eric Gordon
36
29.2
50.0
45.2
73.3
0.2
1.5
1.7
3.4
2.2
0.6
0.4
1.1
14.8
Kevin Porter, Jr.
27
29.7
36.5
33.1
60.9
0.8
3.6
4.3
5.7
3.8
1.2
0.3
2.6
12.4
Jae'sean Tate
41
27.3
49.9
29.9
69.4
1.7
4.0
5.7
3.1
1.8
0.9
0.7
3.6
12.4
Garrison Mathews
26
28.1
41.0
36.4
79.7
0.5
3.1
3.6
0.9
0.7
0.7
0.4
3.0
11.3
Alperen Sengun
35
18.4
50.0
30.8
70.3
1.7
3.1
4.8
2.6
1.9
0.9
0.9
3.1
9.0
Daniel Theis
25
23.1
47.5
29.5
67.5
1.2
3.9
5.1
0.8
1.2
0.4
0.6
2.4
8.7
Kj Martin
40
18.9
52.4
32.9
64.7
1.0
2.7
3.7
1.3
0.7
0.4
0.6
1.3
8.2
Armoni Brooks
33
18.2
36.7
31.7
88.9
0.3
1.7
2.0
1.4
0.6
0.6
0.2
1.6
7.2
Josh Christopher
35
16.0
45.7
34.7
80.0
0.7
1.3
2.0
1.7
1.5
0.8
0.1
1.2
7.1
David Nwaba
33
14.2
47.5
28.6
70.2
0.9
3.0
3.9
0.8
0.5
0.7
0.5
1.2
5.4
Dj Augustine
32
15.1
40.3
40.2
88.2
0.2
1.0
1.2
2.3
1.2
0.3
0.0
0.5
5.3
Daniel House
16
14.5
33.8
29.4
89.5
0.2
2.4
2.7
1.2
1.1
0.3
0.3
1.0
4.8
Trevelin Queen
8
8.6
44.8
36.4
100.0
0.6
1.1
1.8
0.4
0.9
0.6
0.0
0.8
4.6
Daishen Nix
8
8.4
65.0
42.9
33.3
0.1
1.1
1.2
1.2
1.1
0.9
0.0
0.4
3.8
Usman Garuba
15
7.0
33.3
15.4
50.0
0.6
1.7
2.3
0.5
0.2
0.5
0.4
0.6
1.3