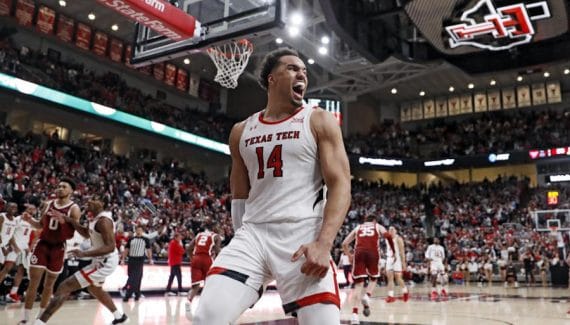 The Red Raiders have just chained two victories against teams ranked in the Top 25 of the AP: first against the champion Baylor (83-73), then against their rival Texas (61-55). The "senior" Bryson Williams, one of the strong men of Texas Tech this season, scored 17 points during each game, when the other senior Kevin Obanor crushed Baylor with his presence under the panels: 23 points and 13 rebounds!
More than ever, the Red Raiders appear as a very credible "outsider" in the national title in March, in ambush behind the favorites Gonzaga, Duke, Arizona or Kentucky. Last night, they confirmed their great form by exploding Oklahoma: 66-42!
Kentucky reacts with manner
A true model of consistency this season, the Wildcats had suffered their first heavy defeat in the Tennessee room (76-63). A month after suffering a violent correction in Lexington, the Volunteers took their revenge at home, with an astonishing collective performance (44% on shots, 47% on three-pointers) and a Kennedy Chandler of the big nights (17 points and 6 pass).
Back home after this disappointment, Kentucky quickly recovered their ideas against Alabama (90-81).
Yet led by 12 points during the second quarter, the Wildcats punctuated the first half with a 13-0 which allowed them to join the locker room with the advantage in the score (46-47). Before calmly distancing their opponents in the second half (the gap rose to +16), completely stunned by the reversal of the situation, while the momentum was in their favour.
For John Calipari, this is the best victory for his team this season, which delivered a very high-level offensive performance: 53% on shots, 64% (!) behind the arc (9/14, including 7 for Kellan Grady alone), and 19 free throws caused.
Where is Auburn?
While they were greatly favored and this Saturday trip to Gainesville was going to be rather calm for them on paper, the Auburn Tigers were hooked by the Gators, who created a surprise by winning, by the most small margins (63-62), against one of the very best teams in the nation.
Carried by Tyree Appleby (26 points at 7/15) and Colin Castleton (19 points, 8 rebounds, 4 blocks), Florida signed a major success, and resisted the "show" of the expected freshman in the Top 5 of the next Draft, Jabari Smith Jr (28 points and 7 rebounds), in great shape but too lonely. " We relied too much on Jabari" regretted about it Bruce Pearl. " We're good when everyone contributes, and that wasn't the case tonight."
Nothing serious, however, for Auburn, who can be reassured tonight with the reception of Ole Miss. For the Gators, it's a major victory that allows them to heal their record for the "March Madness", while there are only a few games left in the regular season.