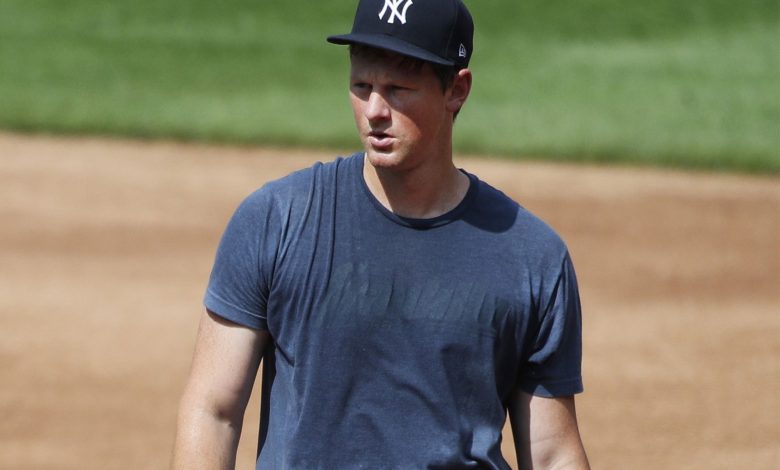 Since the start of the offseason, it's been clear the Yankees need a little back up in the infield – specifically at shortstop.
Now that three of the biggest names in the market have signed in Texas (Marcus Semien and Corey Seager) and Detroit (Javy Baez) and the other two (Carlos Correa and Trevor Story) don't seem destined to play in the Bronx, we may wonder what the plan will be.
In my opinion, the ideal solution would be to sign a shortstop player like Andrelton Simmons or to get your hands on an Isiah Kiner-Falefa of this world, a question of bridging the gap between the present and the arrival of hopes. But in such a case, what would be the role of DJ LeMahieu?
LeMahieu's role is unclear for 2022 and it will change depending on three possible scenarios: the Yankees go for a shortstop, they go for a first baseman, or they don't go for anyone. These are the three most plausible scenarios, even if two players could land and even if a trade involving a current infielder could take place.
Brian Cashman is looking for a shortstop player
If a shortstop lands, Gio Urshela will keep his spot at third base and Gleyber Torres will be at second base.
In fact, whatever the scenario, Torres will be the starter at second base.
DJ LeMahieu would be the starter at first base as well as the #1 option to substitute at second base and third base.
If the shortstop were to take time off, Gio Urshela would be the backup option, pushing DJLM to third base. And obviously, Luke Voit is still in NY to take the first cushion if necessary.
Brian Cashman fetches a first baseman
If the Yankees were to get their hands on a first baseman a la Freddie Freeman or Matt Olson, could the Yankees do what they did at the end of the year, which is to put LeMahieu at third base and Urshela at rest- short? It could work, yes.
We dare to believe that Luke Voit would ask to leave. That said, we really need to get one more shortstop player because Gio Urshela would be the only real shortstop in the roster. And given that, would Urshela be at shortstop as often or not if a shortstop were to land?
The guys wouldn't have any insurance policies anywhere. One more player would have to be added and that could push LeMahieu into a role of player who plays every day, but never in the same place.
The depth would be thin.
Brian Cashman is not going to look for any player
It's basically the same scenario as the Yankees looking for a first baseman… except instead of a star at first base, it's Luke Voit.
And from there, it is impossible not to seek depth. That would push LeMahieu all over the field again.
In fact, as we can see, it is impossible to place DJLM anywhere right now since he should do what he was hired for in 2019 at the base: play everywhere on the field. Whoever comes back from an injury will have to be ready, even if he's not really the best at first or third base.
Unless we see a current player leave, the conclusion is clear: he will play everywhere. Will this affect his 2022 batting season?