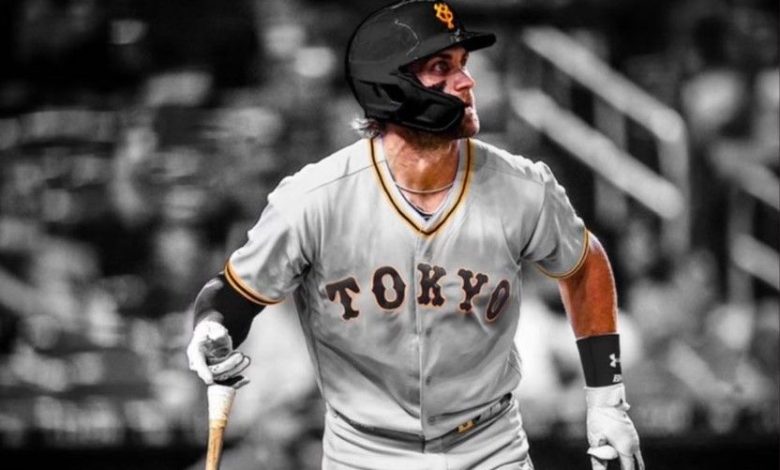 If ever MLB were to cut the length of its 2022 schedule, which seems quite likely given the ineffectiveness of current negotiations, Bryce Harper would not stop playing.
On Instagram, the reigning National MVP launched (probably jokingly, but you never know) an invitation to the Yomiuri Giants, a club that plays in the Japanese megalopolis of Tokyo.
Obviously, this is a suggestion that could cause a lot of ink to flow in the next few days, especially if the Players' Association cannot come to an agreement with the management of Major League Baseball. Because for them to see one of their superstars leave temporarily to play in Japan would be a defeat.
There are several obstacles that would stand in the way of such a thing, which is basically already unlikely. First, Nippon Professional Baseball (NPB) only allows four foreign players per team, and the Giants have just four under contract. To sign Bryce Harper temporarily, they would therefore have to let a regular player slip away.
Next, the opinion of the Phillies on the matter. It would be very surprising if the club's general staff allowed its best player, who enjoys a contract of 330 million US dollars over 13 years, to go and play elsewhere while waiting for the problems to be resolved in North America. But we are talking here about their reaction after the fact because because of the lockout, they have nothing to say at the moment.
On the side of the double MVP (2015, 2021), we can guess two types of motivation. The first is to stay in shape. And the second is that based on his annual salary of $27.5 million, we understand that he would lose $170,000 per game subtracted from the 2022 season. He wouldn't make as much in the NPB, but would receive at least a small compensation.
What does the Players Association think? His union "would challenge any attempt by MLB to interfere with players who choose to play in a foreign league during the lockout as reported by Ken Rosenthal of The Athletic.
Are we likely to see Bryce Harper hitting balls at Tokyo Dome this year? Probably not, but it's fun to dream.