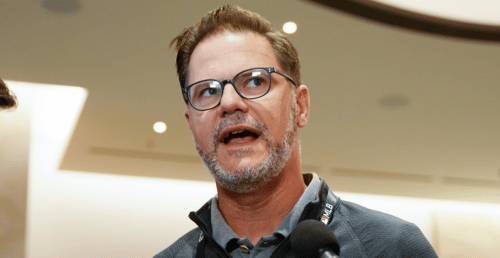 Every year, there is one constant in MLB: all teams would like to add pitchers to their roster. After all, a roster never has enough quality arms, and both starters and relievers are of interest to a huge number of teams.
This year, it's still the same thing in the East of the American, while according to Ken Rosenthal, the left-handed relievers still available on the market are the envy of the Yankees, Red Sox and Blue Jays.
So, according to Rosenthal, guys like Andrew Chafin, Zack Britton and Matt Moore, the top three left-handed relievers on the market, are intriguing in the Jays division. They're also intriguing elsewhere, though.
However, in the case of the Jays, there is something that seems to stick: is it realistic to believe that they could add a left-handed reliever to their workforce?
Let's assume there will be 13 pitchers in town next year. Of the lot, there will be five starters (Alek Manoah, Kevin Gausman, Chris Bassitt, Jose Berrios and one among Yusei Kikuchi and Mitch White), which leaves room for eight relievers.
Between Kikuchi and White, the non-runner will take a place, but he won't be alone: ​​Jordan Romano, Erik Swanson, Yimi Garcia, Anthony Bass, Tim Mayza and Adam Cimber all seem to have a guaranteed place with the big club this season.
Already there, there are seven relievers in town.
And of the lot, only Romano, Swanson, Mayza and Cimber can go into the AAA. It seems rather unlikely, we agree.
The reliever who could potentially lose his position is Trevor Richards. After all, there are so many right-handers the Jays might decide to sacrifice a guy like Richards, who does an honest job but is not indispensable.
Replacing Richards with Chafin is a bit of the same thing in my eyes, but the difference is that the second is left-handed.
And that's not counting guys like Junior Fernandez, who was called off waivers earlier this winter and has no more options to go to the minors, just like Zach Pop and Trent Thornton, who will probably play in the AAA simply because they still have options.
In fact, it's not the depth that is lacking in the Jays bullpen. What may be missing more are top-notch relievers, and with what's on the market for left-handed relievers, that's not where the Jays will fill that need.
Could they sign a guy like Andrew Chafin? Yes it's possible. That said, I wouldn't say it's likely: the congestion in the bullpen means there may not be room for a southpaw to act as depth.
I could be wrong, but right now that's the way I see it and I'd be surprised to see another reliever come to Toronto.