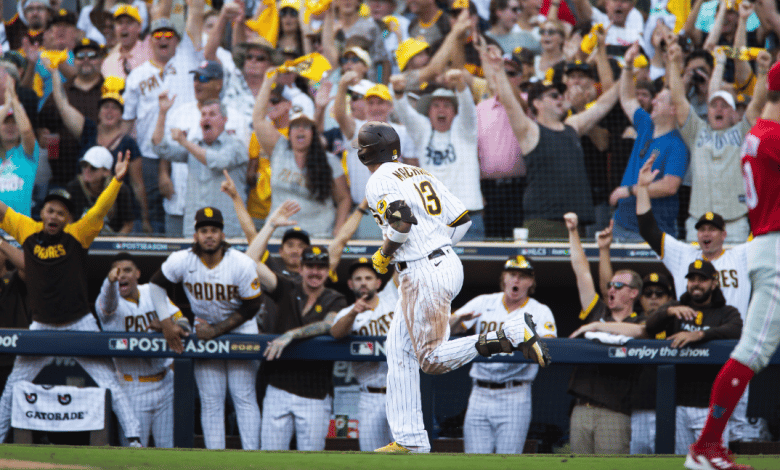 This afternoon, for the second time in two evenings, the Padres and the Phillies launched the hostilities of a duel of the championship series with, as reward, a place to win in the World Series.
After seeing the Phillies dominate Game 1, the Padres fell victim to the same phenomenon in Game 2.
In fact, Blake Snell gave the visitors four points, but I have a hard time blaming him for all that since his defense looked… like the Phillies this season.
The sun didn't help, you tell me. Certainly.
But in the end, the Padres made a series of mistakes that should have been avoided by San Diego. It wasn't done and the party was quickly ended in California via four runs in the second inning.
The Phillies had started their working day well.
And then, in quick succession late in the second, the Padres responded against Aaron Nola. Brandon Drury and Josh Bell hit the long ball to cut the lead in half to 4-2.
And from there, the Padres exploded. They had had enough and they decided, for the first time, to take the lead in a game during this series.
In the fifth, they got through Aaron Nola – and Brad Hand – with a five-pointer to make it 7-4. Even Austin Nola, the other's brother, joined in the fun by driving in a run against his brother in this first playoff pitcher-battering matchup for two brothers.
And clearly, the parents did not know how to react.
The wind was therefore changing tack for San Diego. The club kept up the pace and it was with an 8-5 victory that it all ended. Josh Hader has been particularly good.
The next game in the series is Friday in Philly. With the series tied at 1-1, Joe Musgrove will face Ranger Suarez at 7:37 p.m.
Luis Severino tackles the Rays.
Julio Rodriguez was injured at the end of the season.
The Mariners want a good second baseman this winter.