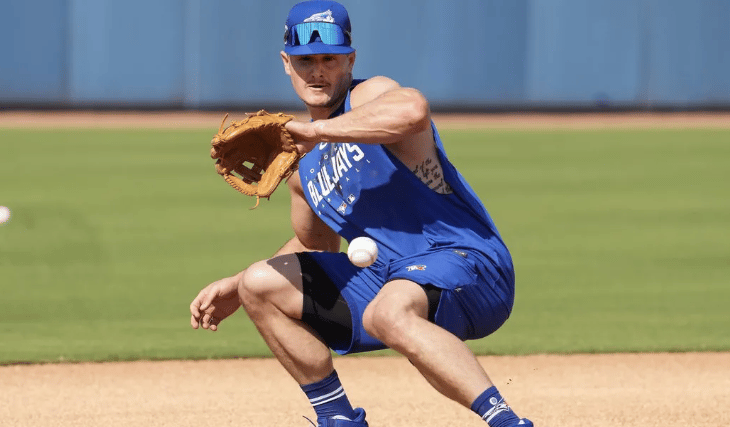 The Toronto Blue Jays pulled off a big coup by getting their hands on Matt Chapman last year.
In fact, when the Blue Jays get an infielder who played in Oakland, it normally goes well. #JoshDonaldson #MarcusSemien
But there, the goal of the Jays will be to avoid, like Donaldson and Semien, that Chapman signs his big contract elsewhere than in Toronto.
In fact, I often had the feeling that Chapman was only going to be passing through Toronto and that he was going to enjoy his autonomy. For what?
Because Americans like to choose an American market. Because his agent is Scott Boras. Because the Blue Jays have prospects who can play in the infield. Because the club might want to keep their money for other players.
Because his agent is Scott Boras.
I know, I've said it twice…but Boras likes to establish the value of its customers in the autonomy market. It was true before and it is even more so since the rise in prices in recent months.
But the good news is that with less than a year to go, Matt Chapman said he loves playing in Toronto and sees himself staying. He also sees himself becoming a free agent, but that's normal.
Saying he'd like to stay might sound like the tape, but in reality he could have just said nothing and asked to speak to his agent. He did not do it.
After a tougher few months at bat in 2022, Chapman has made his way to Toronto, where he is an important piece of the puzzle.
And I don't need to tell you that defensively, the Californian is one of the best in his profession with Nolan Arenado and Manny Machado.
Machado is just another guy who will be a free agent next winter.
Chapman brings a veteran presence to town and I'm confident the Jays, at the right price, are interested in keeping him for the long haul.
For that, the Blue Jays and his agent will have to find common ground.
Note that this is not the first time that we have heard echoes of his desire to stay in Toronto, which is good news.
Also remember that the infielder will be the club's biggest free agent (if nothing changes) next winter. With the departures of Teoscar Hernandez and Lourdes Gurriel Jr. this winter, the picture has changed in this regard.
Liam Hendriks continues to battle cancer.
Alex Bregman is open to staying in Houston.
Since when do we complain about teams spending too much?
Should the arbitration model change?
Andrew McCutchen is popular with the Pirates entourage.