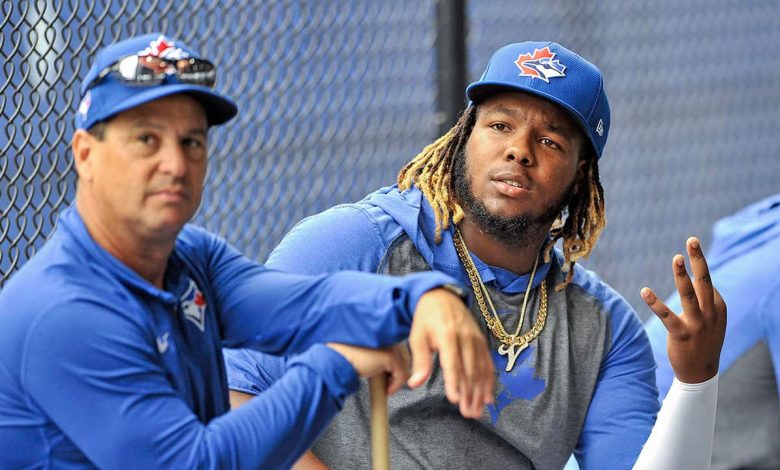 As of today, almost a month after the start of the lockout, the Blue Jays still have holes in their roster. The infield, the bottom of the rotation, a big lifter, sticks on the left side, etc.
It is said that to fill the remaining gaps, the team has another 20 million dollars in the budget. This can involve transactions or signatures … once the labor dispute is behind us, of course.
In order to properly assess the needs of the club, we could very well draw up the alignment of 26 players of the club in order to see, visually, the training needs. We therefore draw up the training as of today.
So let's go with a 13 throwers and 13 position players format since having 13 throwers at least is the rule. She was left out in 2020 and 2021 due to the pandemic, but she could return in 2022 on the sidelines of the new employment contract.
Among the starting pitchers, Jose Berrios, Kevin Gausman, Hyun-Jin Ryu and Alek Manoah are definitely members of the rotation. I have a feeling Ross Stripling, for stability reasons, will be the other starter, but he could also go and work in the pen. Reminder: that can change… especially if Nate Pearson knows a big camp.
Among the relievers who are sure to make the club, we note Jordan Romano, Tim Mayza, Yimi Garcia, Adam Cimber and Trevor Richards. These five are established in major league baseball.
Because there are several players who could have a spot and Nate Pearson should have his chance as a starter, I think I would choose to send him back to AAA to see him dominate as a starter before coming back. If he were to break through the 26-man roster of the Jays, he and Ross Stripling would have a role in the rotation and a relief.
But since I see Pearson still at the bottom (at the beginning, at least), I think there are three places left. And by force of circumstances, we must divide the candidates according to those we can send in the minors and those who must go to waivers to cut them.
Here are the players who can go to the minors: David Phelps (minors contract), Thomas Hatch, Julian Merryweather, Anthony Castro, Anthony Kay, Taylor Saucedo, Kirby Snead, Trent Thornton.
Only one legitimate pitcher has to go through waivers: Ryan Borucki.
Under such conditions, I would go with Ryan Borucki so as not to waste it and I would add Julian Merryweather as well as Thomas Hatch.
In fact, if you want my opinion, Yimi Garcia would not have been signed … but hey.
Rotation: Jose Berrios, Kevin Gausman, Hyun-Jin Ryu, Alek Manoah, Ross Stripling.
Succession: Jordan Romani, Tim Mayza, Yimi Garcia, Adam Cimber, Trevor Richards, Ryan Borucki, Julian Merryweather and Thomas Hatch.
So these are the 13 throwers who would have my confidence. Ideally, go for a left-handed starter and a lifter with upside would help.
It will also help to see Julian Merryweather healthy.
Among positional players, there are necessarily 13 places left too. So there is plenty of room for the three receivers, Danny Jansen, Alejandro Kirk and Reese McGuire.
The first two have their place and the last is not eligible to go to the minors. I see him being traded, but right now he's there.
Among the voltigeurs, it's easy: George Springer, Teoscar Hernandez, Lourdes Gurriel Jr. and Randal Grichuk will be there. They will share the DH position as well (with other guys) and even the first baseman position for Lourdes Gurriel Jr.
Between these positions, there are seven guys. It is therefore logical to believe that the infield will consist of six players.
Vladimir Guerrero Jr. and Bo Bichette are sure to make the club, regardless of other names. But at the moment those are the only two certainties and with the other positions being full it is clear that the other four players will be infield guys.
Santiago Espinal and Cavan Biggio will have their place in the current context. For now, they would be in third pad and second pad respectively, but it's clear the club will want to go get at least one infielder. At least. And ideally in the warm corner.
For the other two, as the club can't have more pitchers, need no more outfielders and would gain nothing by starting a fourth wide receiver at the top (as good Gabriel Moreno as he is) right now, he makes sense to believe in two infielder.
Based on the depth chart on the 40-man roster, Kevin Smith and Montrealer Otto Lopez, who both made their MLB debuts, would be the picks.
Danny Jansen, Alejandro Kirk, Reese McGuire, George Springer, Teoscar Hernandez, Lourdes Gurriel Jr. and Randal Grichuk.
Vladimir Guerrero Jr., Bo Bichette, Santiago Espinal, Cavan Biggio, Kevin Smith and Otto Lopez.
I think of the 26 guys, Lopez is the most likely to be sent to the AAA. He was sacked ahead of Smith in 2021 and the Jays are making it a priority to add infield assist.
He will however be an option of choice if he has a good camp and if he has a good start to the season with the Buffalo Bisons.