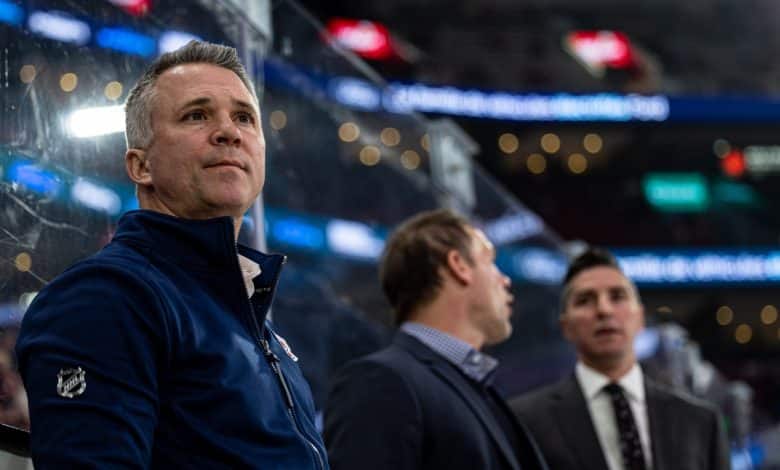 MONTREAL – Martin St-Louis recognized it from the outset: the horrors associated with brutal, barbaric and often downright criminal initiations presented as part of a class action aimed at compensating former young players of the three major junior leagues in the Canada represent a stain that darkens the history of hockey.
"A black spot that must be erased and it is collectively that we will get there," agreed the head coach of the Canadiens who sees with a good eye the media attention given to this distressing story. "It's flat to see that hockey is still splashed, but it's good that we talk about it so that we can manage to change," he continued.
Like dozens, if not hundreds of young hockey players, Martin St-Louis candidly admitted to having been the victim of various initiations when he showed up at the various clubs for which he played. The Canadian coach, however, closed the door when asked if he wanted to share any of these experiences.
It is imperative to respect this restraint. A restraint that leaves the idea that one or other of these experiences have been more negative than positive.
Because yes, an initiation can be positive. When thoughtful, supervised, and respectful of human decency and common sense, an induction can even serve the cause of a team, regardless of the sport. It can have a positive effect on team spirit.
Leadership and Coaching
This is what Jordan Harris experienced while defending the colors of Northeastern University between 2018 and 2022.
"From the first days of the training camp, the watchword of the coach was clear: it was forbidden to have any form whatsoever of abusive initiation. What we did, we did in a good mood. New players have already been told to run from the college campus to the Prudential Center – the flagship building in downtown Boston – and back. All this with the gear on your back and sneakers on your feet. But as soon as the race started, it was stopped, because the objective was achieved: the newcomers had accepted a test to confirm their place within the team. I can't understand how some people believe it's healthy to degrade a teammate to welcome them," Harris explained in the Canadiens locker room on Tuesday morning.
Same story of his teammate Alex Belzile who has never witnessed or suffered brutal or barbaric initiations in the junior ranks or elsewhere. "Clément Jodoin was at the helm of the Océanic in Rimouski when I arrived in the junior ranks. Such initiations were not permitted. I don't know if it's because I had my head in the sand, but I was really surprised by the news of the last few days, "assured the 31-year-old center player.
"In Peterborough – the former defender defended the colors of the Petes of the OHL in the mid-1980s – the organization took care of the young people entrusted to them by families. When a guy came in and looked like he might be a bad apple, he was taken care of before he infected other players. It is probably for this reason that I have never witnessed acts as degrading as those that are being talked about in the media at the moment, "which Luke Richard launched after the morning practice of the Chicago Blackhawks that he has been in charge since the start of the season.
From Assault to Sexual Assault
The problem, and it's a big one, is that not all coaches and not all organizations are as serious as the coach who led Jordan Harris in Boston or the Peterborough Petes who prepared Richardson has a career spanning nearly 1,500 NHL games.
And that for a Clément Jodoin who would never have tolerated this kind of behavior, we don't have enough fingers on both hands to designate coaches and organizations who closed their eyes to initiations that looked more like sessions torture than a springboard for being accepted within the team.
Even in the 70s, 80s and 90s, "barbaric" initiations were very often, and above all too often, the norm. Barbaric initiations whose spectrum extends from assault to sexual assault.
And not just in hockey.
Cases of degrading initiations have been criticized in all sports. Several major Canadian universities, even McGill University in Montreal, and American ones have been blacklisted for having tolerated such initiations in their locker room.
We could add to the sports teams several faculties without forgetting "fraternities" sadly famous for the treatment that its members subjected to candidates and newcomers.
A scourge still relevant
Crossed Tuesday morning in the locker room of the Canadian and the Blackhawks, several players admitted to having already heard of cases of abusive initiations. However, they assured in the same breath that they had never been a direct witness or victim of such initiations.
"I really think things have changed over the years," said Mike Matheson.
For Jordan Harris, the positive influence of social media can put a stop to such practices. "I'm far from supportive of all aspects of social media, but the scale of whistle-blowing campaigns when wrongdoing occurs makes me believe that acts like the ones we've been talking about since Monday could no longer occur. Or that they would be quickly denounced, "added Jordan Harris with great confidence.
The academic who has been patrolling the Canadian blue league with great success for a few weeks is quite right.
We saw it as recently as Monday as the president of New Mexico State University ended the men's basketball team's season early after a player filed a campus police a complaint of sexual assault against three teammates.
According to the denunciation, these three teammates would have forced their victim to undress before hitting him in the genitals.
"The acts denounced require us to carry out a complete relaunch of our team (the Aggies) and the program," Rector Dan Arvizu told colleagues atAssociated Press.
To erase, as Martin St-Louis wishes, the immense black stain associated with similar cases of barbaric initiations that have multiplied over the years, one must not simply wipe it away. It is also and above all necessary to analyze it, understand it and take steps to ensure that once cleaned, this stain can never reappear.
And because not all coaches in all sports are upright, good and respectful men like Clément Jodoin; because not all sports organizations are like the Peterborough Petes as Luke Richardson claims, it might be high time that the players – from the canadian hockey league to the other american and canadian college circuits – are represented by bodies capable of establishing and enforcing their rights.
The unionization of junior players – a quest that Quebec agent Gilles Lupien held at arm's length for a long time before being killed by cancer – seems impossible legally to establish in junior and so-called amateur hockey leagues.
But these leagues have amateurs only the qualifier. Because in fact, these leagues, like the big sports universities, are often big companies. Big corporations that don't always put the rights and physical and mental well-being of players or athletes ahead of their profits.
I know! Common sense and respect for human decency should be enough to stem the scourge of barbaric initiations.
But the too many cases listed over the years, the others which continue to be added and which extend the big stain which blackens the sport instead of containing it, oblige us to conclude that common sense and respect for human decency do not will never be enough.
This is perhaps what is most horrifying in all this scandal.