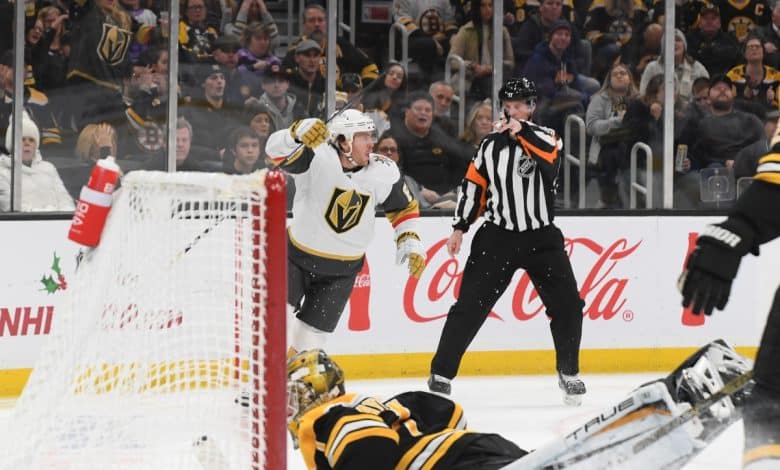 Reilly Smith scored in the fifth round of the shootout, and the Boston Bruins lost their home opener in their 15th outing of the season at TD Garden, 4-3 to the Vegas Golden Knights on Monday.
Ironically, the winning head coach of this meeting was Bruce Cassidy, fired by the Bruins during the off-season, then quickly hired by the Knights.
Smith, also a former member of the Boston organization, beat Jeremy Swayman between the pads to get the win for Vegas (19-7-1), which ranks first in the standings in the West.
In their 24th game on the schedule, the Bruins (20-3-1) had to battle it out in a play-off session for the first time.
Logan Thompson stood up to all that introduced him to local shooters Brad Marchand, Jake DeBrusk, David Pastrnak, Taylor Hall and Charlie Coyle.
The Knights, who were without No. 1 center Jack Eichel, saw replacement Paul Cotter get two goals in the win.
Jonathan Marchessault also moved the ropes early in the game to give Vegas a 3-0 lead. Paul Cotter scored the other two goals.
The Bruins picked up some momentum in the second half, however, to eventually tie the game with goals from Marchand, Pastrnak and Taylor Hall, the latter at 3:08 of the final period.
Jim Montgomery's squad had to settle for one point in the standings despite having shot 43 times at Thompson's net.
Swayman meanwhile received 24 shots in 65 minutes of play.
The Bruins' streak at home allowed them to erase the record first set by the Chicago Blackhawks in the 1963-64 season and then tied by the Florida Panthers last season.
The 57-year-old Cassidy was fired by the Bruins in June, after five and a half seasons, following the team's elimination to the Carolina Hurricanes in the first round of the playoffs.
Eight days later, the Golden Knights hired him.