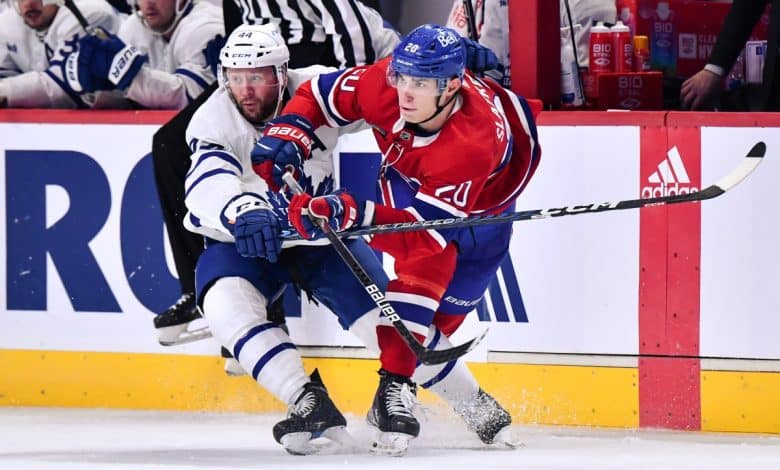 Juraj Slafkovsky continues his apprenticeship with the Montreal Canadiens, but according to the hockey informant of TSNDarren Dreger, the management of the team could decide to send him to the American League.
During a segment intervention Insider Trading of TSN, Dreger says he expects to see the No. 1 pick last draft spend some time in the American League, but he can't say when that will happen. He mentions that the Canadiens have a plan for the development of Slafkovsky and the wish is that he adds certain elements to his game before perhaps ending up with the Laval Rocket.
"There is an analysis of his game that looks at each of his appearances on the ice. You have to believe possibly that Juraj Slafkovsky will be sent to the American League, but before that, the wish would be that he develop an identity for the NHL, "he described.
"What that means is he's playing more of a 'north-south' style, using his physicality and being more aware of what he's doing when he doesn't have the puck. . These are the qualities that the team wants him to install in his game."
"Don't be surprised if Slafkovsky ever finds himself on the press box for a game or two to watch the game. The decision is coming too, because they (the Canadians) have several forwards, but he will be sent down eventually "says Dreger.
In four games this season, Slafkovsky hasn't been able to get on the scoresheet. He spent around 10 minutes on the ice for each game. In his last outing against the Pittsburgh Penguins, he was in action for 9 minutes 52 seconds.
During another intervention, Dreger also mentions that the Habs and the Toronto Maple Leafs are certainly looking for a right-handed defenseman.
The informant of TSN raises the name of defenseman Pierre-Olivier Joseph as a potential attraction for one of these organizations, while specifying that for the moment, there is no indication of a trade or interest either with the Canadiens or the Leafs for Joseph.
The 23-year-old Quebecer has appeared in three Penguins games this season, earning two assists. He has played 23 NHL games since being selected by the Arizona Coyotes in the first round, 23e rank, from the 2017 draft.