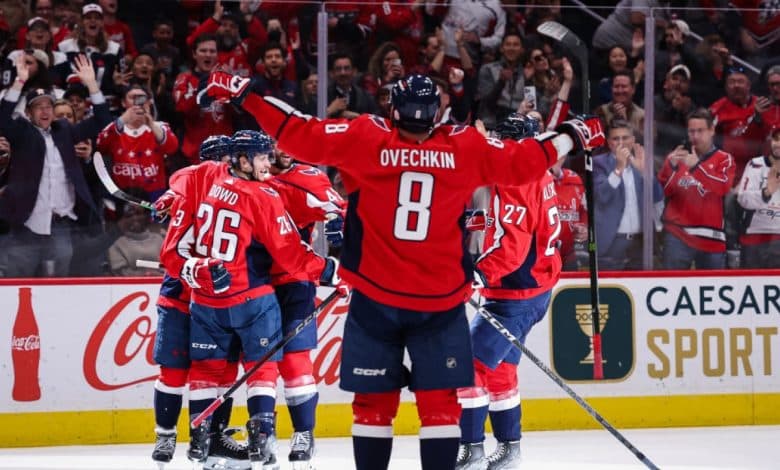 Alex Ovechkin edged Wayne Gretzky with the most 40-goal seasons in his career.
The Washington Capitals forward scored his 40e goal of the campaign on Tuesday against the Columbus Blue Jackets who won 7-6 in overtime.
It's the 13e times since the start of his career that the Caps captain has scored at least 40 goals in a season. Gretzky had 12 seasons of 40 goals under his belt. Mario Lemieux and Marcel Dionne follow with 10 such seasons.
The 820e Ovechkin's career goal was certainly not his finest. He tried to reach teammate Dylan Stome in net, but it was eventually Jackets defenseman Nick Blankenburg who pushed the puck down the net. Ovi gave the Capitals the lead in the sixth minute of play.
The one who disputes his 18e NHL season reached the 40-goal milestone in his 66e game of the season.
After taking the lead 3-0, the Caps saw the Blue Jackets return to the score thanks to the nets of Eric Robinson and Adam Boqvist. After 40 minutes, Washington was hoping their 5-3 lead would hold.
Boqvist decided otherwise with his second goal of the game early in the third period. Two minutes later, Emil Bemstrom tied the game. Nick Jensen put Washington back in front with his second goal of the game with less than five minutes left.
The Jackets did not give up and Boone Jenner sent both teams to overtime with his 24e goal of the campaign with only 47 seconds left on the clock.
On a two-on-one in overtime, Jack Roslovic accepted Johnny Gaudreau's pass to beat Charlie Lindgren with a shot into the top corner. He thus put an end to the series of three defeats of the Jackets which show 51 points in the standings.
Lindgren allowed seven goals on 39 shots while Daniil Tarasov conceded six goals on 37 shots outside the net for the Jackets.
The Capitals are five points from second and last place giving access to the spring ball, with 10 games to play.