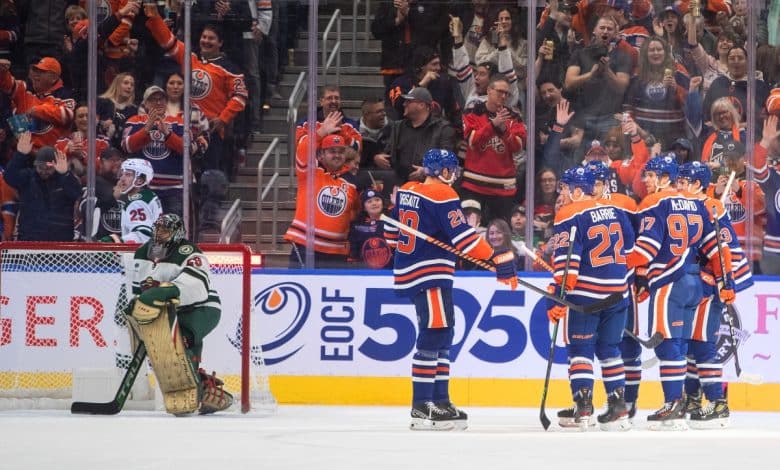 Just 48 hours after becoming the first NHL player to reach 50 points this season, Connor McDavid returned with his 25th goal of the season in a 5-2 Edmonton Oilers win over the Minnesota Wild. He finished the game with a goal and an assist.
McDavid became only the third player in Oilers history to need 28 games or less to reach 25 goals in a season. Wayne Gretzky achieved this feat four times, while Jari Kurri did it twice.
McDavid has also scored in each of his last seven games, a streak in which he has scored nine goals. This streak of seven games with at least one goal is a personal high in his career.
Wild forward Kirill Kaprizov picked up an assist in the game to extend his one-point streak to 14. On Wednesday, he set a Wild all-time high with a 13th consecutive game with at least one point.
The Oilers wasted no time showing their colors early in the game. After only 2:45 of play, Derek Ryan was insistent in front of the net and he finally hit the target on his own return to open the scoring.
Then midway through the first frame, McDavid fired a wrist shot from the top of the circle on the power play to double the Oilers lead and hit the 25-goal plateau.
Minnesota finally gave a sign of life a few minutes later when Joel Eriksson Ek took advantage of a Darnell Nurse turnover to get the puck, before serving a cup of coffee to Stuart Skinner to close the gap.
Kaprizov extended his streak in the second half by being complicit in Mats Zuccarello's goal that brought everyone back to square one. He served a nice backhand pass for Zuccarello, who followed up with a good wrist shot from the top of the slot.
Before the end of the middle period, Kailer Yamamoto finally gave himself a reason to smile by hitting the target for the first time this season, in his 16th game, thus restoring the lead to the Oilers.
Leon Draisaitl and Ryan Nugent-Hopkins completed the scoring in the third period. Draisaitl scored his 19th goal of the season. Nugent-Hopkins finished the game with three points.
Skinner had a busy night at work, as he fended off 42 of 44 shots aimed at him to register the victory. Quebecer Marc-André Fleury takes the loss after giving up four goals on 37 shots.
Edmonton will enjoy two days off before meeting the Wild once again on Monday. Minnesota will, however, play one game before returning to the Oilers for a rematch. The Wild will face the Vancouver Canucks on Saturday.