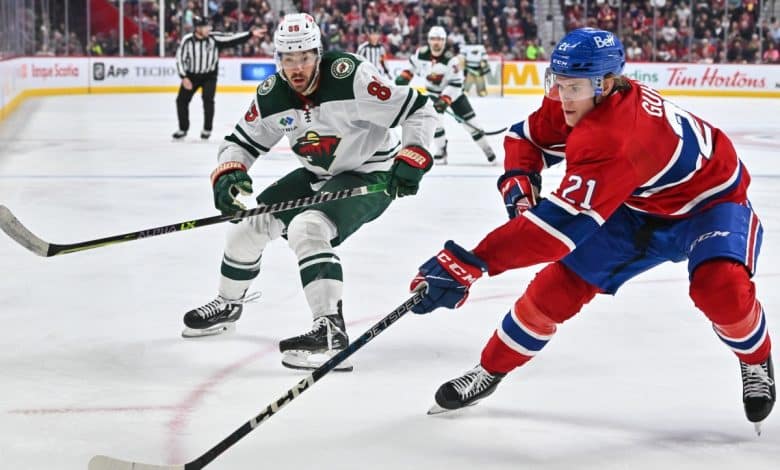 MONTREAL – The Minnesota Wild posed a similar problem to the Canadiens' young defensive squad as the Dallas Stars. Without it being an awful game, the Wild took advantage of this confrontation to claim victory.
Arber Xhekaj was trapped in a few ways by the Wild, Johnathan Kovacevic blundered on a goal, Kaiden Guhle did not have his confidence at the start of the season. Moreover, as a veteran, Chris Wideman did nothing to help the cause.
That left only David Savard and Jordan Harris, who played more than 25 minutes, to hold their own against an imposing attack.
"Yeah, it's a team in the same style as Dallas. It's a fairly simple, but intense forecheck. I find that we have better composed with this context, it's a step in the right direction, "identified Savard positively.
No need to have been behind the bench of the Canadian to understand that coach Martin St-Louis did not appreciate his gesture of indiscipline canceling a numerical superiority of Montreal.
"When we go on the power play, we must not give the referee the opportunity to impose a penalty. It's an important part of a game. Whether it's a good decision or not, you shouldn't put yourself in that position," the coach noted.
On the other hand, St-Louis considers that its young defenders deserve to play as many minutes.
"I don't think we force them, they deserved their chance to play in the NHL. As an organization, at the point where we are, we are developing young defenders. There are plenty of options that exist as waivers otherwise. Harris and Guhle have shown that they are ready, their game has shown that. When the veterans (Joel Edmundson and Michael Matheson) are back, we will have decisions to make. This is very useful experience for them. They wouldn't play if they weren't ready in our opinion," he said.
On a more general note of the performance of his team against the Wild, St-Louis did not find this part too painful.
"I didn't think it was painful in this match. I'm not happy to lose, but we have to start over and the result is not the whole story," added the coach.
While captain Nick Suzuki found his team lacked the confidence to explain the lackluster offensive production, St. Louis aimed in another direction.
"We had a lot of chances, it was pretty even. To make those chances, it takes confidence. It's more that we lacked a bit of finishing. I don't think we're a team that doesn't have confidence. "
In fact, the speech that came up most often in the Habs locker room was that it was important to score "ugly" goals.
"You can't just try to score perfect goals, that doesn't happen often in this league. We tried to send pucks in front and we had players who were present. We had talked about it to get feedback and stretch the time in the offensive zone, we are working on it, "said the CH driver.
"Yeah, it's always useful to score such goals, but I especially think that we could have eliminated the mistakes that led to their goals. We caused our loss on these plays in this game," said Mike Hoffman, who could have threaded the needle more than once.