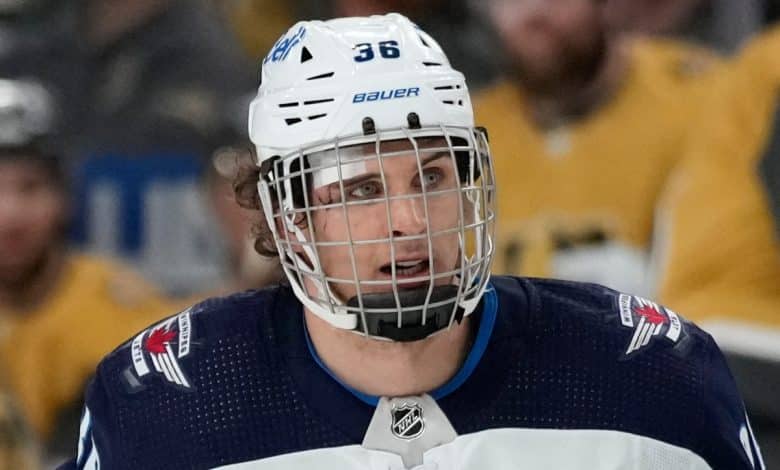 Justin Barron was sitting comfortably with his father at the Barron's family home in Halifax when they saw Morgan seriously injured in Game 1 between the Jets and Golden Knights on Tuesday night.
During a sequence in front of the net, goaltender Laurent Brossoit's skate hit Barron in the head, forcing him to receive 75 stitches. After receiving first aid and assuring his wife that he was safe and sound, Barron rushed back to the game.
"It was scary, but I'm very happy that he's okay," his brother Justin admitted in an interview with Hockey 360. "I'm at home with my dad and we were really scared. We are happy that he is well. "
Justin had no doubts about his brother's desire to return to the game, but the first moments after the incident were scary, especially for the Barrons.
"It was his first game in the playoffs, he wanted to get back on the ice as quickly as possible to help his team. I'm sure many players would have done the same. "
Adam Lowry, Barron's teammate with the Jets, said after the game: "Looks like he got attacked by a shark! ",
Barron's return to the Jets' bench breathed new life into the team, which ultimately triumphed 5-1 on the Golden Knights rink.
Barron spent an hour in the infirmary, but he still finished the match with a playing time of 10 min 44 sec. He amassed three shots, in addition to distributing five body checks.
"I was on adrenaline. I was happy to play my first playoff game," Morgan said after the game.
"He's a tough guy. That's the best way to describe it," summed up teammate Kyle Connor.
On vacation, one eye on the Rocket
Justin Barron will keep an eye on the performance of the Laval Rocket during the playoffs that begin Wednesday night against the Utica Comets.
Barrron played 25 games at the start of the season with Laval, before making the full-time jump to the NHL with the Montreal Canadiens.
"They have a great team, it's a good group of players. Last season the playoffs were very exciting and I will follow their progress. "
While his former teammates embark on what they hope will be a successful playoff run, Barron has chosen to step away from hockey for the next few weeks.
"I'm back in Halifax, taking a vacation to see family and friends. I'm going to start my golf season. It's always good to pick up. "