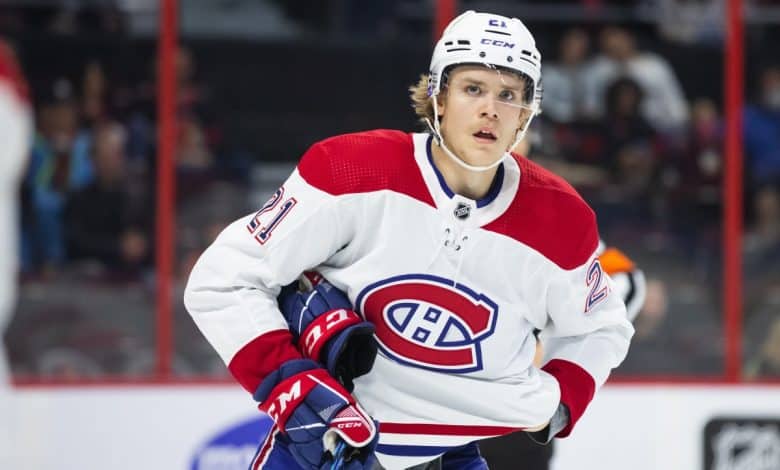 Rookie defenseman Kaiden Guhle will miss at least another eight weeks with a lower-body injury, but no one at the Montreal Canadiens believes the absence will hurt his development.
During a comprehensive medical check-up, the Habs confirmed Friday that Guhle will be out for a long time.
The Canadiens also said forward Brendan Gallagher will be out for at least two weeks, while forward Sean Monahan and defenseman Mike Matheson have about two more weeks of fitness. All three are struggling with lower body injuries.
Guhle was injured late in the December 29 game against the Florida Panthers. He fell under the weight of striker Aleksander Barkov and appeared to injure his leg.
"It's not easy to make your mark when you're a young defenseman and he's done an exceptional job for us this season," Canadiens forward Josh Anderson said of Guhle on Friday. He held on to the first duet. He is always calm and makes good plays. He has possibly been our most consistent defenseman this season. It is a heavy loss for us. "
In 36 games, Guhle had two goals and 12 assists. The 20-year-old Albertan averaged 20:46 per game, ranking him third among NHL rookies this season.
"He was playing big minutes and with that playing time, it's like he's already played a full season compared to other rookies," said head coach Martin St-Louis. It's part of the learning process in the pros. Wounds are part of our universe. "
Guhle should therefore return to the game early in March, after an absence of around 25 games.
Both St-Louis and the Canadiens' players have insisted that it won't be wasted time for the Habs' 2020 first-round pick.
"It's boring to be on the sidelines, but it's an opportunity to watch a lot of games and study the game," said defender David Savard. He can take advantage of the situation and do a lot of video shoots. "
"There are so many details in the game and he will be able to watch the players from above," added St-Louis. He will be able to study the players he can draw inspiration from and see the nuances in their game."
As for Gallagher, he's been plagued by the same injury that sidelined him for 13 games in December. He returned to action on Dec. 29 against the Panthers, but looked pain in the next two games against the Washington Capitals and Nashville Predators. He finally skipped his turn Thursday against the New York Rangers.
In 25 games this season, Gallagher has four goals and five assists.
For their part, Monahan and Matheson have already missed the Habs' last 13 and eight games respectively. They started skating again before the regular group, but it will likely take some time to get back into shape.
One step forward
The Canadian suffered a seventh straight loss on Thursday, losing 4-1 to the Rangers. Despite the result, everyone in the Montreal camp pointed to a marked improvement in the team's play, particularly in the defensive zone.
The Habs will look to build on that performance to end their slide on Saturday when they host the St. Louis Blues.
"Yes, the last month has been tough, but I think yesterday's (Thursday) game was a step in the right direction," defender Joel Edmundson said. And there's no better time to kick things off than on a Saturday night at the Bell Centre. "
St-Louis said he preferred to focus on solutions to revive the Canadiens, rather than the factors that have sunk the team in recent weeks.
"We're going to keep working on our game in our zone," he said. The rest will follow, in my opinion. When is the wind going to turn around? I do not know. But if we focus on how to get out of it, the tide will turn organically, rather than if we just repeat that we have to win.
"That's how we're going to get back to being the team we can be. We got lost over the past few weeks and I don't know why exactly, and that's okay. The important thing is how we are going to get out of this," concluded St-Louis.