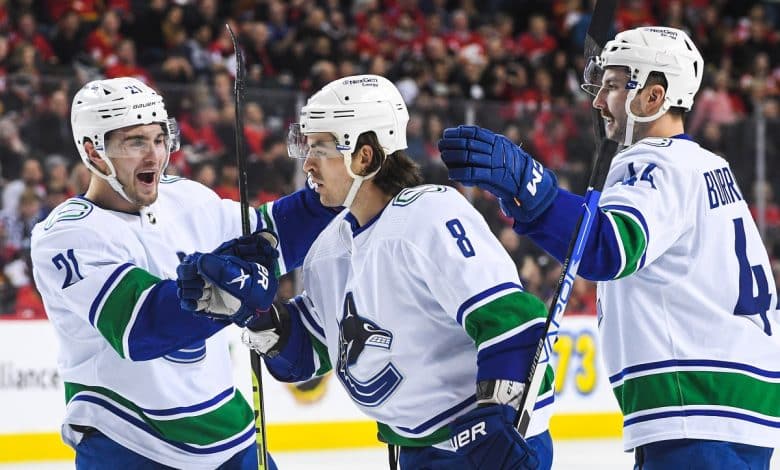 Andrei Kuzmenko was the lone scorer in a shootout, leading the Vancouver Canucks to a 4-3 win over the Calgary Flames on Wednesday.
Vancouver (13-13-3), who won after blowing up a two-goal lead, thus signed a sixth consecutive success on opposing ice rinks.
In contrast, the Flames (13-11-6) have just suffered three straight losses beyond the regulation 60 minutes.
Spencer Martin made 35 saves in 65 minutes of play, before stopping Jonathan Huberdeau, Dillon Dube and Mikael Backlund in quick succession during the shoot-off.
Often guilty of difficult starts to games this season, Jacob Markstrom allowed two goals for the visitors in the first 1:48 of the encounter, those of Bo Horvat and Conor Garland.
Horvat, whose contract situation has been talked about this week because of his eligibility for full autonomy next July, already added a 21st goal to his record.
Markstrom, who has given up on the first pitch six times this season, faltered on two of the Canucks' first three shots before recovering.
Even before the end of the first period, the Flames had managed to tie the game, thanks to goals from Backlund and Andrew Mangiapane at the expense of Martin.
The two Pacific Division rivals exchanged a goal during the middle frame, those of support staff Trevor Lewis and Sheldon Dries, to make it 3-3 after 40 minutes.
After a scoreless third period, Huberdeau got one of the most scoring chances in overtime, but he redirected Elias Lindholm's pass just wide of Martin's net.
Bruce Boudreau's squad have won each of the last five overtime games.
Canucks winger Brock Boeser was conspicuously absent from this matchup, "due to a virus that is not COVID-19," the team said.
Vancouver turned to young Nils Hoglander to take his place on the team's second line.
The 25-year-old Boeser has 16 points (4-12) in 22 games this season, his seventh with the BC club.
Boeser was the 23rd player selected overall in the 2015 draft.