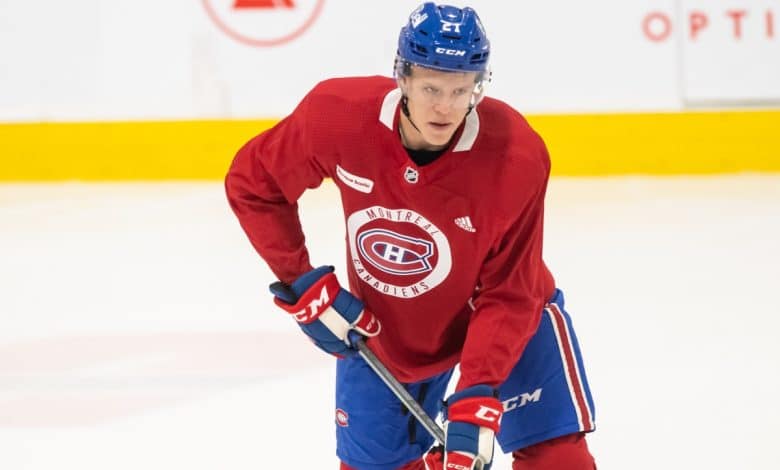 BUFFALO – He is said to be ready to play in the NHL. But before validating everything from the real training camp, which will start next week, Kaiden Guhle will treat himself to a little appetizer by playing the last match of the rookie tournament.
Since the long playoff run to the Junior West League championship, Guhle has struggled with a lower-body injury. Now recovered from it, he had to wait this week, in Buffalo, before he could spoil himself against opponents.
"Yeah, I had a little idea what would happen. I can't wait to play", commented Guhle who will be in action, just like Juraj Slafkovsky, Sunday at noon, against Ottawa.
"I make sure it doesn't come back by being ultra-cautious. Question that it does not get worse. There's a long season coming up, my first professionally, at least I hope so," said the six-foot-two, 205-pound defenseman.
"I spoke to him after training and he's ready to play some games, he's had three good practices this week. He is healthy, everything is fine," noted coach Jean-François Houle.
Guhle means no disrespect to the opposition at the Rookie Tournament, but it feels like he already has the next step in his sights. The fight will be played there to start the season in Montreal.
"That's the plan, I arrived a little earlier this summer (early August) with this in mind. The decision will not be up to me, "agreed the left-hander.
The Albertan recognizes, however, that it is not ideal to refine his arsenal while being injured during the offseason.
"Somewhat since I was limited by not being able to go on the ice for a certain period of time. But I could still improve in other ways for my shooting and puck handling," commented Guhle, explaining the progress made.
"The way I move the puck and my offensive repertoire is better. It comes with maturity and confidence. Last year in junior was beneficial, being the trusted player."
Guhle feels ready and healthy
The discourse of maturity has often been evoked for Guhle. You won't be served it again, but Houle noticed this this week as well.
"He's a leader, he's been in the organization for a few years. On the ice, his passes are stiff. He is ready for an NHL camp, he will do everything to find a place in Montreal."
The real test remains that of consistency. So much for Guhle, Justin Barron, Jordan Harris, Arber Xhekaj, Mattias Norlinder and the other young defenders.
But this core exudes an intriguing presence. We would like to be able to move the clock forward to find out if Guhle, Barron and Harris, in particular, will meet the expectations for them.
In the meantime, Guhle liked this early return to Montreal.
"It was good, I was with Arber, Juraj and Mesh (Filip Mesar). I knew Arber and I was happy to do the same with the two Slovaks. We had fun and I got to know the city better," explained Guhle, who is also very close to Barron since playing with him at the World Junior Championship.
Always respectful in his answers, Guhle indicated that he would accept any plan from the leaders, including that of playing in Laval. We would be surprised if he spent most of the calendar there.
Trudeau added his name to the menu
The subject of succession on the Montreal blue line comes up frequently on the table, but the name of William Trudeau does not often appear on the menu.
For now, this is an advantage for Trudeau, but…
"I'm not going to hide that I'm a bit in the shadows. But if I still play like this, I want my spot too," agreed the 2021 fourth-round pick.
Trudeau will be one of the players who appeared in all three games this week. After two auditions, he ranks among those who have earned the most points.
"I wouldn't say I surprised myself, but I'm really happy with what I showed. I was really ready to show my true colors thanks to the good training summer in Brossard," commented the six-foot, 197-pound southpaw.
Since he will be celebrating his 20e birthday on October 11, Trudeau could play in the American League this season.
" Maybe. I thought he had two good games, I see a big improvement compared to his rookie camp last season. He was a little more timid whereas he is more confident with the puck", reacted Houle.
The most plausible scenario remains one last year in the QMJHL while it belongs, for the moment, to the Charlottetown Islanders.
"We will be a young team and my coach (Jim Hulton) wants me to play a big role as a leader. He told me that if it was possible to trade me, he would do it. If I go back to junior, I'm going to go to Charlottetown and probably get traded," admitted Trudeau.
This option would allow him to maximize his development with a team aspiring to great honors. Unless he is offered to learn from older teammates at the Laval Rocket.