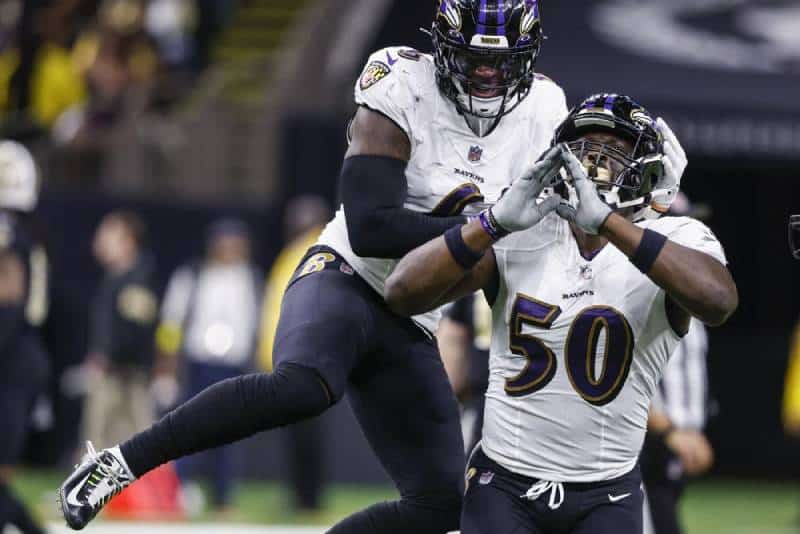 New Orleans Saints (3-6) – Baltimore Ravens (6-3): 13-27
There was cause for concern for the Ravens with the absences of Mark Andrews and Rashod Bateman. But Lamar Jackson (12/22, 133 yards, 1 TD – 11 races, 82 yards) ultimately did very well. The former MVP led several long and methodical offensives, hitting 10 different targets during the evening and using his legs when necessary. With a good Kenyan Drake (24 races, 93 yards, 2 TDs), Baltimore was able to present an attack more focused on the ground.
John Harbaugh and his men were not worried the evening because their defense was also on the right track. By the time the Saints scored their first touchdown, the score was already 27-6 for Baltimore in the final quarter.
New Orleans at a standstill… before the explosion
Because the domination of the Ravens was first defensive. With Andy Dalton (19/29, 210 yards, 1 TD, 1 int) in difficulty, the black and gold won only 34 yards in their first four series. Meanwhile, Baltimore is building two over seven-minute possessions. The first is completed by rookie Isaiah Likely (1 rec, 24 yards) in the end zone (0-7), the second by a run from Kenyan Drake for 14-0.
New Orleans wakes up before the break, but only with a field goal (3-14). The kickers are also in the spotlight in a blocked third quarter. They each add a kick (6-17).
But the worst is yet to come for Dalton, who is intercepted 8:31 from the end by an unleashed Justin Houston (2.5 sacks). The Ravens recover the ball 17 yards from the end zone, which Kenyan Drake rallies in just three actions for the decisive touchdown (6-27). There are then a little less than 7 minutes to play. Dalton finds Juwan Johnson for a touchdown on the next possession (13-27), but Baltimore eats the rest of the clock well. Without Michael Thomas and Jarvis Landry, with a well contained Alvin Kamara (9 races, 30 yards – 3 rec, 32 yards), New Orleans ended painfully with 243 yards and 22 minutes of possession on the clock.
Efficient and complete in attack with a 9/15 on the third attempt. Solid and opportunistic in defense to celebrate the arrival of Roquan Smith (5 tackles). That's Baltimore leading the AFC North. The table is much less pleasant for the Saints, who have, in addition, still seen players leave on injury. This time it was center Erik McCoy, defensive end Marcus Davenport and linebacker Pete Werner.