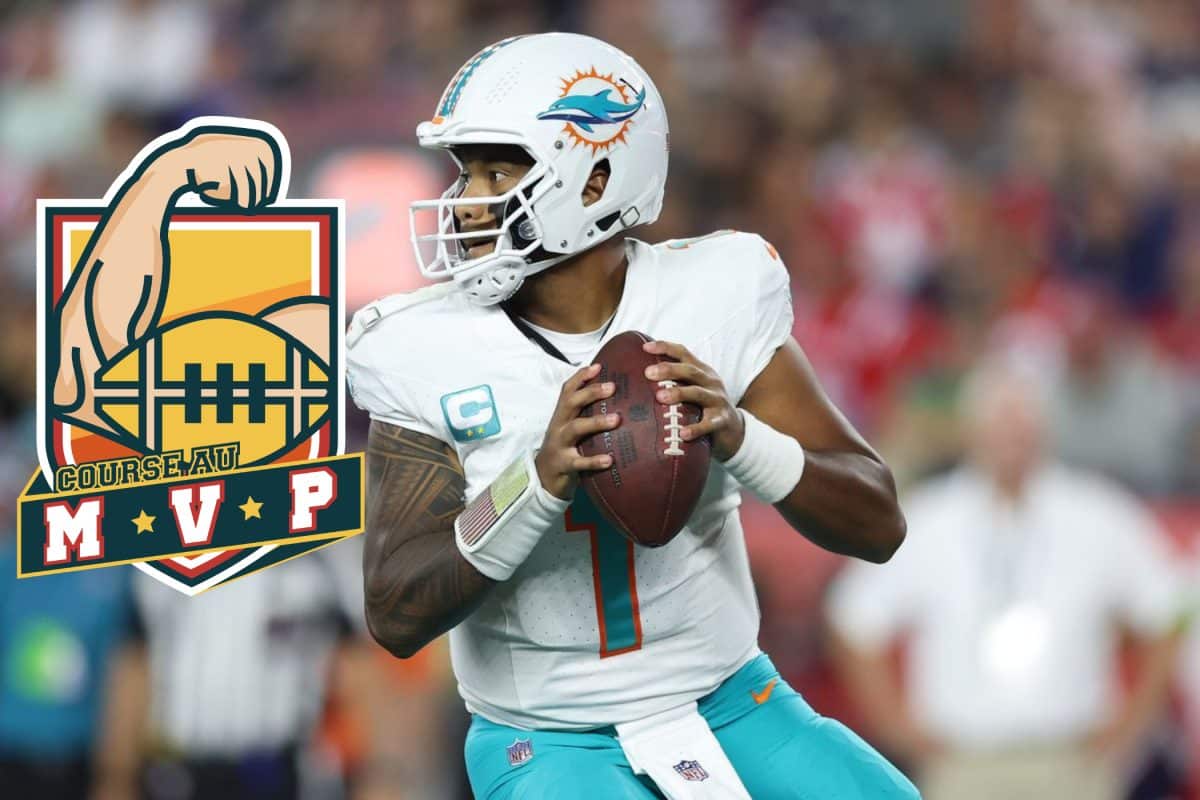 Thursday is MVP! By leading one of the greatest collective offensive performances of the last fifty years, Tua Tagovailoa regains the throne of leader of the MVP Race. Behind him, the metronome Christian McCaffrey continues to ride his good momentum in front of Patrick Mahomes who is gaining strength. Once again dazzling, TJ Watt continues to carry the Steelers on his shoulders for a second victory in three games. Confirming his good intentions at the start of the season, Brock Purdy completes the top 5.
1- Tua Tagovailoa (+1) Quarterback – Miami Dolphins (3-0)
3 games – 1024 yards at 71.3% – 8 touchdowns, 2 interceptions, 121.9 rating
Last Sunday, Tua Tagovailoa shined brightly, guiding his team to a record 70-20 victory over the Broncos. By achieving 309 yards and four touchdowns, with an exceptional evaluation of 155.8, he left his mark. This historic performance, where the Dolphins scored the highest total points since 1966 and established a new NFL record of 726 yards, passing and rushing combined, places Tagovailoa in pole position in the race for the MVP title. With a pass completion rate of 71.3%, 1,024 yards, eight touchdowns and only two interceptions to his credit, he is undeniably THE player to watch at the start of the season.
2- Christian McCaffrey (-1) Running Back – San Francisco 49ers (3-0)
3 games – 353 yards at 5.9 yards per carry, 3 touchdowns – 11 receptions, 70 yards
49ers superstar running back Christian McCaffrey was outstanding in the 30-12 blowout win over the New York Giants. With 85 rushing yards and a touchdown, as well as five receptions for 34 yards, he demonstrated why he is considered a credible candidate for the MVP title. McCaffrey made history by tying Jerry Rice's record with a touchdown in 12 consecutive games. Currently leading the league with 353 rushing yards and 423 total yards, he is on track to have a historic season. Although the MVP race is usually dominated by quarterbacks, McCaffrey's undeniable value to the 49ers, Super Bowl contenders, makes him one of the current favorites.
3- Patrick Mahomes (+1) Quarterback – Kansas City Chiefs (2-1)
3 games – 803 yards at 65.5% – 7 touchdowns, 2 interceptions, 99.5 rating
Patrick Mahomes made history again by becoming the fastest quarterback to pass 25,000 yards in a convincing 41-10 victory over the Bears. With 272 yards and three touchdowns, Mahomes demonstrates, even with an ankle injury, that he is a key element in the race for MVP. A broken record, unfailing determination, Mahomes continues to impress and seems to have definitively put the Chiefs back on track after a slightly failed first week.
4- TJ Watt – Linebacker – Pittsburgh Steelers (2-1)
3 games – 9 tackles, 6 sacks, 2 forced fumbles, 2 recovered fumbles, 2 passes defended, 1 touchdown
TJ Watt makes opponents tremble! With two more sacks to his credit in the Steelers' 23-18 victory against the Raiders, he established himself as a strong contender for the title of defensive player of the year, or even for the MVP. The Steelers, armed with an iron defense and a newfound attack, see Watt as a pillar of their success. His continued dominance on the pitch has not gone unnoticed and could well earn him praise at the end of the season. Watch out, TJ Watt is on his way to leave his mark on this season!
5- Brock Purdy – Quarterback – San Francisco 49ers (3-0)
3 games – 736 yards at 67% – 4 touchdowns, 106.3 rating
Brock Purdy, once nicknamed "Mr. Irrelevant," is poised to rock the NFL. As head of the San Francisco 49ers, he orchestrated three straight victories, blowing up the scoreboard with 30 points per game. With his 736 passing yards, four touchdowns and a very good 106.3 rating, Purdy is on an upward trajectory. Some doubts remain about his accuracy at times, but he is carving out a place of choice in the league. If the 49ers continue their momentum, the MVP title could well have a new contender.
Special mentions
Justin Herbert (QB, Chargers) – 939 yards on 74.4% completions, 6 touchdowns, 112.9 rating
Baker Mayfield (QB, Buccaneers) – 636 yards at 66.7% completions, 4 touchdowns, 1 interception, 96 rating
Kirk Cousins ​​(QB, Vikings) – 1075 yards at 69.6% completions, 9 touchdowns, 2 interceptions, 108.2 rating
Justin Jefferson (WR, Vikings) – 458 yards at 17 yards/reception, 1 touchdown
Tyreek Hill (WR, Dolphins) – 412 yards at 16.5 yards/reception, 4 touchdowns
Keenan Allen (WR, Chargers) – 402 yards at 12.6 yards/reception, 2 touchdowns
D'Andre Swift (RB, Eagles) – 308 yards at 6.8 yards/carry, 1 touchdown
Micah Parsons (LB, Cowboys) – 12 tackles, 4 sacks, 1 forced fumble, 1 covered fumble, 1 pass defended
Myles Garrett (DE, Browns) – 8 tackles, 4.5 sacks, 1 forced fumble