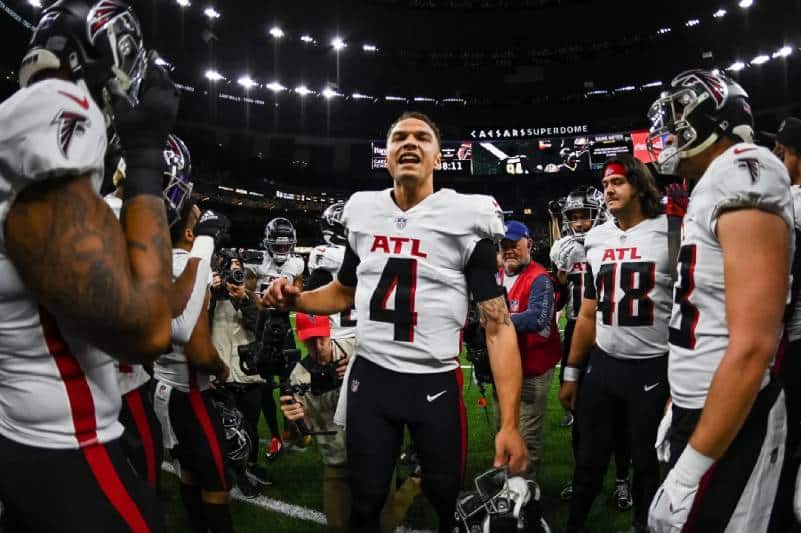 For the first game of his NFL career, the quarterback came across a serious Saints team.
New Orleans Saints (5-9) – Atlanta Falcons (5-9): 21-18
He was inevitably the attraction of this meeting between two teams in difficulty. Desmond Ridder (13/26 and 97 yards + 6 races for 38 yards) finally played his first game in the NFL and this defeat against the Saints will not necessarily be remembered. The pitcher was not guilty of obvious errors (despite a ball which could have ended in interception), but he was very discreet. However, he could have been the hero with a decisive drive at the end of the match to equalize, or even pass. But less than 3 minutes from the end of this meeting, Drake London (7 receptions for 70 yards) was guilty of a fumble that crucified his partners.
Ignition delay for the Falcons
Against a solid defense, Arthur Smith favored the ground game so as not to expose his quarterback too much, but Tyler Allgeier (17 carries, 139 yards and 1 TD) and Cordarelle Patterson (14 carries and 52 yards) were not enough . Opposite, the Saints were not much better, but knew how to make the difference quickly in this part to manage the advance.
The match started off perfectly for the locals. The first two drives end up in the end zone and New Orleans leads 14-0 thanks to its two pitchers. The points come in fact first from a pass from Andy Dalton (11/17, 151 yards and 2 TDs) for Juwan Johnson (4 receptions, 67 yards and 2 TDs) from 19 yards then from Taysom Hill (2/ 2, 80 yards and 1 TD + 7 races and 30 yards) to Rashid Shaneed (3 receptions, 95 yards and 1 TD) on 68 yards. Dennis Allen's men will never be caught. Atlanta is trying to score 10 points straddling the first period and the second to restore hope, but nothing works. After a touchdown from Tyler Allgeier on 5 yards (14-10), Louisiana players respond in stride.
Saints still on the run
A new pass from Dalton to Juwan Johnson on 22 yards gives them some air (21-10). A gap that will be too large for visitors. Atlanta is struggling to create a lead. However, everything is not to be thrown away with an always efficient ground game and a connection between Desmond Ridder and Drake London which gives hope to Falcons supporters.
In the middle of the 4th QT, Atlanta will even come back to 3 points with a converted Cordarelle Patterson touchdown (21-18). The Falcons will never (re)find the fault despite a threatening last drive. With this victory, the Saints return to Atlanta in the NFC South. Despite a largely negative balance sheet, the two teams are still in the race with only one game behind the Buccaneers who face the Bengals in the evening.