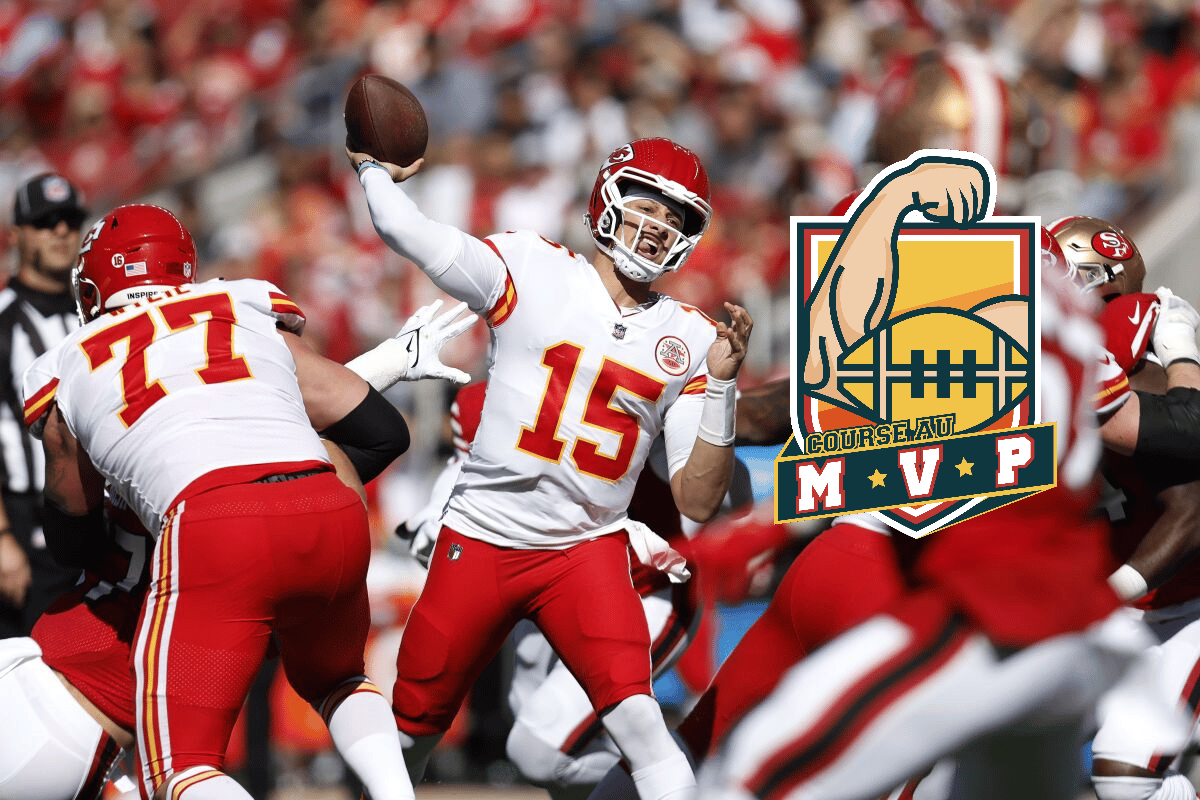 Thursday is MVP! With a Josh Allen at rest, Patrick Mahomes took advantage of it. Yet opposed to the best defense in the league, the quarterback of the Chiefs literally scattered them all over California. Also at rest, Jalen Hurts retains his place on the podium ahead of an ever more threatening Joe Burrow who has also been impressive this week. Lamar Jackson brings up the rear and must react this week on pain of seeing his last hopes vanish fairly quickly.
1- Josh Allen (-) Quarterback – Buffalo Bills (5-1)
6 games – 1,980 yards at 66.9% – 17 touchdowns, 4 interceptions – 257 yards, 2 rushing touchdowns – 109.1 rating
A week of rest for a Josh Allen who retains his first place despite Patrick Mahomes' stunt last Sunday.
2- Patrick Mahomes (-) Quarterback – Kansas City Chiefs (5-2)
7 games – 2159 yards at 66.9% – 20 touchdowns, 5 interceptions – 113 yards rushing – 109.5 rating
Promised to hell in the face of a very sharp San Francisco defense since the start of the year and who found Nick Bosa for the occasion, Patrick Mahomes enforced his rank. With a game over 400 passing yards and 73% completions, he literally had fun with the best defense in the league, which is rather rare in NFL history. And Mahomes will need this kind of performance, he who, after their direct confrontation last week, must clearly dominate Josh Allen in their distance duel by the end of the season to hope to become MVP again.
3- Jalen Hurts (-) Quarterback – Philadelphia Eagles (6-0)
6 games – 1,514 yards at 66.8% – 6 touchdowns, 2 interceptions – 293 yards, 6 rushing touchdowns – 98.4 rating
Rest week also for Jalen Hurts and the Eagles.
4- Joe Burrow (+2) Quarterback – Cincinnati Bengals (4-3)
7 games – 2,097 yards at 68.9% – 15 touchdowns, 5 interceptions – 130 yards, 3 rushing touchdowns – 102.6 rating
The five ball losses committed in the first game of the season against Pittsburgh will have cast an immediate chill on Joe Burrow's season. It is clear that the quarterback of the Bengals is on fire a little more each week since this first game of the season. With two straight three-passing touchdown games, Burrow put the Bengals back at the top of their division to tie with the Ravens. With 81% of passes completed for 481 yards and therefore three touchdowns against the Falcons, to which we can add a touchdown in the race, Joe Burrow is logically back in the race for the MVP.
5- Lamar Jackson (-1) Quarterback – Baltimore Ravens (4-3)
7 games – 1,397 yards at 61.4% – 13 touchdowns, 6 interceptions – 510 yards, 2 rushing touchdowns – 92.1 rating
Author of a remarkable and remarkable start to the season, Lamar Jackson's season is getting more complicated week by week. If he is still the major element of his team and the one that allows the Ravens to be in positive balance today, Jackson has clearly lost his luster. But with the next three games against Tampa Bay, the Saints and the Panthers, the Ravens quarterback will have the opportunity to reaffirm his status and regain his confidence.
Special Mentions
Geno Smith (QB, Seahawks) – 1,712 yards at 73.5% completion, 11 touchdowns, 3 interceptions – 107.7 rating
Justin Herbert (QB, Chargers) – 2009 yards on 65.9% completion, 12 touchdowns, 4 interceptions – 91.8 rating
Stefon Diggs (WR, Bills) – 656 yards on 13.4 yards/reception, 6 touchdowns
Justin Jefferson (WR, Vikings) – 654 yards on 14.2 yards/reception, 2 touchdowns
Cooper Kupp (WR, Rams) – 607 yards on 10.3 yards/reception, 4 touchdowns
Saquon Barkley (RB, Giants) – 726 yards at 5.1 yards/rush, 4 touchdowns
Nick Chubb (RB, Browns) – 740 yards at 5.9 yards/rush, 8 touchdowns
Micah Parsons (LB, Cowboys) – 29 tackles, 7 sacks, 2 passes defended
James Bradberry (CB, Eagles) – 15 tackles, 9 passes defended, 2 interceptions, 1 touchdown