While everyone is still struggling to recover from their emotions of last week, we must now move forward in the competition. Place now for the last two games before the superbowl. There are only four teams left to claim the final victory: Kansas City, Los Angeles, Cincinnati and san francisco. Between a Californian confrontation and a meeting between the juggernaut ofFCA and the newcomer, these two matches promise to be explosive.
To better approach these conference finals, we have extracted two duels that will certainly punctuate these games. Difficult at first to miss the distance struggle between the two quarterbacks in FCA : Patrick Mahomes vs. Joe Burrow. Finally, we will rather focus on the tactical battle between the two coaches in NFC : Sean McVay vs. Kyle Shanahan.
The duel: Patrick Mahomes vs. Joe Burrow
Kick-off Sunday at 9:00 p.m.
Kansas City Chiefs (2) – Cincinnati Bengals (4)
It is always simplistic to summarize a meeting between two teams in the duel between their two quarterbacks. However in this conference final, whether we like it or not, all eyes will be on the two pitchers. On one side there is Patrick Mahomes. the number 15 started its season in diesel mode (4839 yards, 37 TDs and 13 INTs). Not very dominant at the start of the year, it gained momentum until its masterpiece last Sunday. A performance against buffalo who will remain in legend (33/44, 378 yards and 3 TDs + 7 runs, 69 yards and 1 TD). His end to the match was exceptional and confirmed that he is indeed back to his best level. The one who led him to his title of MVP (2018), a victory in superbowl (2019) and four consecutive conference finals (2018-2021). The bengals are warned. Unfortunately, pass defense is not their strong point. In the regular season, the men of Zac Taylor ranked 26th in the field (248.4 yards conceded per game).
Except that Cincinnati moves to Kansas City with full confidence. First, because the franchise will play a conference final for the first time since the 1988 season. But above all because it has the weapons to destabilize the Chiefs. If we talk about the medium air defense of Cincinnati, it should be noted that that of Kansas City is even worse (251.4 yards/game, 27th in the league). And if there is a man capable of benefiting from this largesse, it is Joe Burrow. The sophomore is also delivering an impressive season (4611 yards, 34 TDs and 14 INTs). His match against Chiefs in regular season (34-31 win in week 17) is the perfect example. The former of USL caught fire with 446 yards and 4 TDs thrown. Associated with his faithful sidekick Ja'Marr Chase (266 yards and 3 TDs in this game), both men can put down defensive backs as did Josh Allen last week (313 yards through the air). We could in any case witness a fireworks display in the air of theArrowhead.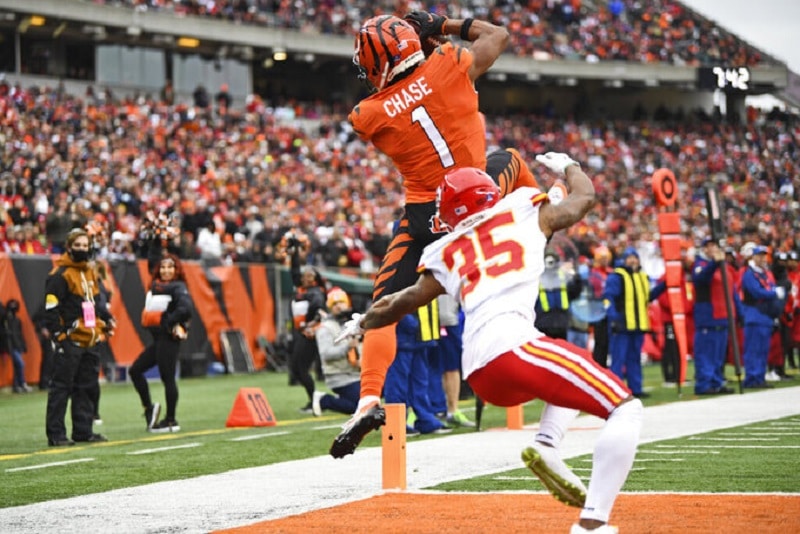 The duel: Sean McVay vs. Kyle Shanahan
Kick-off in the night from Sunday to Monday at 0:30
Los Angeles Rams (4) – San Francisco 49ers (6)
They are perhaps the two hottest young coaches around. AT 36 and 42 years old, Sean McVay and Kyle Shanahan have already carved out a place for themselves in the big leagues. It must be said that since their arrival as head coach (in 2017, respectively at Los Angeles and san francisco), they have each already participated in a superbowl. And if neither has managed to win a ring, they have another opportunity on Sunday to return to the big game. The winner will have the right to try his luck again. For that, it will be necessary to dominate its vis-à-vis. And when you are dealing with two such ingenious and creative minds, the confrontation is always a treat to analyze. Already because the two men know each other well. Very well even. They were on the same staff at the beginning of the years 2010 on the side of Washington. shanahan was the offensive coordinator, while McVay took care of the tight ends. In 2014, the second took the place of the first and their paths separated.
However, they remain linked and each confrontation between the two men is an event. The problem for rams Nevertheless Sean McVay knows very little success against his new enemy. 3 wins only to 7 losses. For the first time on Sunday they will meet in the playoffs, but we can say that shanahan has a clear advantage. It's simple, Los Angeles no longer beat san francisco since 2018. Six consecutive victories that make a stain. Like this season where, whether at SoFi (10-31) or to Levi's Stadium (27-24), the rams haven't found the solution. It would therefore be in good taste for McVay to find a way to defeat the one who has the effect of Kryptonite. And if in this meeting the defensive lines will have an important role and the quarterbacks will be the barometers of their team, it is the coaches who will make their franchise win… or lose. Be careful, moreover, for one as for the other, not to be too conservative when the decisive moments arrive.
The posters
Kick-off Sunday at 9:00 p.m.
Kansas City Chiefs (2) – Cincinnati Bengals (4)
Kick-off in the night from Sunday to Monday at 0:30
Los Angeles Rams (4) – San Francisco 49ers (6)