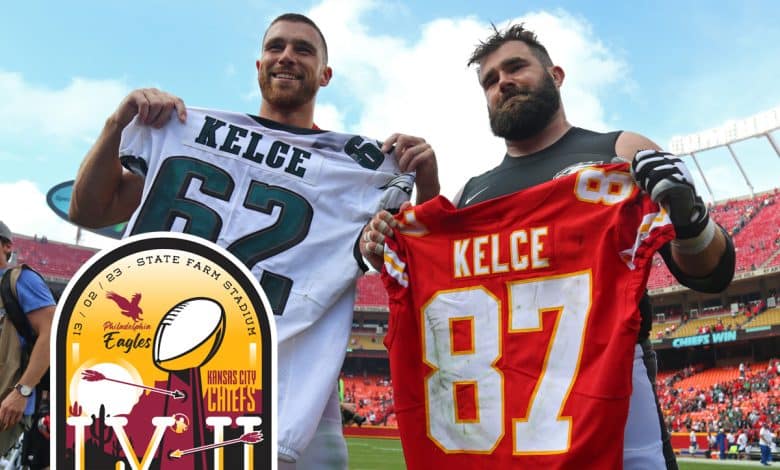 For the first time in Super Bowl history, two brothers will be opponents on the field! After John and Jim Harbaugh (2012 season), coaches of the two competing teams, these are two players who will fight to win a champion ring.
Brotherly Love
Jason Kelce defends the colors of Philadelphia, a city nicknamed City of the Brotherly Love. "Philadelphia" is the combination of two Greek terms Phileo (love) and Adelfos (brother). And when it comes to brotherly love, Jason Kelce is well served with his younger brother.
"I wear number 87 as a tribute to my brother. He has always been my guide and I love him. He was born in 1987 and that's why I wear 87 on the pitch. It is for him. Travis Kelce told NFL Network in 2018.
For parents, seeing a son play the Super Bowl is a precious moment. But when there are two who are adversaries, what to do? Ed Kelce, the father, planned to wear each team's jersey for each offensive series. The two brothers playing in attack, they will not be directly opposed. So the relatives will have a clear conscience by just wishing that each time, the attack prevails over the defense.
Know how to evolve
If Jason Kelce is one of the best offensive lineman of his generation, he was not prepared to play this position. Jason Kelce played running back and linebacker with his high school in Cleveland Heights. In 2006, he obtained a redshirt: he attended school but could not play university matches on Saturdays. During the week, he is then part of the scout team from the University of Cincinnati: the one who opposes the holders, in training, respecting the principles of play of the opponent for the coming weekend.
His athletic qualities allow him to shine on both sides of the ball and in 2007, he integrated the rotation on the offensive line. For the next two seasons, Jason Kelce was the team's permanent left guard and one of those leaders. Since 2011, he has been the keystone of Philadelphia's offensive line with five nominations All Pro.
Travis Kelce does not play the same position but that of tight-end. But he too had to reinvent himself.
The youngest played quarterback in high school. A "dual threat" quarterback who ran almost as much as he threw. He, too, went through a year of learning when he arrived at the Cincinnati Bearcats campus. The following season, his trainer used him as a tight-end and as Wildcat QB (quarterback receiving the ball in order to then run with it).
His third season, in 2010, he was to become an important element as a tight-end. But a positive control for consumption of "beuh", costs him to be suspended all season! Having lost a precious year on the field, his 2011 season is like a restart, somewhat sluggish: 13 receptions and 2 touchdowns.
Finally, in 2012 for his last chance to get noticed, he signed a season with 722 yards and 8 TDs. And because this position also demands that, Travis Kelce is also a very good blocker to help the running game. Anyway, that's what the Scouting Report for the 2013 Draft. Coach Andy Reid, who knew his older brother at the Eagles, decided to trust him when he had just arrived in Kansas City.
Who will have the last word?
While they have each already won a title, this match is necessarily special for the two brothers. Both are also loved by their respective fans as they are good speakers.
"You mean a hungry dog? It's been 52 years since he last ate! Are you saying Eagles fans aren't nice? Me, when I haven't had my meal, I'm really upset! Not you ? ", Jason Kelce during the parade after the victory in Super Bowl LII (2017 season).
Accustomed to confronting each other since forever, the two brothers have always liked to challenge each other: whether in the family garden, playing in the children's room or playing cards while growing up. Compete, win and thus be able to chamber the other.
"One of the two is going to go home as a loser. And both hate defeat! said Donna Kelce, mother of the two players, on local television in Cleveland.
Which will be able to room the other after February 12? Family meals this spring promise to be lively at the Kelce.