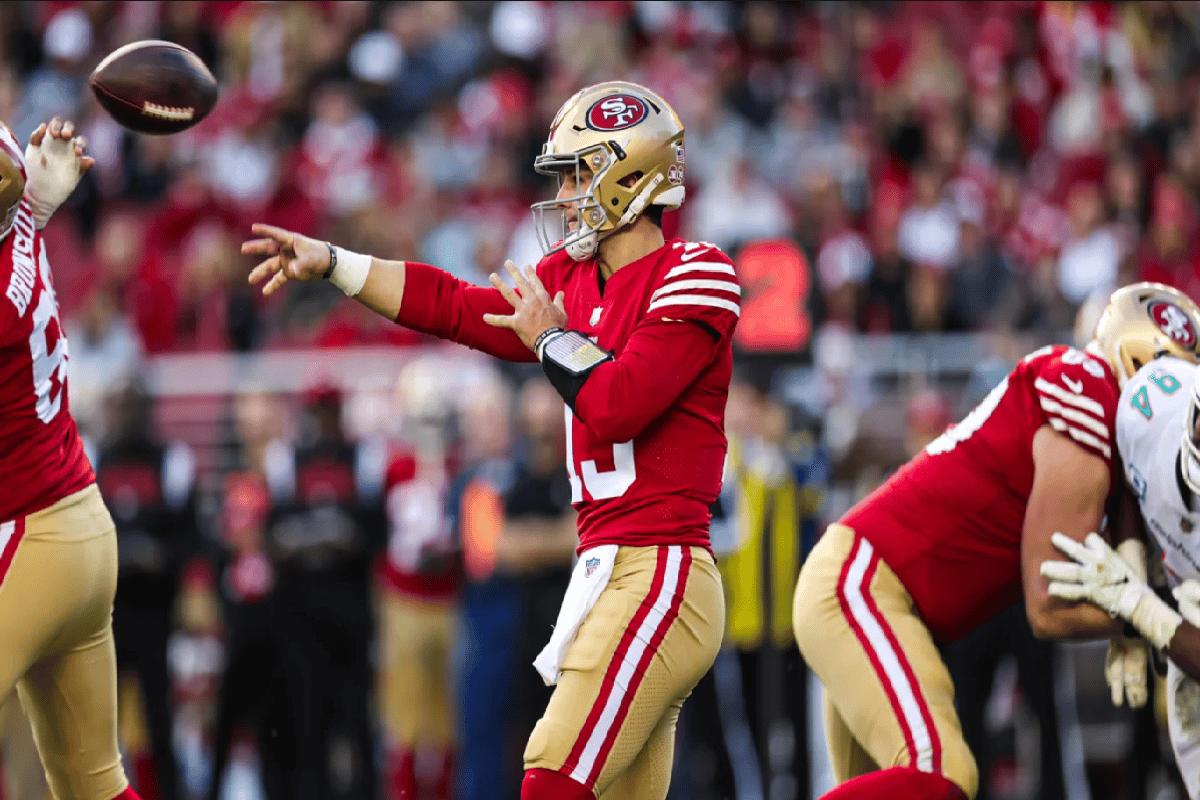 The 49ers are in good shape and have the accolades.
If we had known at the start of the season that a quarterback from San Francisco was going to be named in the players of the month, few would have thought that it would be in the Rookie category. Because, after the injuries of Trey Lance, then Jimmy Garoppolo, it is Brock Purdy who is surprising the whole NFL. "Mr Irrelevant" is still undefeated, and accumulates 1,308 yards, 13 TDs for 3 small interceptions and a rating of 112.
In his express apprenticeship, Purdy is well helped in attack, and again by a player who was not expected in the bay this year. Christian McCaffrey was named NFC Offensive Player of the Month with 767 yards (505 rushing, 262 receiving) and seven touchdowns in Weeks 13-18.
In AFC, it is a former 49er who rules. Jerick McKinnon was named offensive player of the month thanks to his 9 touchdowns over the period, including 8 on reception. Roquan Smith celebrated his new contract with the defensive player of the month accolade.
NFC Conference
– Offensive: Christian McCaffrey (RB, 49ers): 505 yards running, 262 receiving and 7 touchdowns.
– Defensive: Haason Reddick (OLB, Eagles): 18 tackles including 5 for loss, 8 sacks, 2 forced fumbles, 1 fumble recovered and a pass defended.
– Special teams: Younghoe Koo (K, Falcons): 7/7 on conversions and 12/12 on field goals.
AFC Conference
– Offensive: Jerick McKinnon (RB, Chiefs): 416 yards (including 274 receiving and 142 running) for 9 Tds (8 receiving).
– Defensive: Roquan Smith (LB, Ravens): 66 tackles, including 6 for loss, 3 passes defended, 1 sack and 1 interception.
– Special teams: Cameron Dicker (K, Chargers): 14/14 on conversions, and 11/12 on field foals.
Rookies of the month
– Offensive: Brock Purdy (QB, 49ers): 1308 passing yards for 13 touchdowns and 3 interceptions
– Defensive: Aidan Hutchinson (DE, Lions): 21 tackles, 4 sacks, 4 tackles for loss, 1 fumble covered and 1 interception.