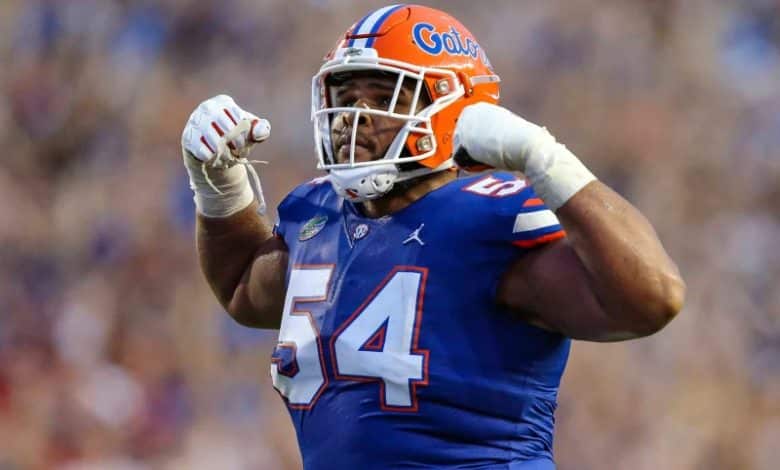 O'Cyrus Torrence – Guard – 23 years old – Senior – Florida
Height: 1m97
Weight: 155kg
2022 stats: 0 sacks, 8 pressures conceded
Estimated position in the draft: End 1st – Start 2nd round
NFL Comparison: Roger Saffold
After 3 years in his native state, Louisiana, O'Cyrus Torrence successfully transitioned to a higher conference (the SEC) to become an indispensable player on the Florida side of the Gators. A guard who is going to be difficult to move at the professional level for pass rushers.
Strong points
Physical dimension
Anchor
Discipline
A tall, massive and strong player. These are the adjectives that can be used to describe the physique of O'Cyrus Torrence. Cut like a wall, he has the ideal physique to be a starting guard from week 1 of the 2023 season.
Quarterbacks and running backs can count on this player to become a real anchor in order to block defenders coming to tackle them. He is able to create gaps for running, one of his specialties.
Zero as the number of penalties he conceded in the 2022 season. It is also the number of sacks he conceded in his last three college seasons. A disciplined player, able to step up to the second curtain at the right time to block defenders and help his runner.
Weak points
Lateral mobility
Technique in password protection
Versatility
Massive does not mean mobile. While some offensive linemen are exceptions, Torrence is not. He may struggle with assignments to block against defenders whose speed is going to be higher in the NFL.
His hand positioning needs to be perfected. Faced with tougher defensive tackles or pass rushers, if his initial positioning in the block on pass protection is not good, he risks conceding pressure. Especially if his quarterback is not mobile! Although he has progressed in Florida, he lacks experience in this area.
Finally, O'Cyrus Torrence will only be a guard at the professional level, as he knows the fundamentals of the position. Playing center requires a certain knowledge of attacking games and a fluidity that he does not have. Playing tackle requires mobility, a quality whose limits have been described.
Possible destinations
Seattle Seahawks, Jacksonville Jaguars, New York Giants, Pittsburgh Steelers, Buffalo Bills
The teams mentioned, as well as others, necessarily have a need in this position for a player with an impressive physique and violent hands. Torrence can contribute immediately to the running game, especially on the Buffalo side, where the offensive line is perhaps the weak point of the attack along with the running back position.