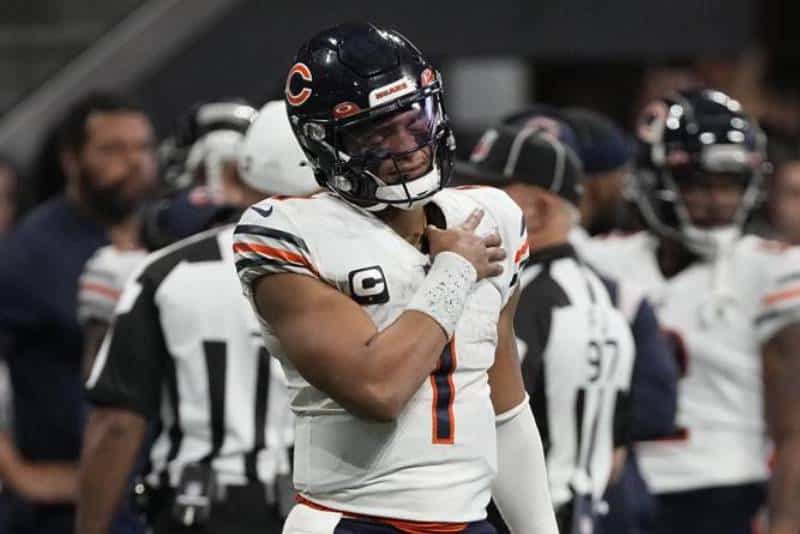 hot news
– [NCAA] Week 13 – Cornelius Johnson with class
[podcast]
Bears should do without Justin Fields
Hit in the left shoulder, Justin Fields (QB, Bears) would have suffered a dislocation, which would have partially torn certain ligaments. According to ESPN, despite the suspense maintained during the week, the young quarterback should not face the Jets.
It is therefore Trevor Siemian who should be on the field against the terrible green defense. Nathan Peterman was taken out of the practice squad to serve as a substitute.
Deshaun Watson officially reinstated
Deshaun Watson (QB, Browns) has served his suspension, and he has done nothing that violates the conditions imposed on him. According to ESPN, he will therefore be officially reinstated this Monday, and available to face the Texans in Week 13.
injuries
– Ja'Marr Chase (WR, Bengals, hip) returned to practice this week, but is not expected to play this Sunday against the Titans, according to ESPN.
– Kliff Kingsbury confirmed to the press on Friday that Kyler Murray (QB, Cardinals) should be back this Sunday after two games out with hamstring pain. Murray trained normally on Friday.
– Good news for Von Miller (LB, Bills), who wouldn't have torn his cruciate ligaments during the Thanksgiving game. However, the rusher pass remains unavailable until further notice. ESPN reports that he will seek other opinions. The possibility of an end of the season is not yet excluded.
– Uncertainty in Los Angeles around the Matthew Stafford (QB) case. Hit in the neck, the quarterback has gone through the concussion protocol twice in the past month. According to ESPN, Rams staff aren't sure if Stafford will play again this season. Uncertainty also around a return of Cooper Kupp (WR, ankle) before the end of the season. The feeling in the franchise now would be that there is no point in rushing the return of the two men during a lost season.
They will not play this Sunday
Bengals: Joe Mixon (RB, concussion)
Bills: Von Miller (OLB)
Buccaneers: Russell Gage (WR), Luke Goedeke (OG), Leonard Fournette (RB)
Broncos: Jerry Jeudy (WR, ankle), K'Waun Williams (CB, wrist/elbow/knee)
Browns: Greg Newsome (BC)
Chargers: Mike Williams (WR, ankle)
Chiefs: Kadarius Toney (WR, hamstring)
Commanders: Benjamin St Juste (CB, ankle)
Jaguars: Darrell Henderson (RB)
Jets: Sheldon Rankins (DT, elbow)
Packers: Romeo Doubs (WR, ankle)
Rams: Matt Stafford (QB), A'Shawn Robinson (DT, knee)
Ravens: Ronnie Stanley (OT), Isaiah Likely (TE, ankle)
Texans: Derek Stingley (CB)
Titans: Denico Autry (DE)
They are uncertain this Sunday
49ers: Deebo Samuel (WR, hamstring)
Buccaneers: Vita Vea (DT, foot)
Cardinals: Greg Dortch (WR, thumb)
Colts: DeForest Buckner (DT, ribs/illness), Yannick Ngakoue (DE, back)
Commanders: Logan Thomas (TE, ribs), Chase Young (DE, sick/knee)
Dolphins: Raheem Mostert (RB, knee), Teddy Bridgewater (QB, knee)
Raiders: Josh Jacobs (RB, calf), Kolton Miller (OT, shoulder/abdomen)
Rams: Tyler Higbee (TE, knee), Allen Robinson (WR, ankle)
Ravens: Gus Edwards (RB, hamstring/knee), Devin Duvernay (WR, hamstring), Demarcus Robinson (hip), Kyle Hamilton (S, knee)
Saints: Mark Ingram (RB, knee), Andrus Peat (OG, triceps), Cameron Jordan (DE, eye), Marcus Davenport (DE, calf), Marshon Lattimore (CB, abdomen)
Titans: Jeffery Simmons (DT, ankle), Randy Bullock (K, calf), Ben Jones (C, concussion)
They were uncertain but should be able to hold their own
Cardinals: Kyler Murray (QB), Marquise Brown (WR)
Chiefs: JuJu Smith-Schuster (WR)
Eagles: AJ Brown (WR)
They are placed on the injured list and will miss at least 4 games
Commanders: Cole Holcomb (LB)
They come off the injured list
Commanders: Milo Eifler (LB)
Saints: Trevor Penning (OT)
Transactions
The main cuts of the day
Giants: Trenton Thompson (DB), Devery Hamilton (OL)
In short
Rookie Sean Rhyan (OL, Packers) has been suspended for the next 6 games for violating league rules on doping substances. (NFL Network)
A record audience for Cowboys-Giants
42 million! The number of American viewers who watched the game between the Cowboys and the Giants on Thanksgiving Day, according to FOX.
It's quite simply the biggest audience in history for an NFL regular season game. The previous record was held by a game between the Giants and the 49ers on a Monday night in 1990. At the time, 41.6 million Americans were in front of their screens.
DeAndre Hopkins responds to Charvarius Ward
These two will definitely not go on vacation together. After last Monday's game between the 49ers and the Cardinals, cornerback Charvarius Ward (CB, 49ers) turned on the All-Pro receiver, calling him a "Steroid Boy". This Friday, D-Hop exercised his right of reply at the microphone of the Arizona Cardinals Podcast.
"A lot of guys act tough when they can talk or write and then walk away. I respect guys like Le'Veon Bell who dare to step into a boxing ring. I would really like to get in a boxing ring to see if Ward is really tough. »
Baker Mayfield still resentful of Cleveland
Asked by the media at a press conference this Friday, Baker Mayfield (QB, Panthers) gave a layer on Cleveland. Asked about the results of his university (Oklahoma), Mayfield repeatedly used the term "my old home". When a reporter pointed out to him that this could mean Oklahoma but also Cleveland, Mayfield stopped short:
" Nope. It's not my old home. I just played there. »
It may be a detail for you, but for him it obviously means a lot.
Kevin O'Connell teases Kirk Cousins
The mind is fine on the Minnesota side. Forgot the ugly defeat against the Cowboys, the Vikings secured victory against the Patriots at Thanksgiving, thanks in particular to a good performance by Kirk Cousins ​​(QB, Vikings). When giving the ball to the player of the match (Cousins), coach Kevin O'Connell took the opportunity to chamber his quarterback, known to be failing in primetime matches.
"From what I know, the match started at 7:25 p.m., which means a primetime match. Your quarterback therefore made a 30/37 for 299 yards and 3 touchdowns in primetime. »
A good technique to destroy the myth.
The NFL is easy (according to George Pickens)
George Pickens (WR, Steelers) is just a rookie fresh out of Georgia, the team that won the NCAA title thanks in part to an iron defense. 5 picks in the first round of the draft were Georgia defensive players: Travon Walker (Jaguars, #1), Jordan Davis (Eagles, #13), Quay Walker (Packers, #22), Devonte Wyatt (Packers, #28) and Lewis Cine (Vikings, #32). Comparing the NFL to the NCAA, Pickens made a curious comment on Thursday.
"Training in Georgia was harder than in the NFL because there was so much talent on the defense side"
TJ Watt, defender of the year last season, and his friends will appreciate.
Support DNA of Sports
Don't forget to follow us on social networks by clicking on the links: Twitch – Twitter – Instagram – Facebook – TikTok
You can support us directly on Tipeee.
Or by betting at Unibet.
Or by subscribing to NordVPN through this link