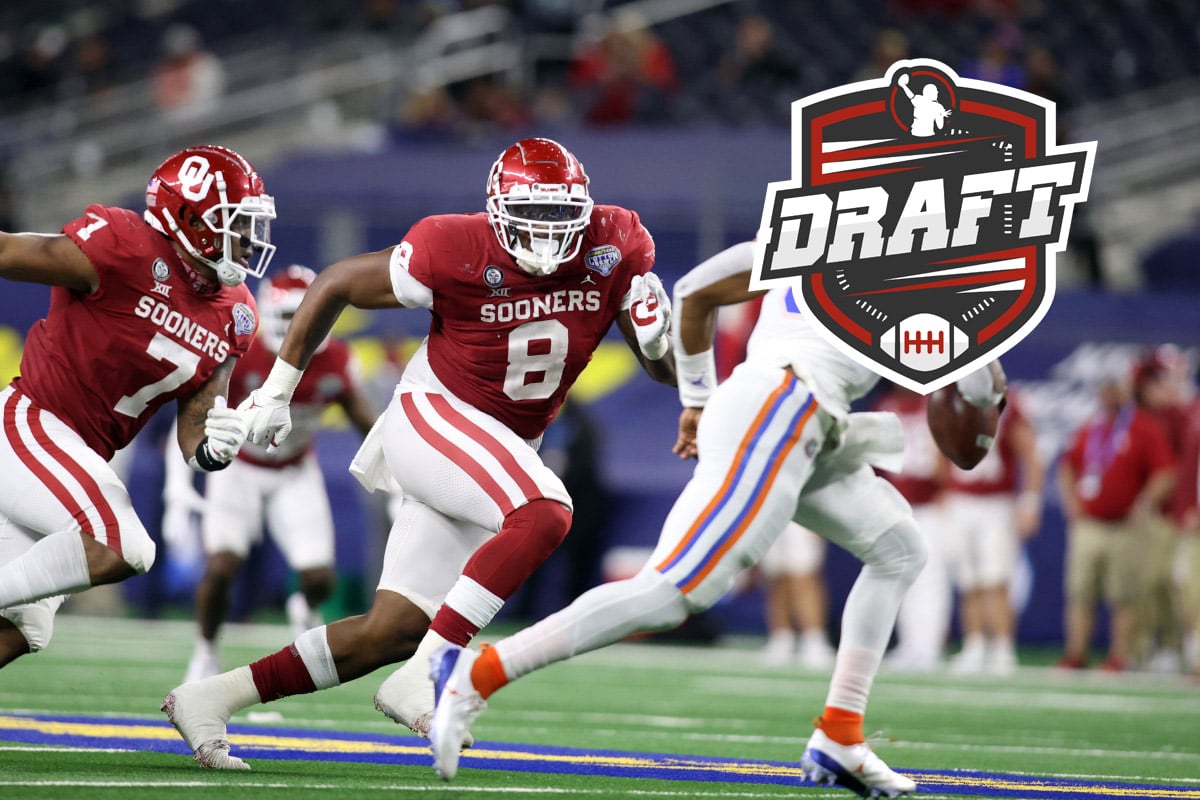 Perrion Winfrey – Defensive Tackle – 21 – senior – Oklahoma
Cut : 1m95
Weight : 132 kilos
Estimated draft position: 20-40
Stats 2021: 11 games, 23 tackles including 11 for losses including 5 sacks
NFL Comparison: Fletcher Cox (Eagles)
Strong points
Tenacious
Penetrating
Explosive
Schema flexibility
After his high school in the state of Illinois, Perrion Winfrey was not courted: his talent was not in question but his academic results prevented his eligibility for a scholarship. He therefore went through a Junior College, a shorter course (2 years) intended for people with insufficient grades: the time for him to improve his academic level. At the sporting level, he simply became the number 1 player at this level and received, in 2020, no less than 17 scholarship offers. Including one from Alabama. Perrion Winfrey was able to hang on and this determination is an asset that adds to his prospect profile.
An athletic player, he has an extraordinary size: his stature is greater than that of Arik Amrstead (49ers) and DeForest Buckner (Colts). In addition to this wingspan, valuable for duels, he is an explosive player: quick first step to attack the pocket as well as pursuit skills. Weighing over 130 kilos, Perrion Winfrey confirmed to the NFL Combine what he showed in matches, with a time of 4.89 seconds on the 40 yards!
With a talent poorly exploited at the university level, Perrion Winfrey dazzled the Senior Bowl 2022: elected MVP after the Saturday game where he signed, among other things, 2 sacks. ESPN draft expert Todd McShay said after this week on Mobile:
"The third player who really rose in my esteem was Perrion Winfrey. But where have you been my man? Yes I know, Oklahoma's defensive system is a reason for that. From a possible 3rd round, I now see him as a credible choice at the end of the 1st round. "
His physical attributes as well as his background, are not to remember those of Javon Kinlaw (49ers). Will he be more successful than the latter has had so far? For that, it will have to be used other than at the University of Oklahoma. With a need for the position of Nose Nackle (facing the opposing Center), Perrion Winfrey has not always been aligned in the position that suits him best. In the NFL, he would be perfect outside a 34 defense or could play inside a 43 like Fletcher Cox with Philadelphia.
"NFL staff told me they saw me as a 3-Technique (43DT) or as a defensive end (34DE). I also think it will match my qualities better. ", he said after the NFL Combine to The Oklahoman
Weak points
Head in the handlebars
Technical
It is because it is sudden from the engagement of the ball that Perrion Winfrey manages to make decisive plays. But this tendency to darken sometimes causes him bad tricks, especially during "play actions". He then finds himself having committed on one side while the ball leaves on the other. In the NFL, he will only meet players at least as imposing as him so he will have to work technically to continue to make the difference: use of hands and range of moves, in particular.
But already, it offers an athletic potential in line with the games of the NFL. As for the progress to be made to dominate on the top floor, Perrion Winfrey is ready and even eager to learn.
"I like coaches who run into you. Like, "he kicked your ass on this game, are you going to do anything? ". I don't like nice coaches, I like when it's true, real. he said at a press conference during the NFL Combine 2022.
The stat: 11 tackles for losses
With his explosive first step and using his long arms to get rid of offensive linemen, Perrion Winfrey very often manages to cross the line of engagement, to tackle a running-back barely starting his race. Here is what is precious: to stop an attack that has not even had time to develop. In addition, it causes opponents to lose ground. And of his 11 tackles inflicting a loss, half were a quarterback sack. The NFL is a momentum league and a sack there is always a game-impacting game.
Possible destinations
Green Bay Packers, Dallas Cowboys, Tampa Bay Buccaneers, Kansas City Chiefs, Houston Texans, Chicago Bears, Atlanta Falcons
This choice of franchises is therefore determined from choices 22 to 39 of the 2022 draft. This is undoubtedly the current rating of Perrion Winfrey. While the Dallas Cowboys signed 41 sacks in 2021, placing them in the middle of the table, only 5 were made by inside players. With Ndamukong Suh and William Gholston not extended, the Tampa Bay Floridians could choose the Oklahoma player at the end of the first round. Ditto for Packers where Kenny Clark is a little alone on the first curtain. The Chiefs and Falcons also have a need for this position. Ditto for the Texans, who could use their 37 pick on him.
But ultimately, the good story would probably be that he was chosen by the Chicago Bears in 39th position. Him the native of Illinois. There is no doubt that the defensive specialist, the new coach Matt Eberflus, would see his selection in a good light: a player offering some similarities to DeForest Buckner, whom the coach knew in Indianapolis.