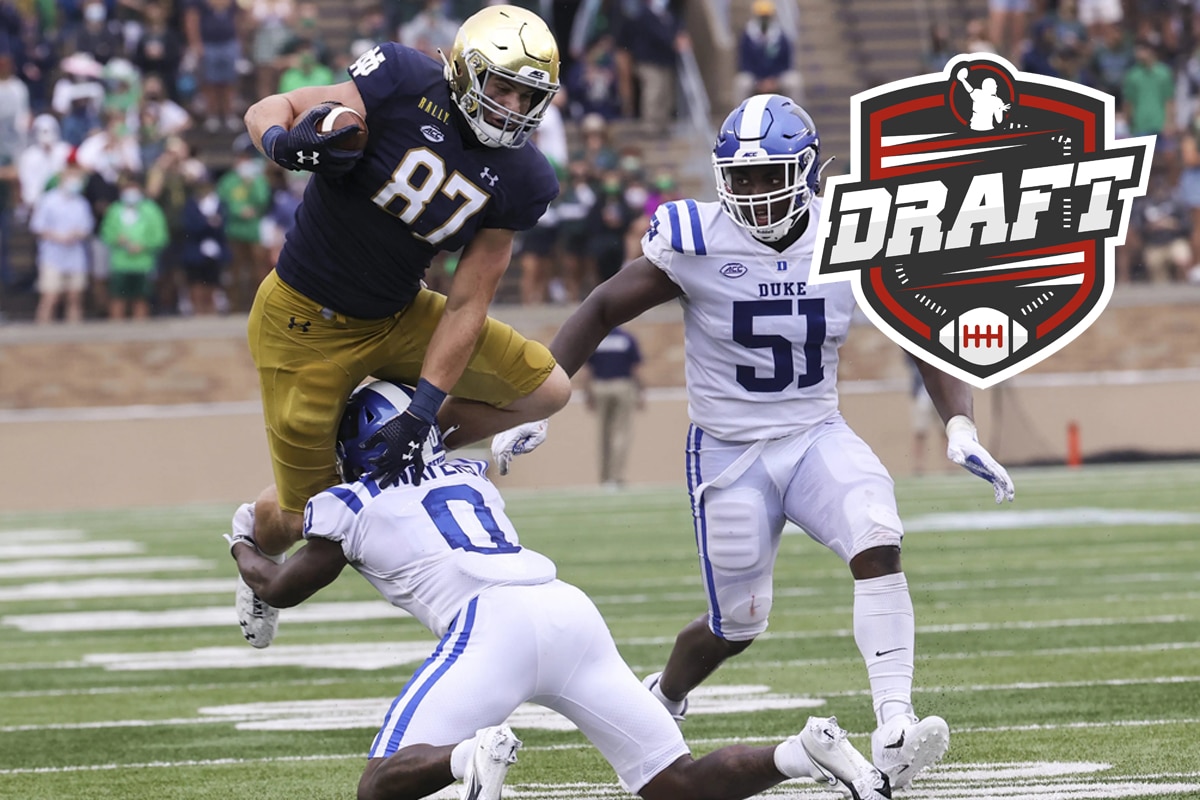 While waiting for the post-season draft sheets, the editorial staff of DNA of Sports offers you a spotlight on the future nuggets who will join the NFL in 2023.
Michael Mayer

Born July 6, 2001 in Independence, Kentucky
1m96 for 115 kilos
Tight-end, Notre Dame, junior
"Baby Gronk". Yes again ! When a player seems to have a superior talent, he is often nicknamed as the "New So-and-so": some could not assume it! "Well made" head and complete on the field, he seems to have the potential to, one day, play a NFL Pro Bowl.
If I were a quality: dual use
Michael Mayer is a constant aerial threat with the University of Notre Dame. If he offers most of the time an option in a short zone, he then knows how to gain yards after receptions. Whether by overflowing a linebacker with his liveliness or by refining a safety who came to meet him. It is, for example, very effective with the layout Shallow Cross : aligned on the left, he walks in front of the offensive line when the ball is engaged and captures the ball on his way, to then continue by overflowing to the right (or in the other direction).
And if he is compared to one of the best, it is because like Rob Gronkowski, he also knows how to block. Whether to protect his quarterback or to provide support to the runner. His competence in this essential area in the NFL will however have to be improved, especially in the protection of the quarterback. But the basics are there, those of a complete player and therefore present on all three attempts.
If I were a limit: badly surrounded
His talent is undeniable. But in 2022, this one will be put to the test with Notre Dame because the receiving squad is limited in talent. No top tier runners either! In addition, he must assume the weight of the attack with a quarterback starting at this level. If Tyler Buchner threw 3 touchdowns last year, 2022 is his first season as a starter. And after two mediocre games, he was injured in the third! Michael Mayer will therefore have to shine with the QB2!
Threat number 1 for all opposing defenses: he is watched more than any other player. Moreover, the pressure is enormous on his shoulders: the University of Notre Dame has one of the fan base the most important of this immense country. Their matches are not televised on NBC by chance. This gives him enormous responsibilities. Will he be able to meet such high expectations? This is the challenge that awaits him in 2022.
If I was a stat: sir 75%
In 2021, Michael Mayer captured 74.7% of the balls thrown in his direction! Three times out of four, aiming means receiving. This position is often dubbed "the quarterback's best friend" and Michael Mayer is indeed both a safety valve and a prime option for his pitcher. Precise in his lines (knowing how to go where he needs to, when he needs to), he also knows how to use his body to prevent the defender from intervening.
If I was his start of the season
Gala match for its season opener, against the ogre of Ohio State: in front of 106,594 spectators! Lebron James was there. Joe Burrow too. The impact of university football in this country is difficult to grasp in Europe. Very solid in his blocks for the running game, Michael had little opportunity to shine in reception: 5 rec for 32 yards. As expected, he was "the man to beat" for the opposing athletic defenders.
The following Saturday, to everyone's surprise, he lost at home to Marshall. Mayer nevertheless brought 103 yards on 8 receptions and a touchdown. Finally a victory in week 3: only 10 yards and 2 receptions for the tight-end. But in a match that was played with a gap of 7 points (24-17), Michael Mayer was decisive by scoring a touchdown.
If I Were a Date: at USC on November 26
As every year since 1926, the universities of Southern California and Notre Dame will meet. November 26, 2022 will be the 93rd game between these two college football behemoths. Only the Second World War and the 2020 pandemic prevented their meeting.
No university has produced more NFL players than Notre Dame: 522. And the second university with the most draft picks is none other than USC with a very close 519! In this ranking, Ohio State ranks 3rd with 479 while 6th is none other than Alabama, but with "only" 391. This annual meeting is a prestigious match.
If I was an NFL player: Pat Freiermuth (Steelers)
Chosen in the 2nd round in 2021 (55), Pat Freiermuth did not disappoint Steelers fans for his rookie season: 497 yards and 7 touchdowns! Michael Mayer would sign right away for the same rookie season. In 2022, 4 tight-ends from Notre Dame are playing in the NFL: Kyle Rudolph (Buccaneers), Cole Kmet (Bears), Tommy Tremble (Panthers) and Durham Smythe (Dolphins). Michael Mayer seems the best on this list.
If I was a draft pick: 15-25
His full range is reassuring for an NFL team. If he is not an offensive weapon like Mark Andrews or Darren Waller, Michael Mayer knows how to advance the surveyor's chains. His floor (current level) as well as his ceiling (potential) make him a player who should not escape the top 50 in 2023. But at what level?
In 2022, the first of this position was in the 2nd round (Trey McBride), just like in 2020 (Cole Kmet). The UFO Kyle Pitts (pick 4 in 2021) being a different player, the other three to have been chosen in the 1st round, in recent years, are TJ Hockenson, Noah Fant and Hayden Hurts. The former is a solid starter, but is it such a profitable top 10 pick? The other two were not retained by their franchises and are trying to relaunch elsewhere.
To make their choices during the draft, the NFL staffs screen the players according to three criteria: best player available, need of the team and value of the position. This last item is the one that could drag Michael Mayer into his twenties, when his talent is that of a top 10.
If I were an NFL team: Cincinnati Bengals
Surprise 2nd round pick in 2019, Drew Sample confirmed what fans were thinking at the time: average player, no more. He will be out of contract after this season. To overcome the lack of this position so important for a young quarterback, Cincinnati signed Hayden Hurst during the offseason. For one season only. Same with Devin Asiasi. Reinforcements, but nothing to brag about either.
Joe Burrow deserves to have an impact player in this position and Michael Mayer would be an ideal partner. After the terrible duo Brady / Gronk during the past decade, where do we sign for a Burrow / Mayer for this decade?